Grant will help develop 3D technology for boat builders
Grant will help develop 3D technology for boat builders
Wednesday, October 24th 2018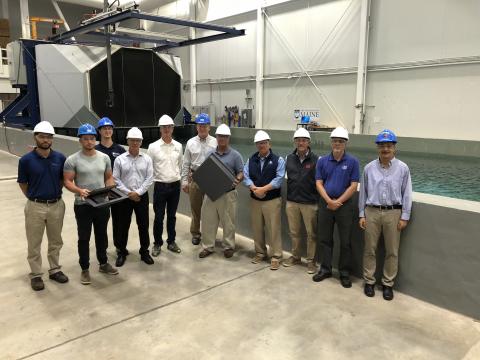 The University of Maine Advanced Structures and Composites Center has received $500,000 from the Maine Technology Institute to form a technology cluster to help Maine boatbuilders explore how large-scale 3D printing using economical, wood-filled plastics can provide the industry with a competitive advantage.
The MTI grant will be matched with $500,000 from the U.S. Army Natick Soldier Research, Development & Engineering Center to form a technology cluster of UMaine engineers and researchers with Maine boatbuilders. The consortium will work to design and print marine tools and boat molds for testing and evaluation, and develop a 3D printing training course for boatbuilders, as part of the adoption and commercialization process.
The cluster brings together the expertise of UMaine researchers and marine industry leaders to further develop and commercialize 3D printing, or additive manufacturing, to benefit boatbuilders in the state. The members include: Custom Composite Technologies in Bath, Compounding Solutions in Lewiston, Back Cove Yachts in Rockland, Sabre Yachts in Raymond, Front Street Shipyard in Belfast, Hinckley Yachts in Trenton, Hodgdon Yachts in Boothbay, Kenway Composites in Augusta, and Lyman-Morse Boatbuilding in Thomaston.
Small to medium boatbuilders are often challenged by the cost and lead time required to create traditional marine tools and boat molds. 3D printing, or additive manufacturing, can help significantly reduce the production time needed to fabricate boat molds, by as much as 75 percent according to researchers at the UMaine Composites Center. But widespread adoption of large-scale additive manufacturing has been tempered by the high cost of the 3D printers and the cost of feedstock materials. To address the high cost of large-scale 3D printing, the UMaine Composites Center will develop a range of economical wood-filled materials for composite tooling applications.
The use of the wood-based fillers significantly reduces the cost and increases the stiffness and toughness of the material, while reducing the environmental impact and improving recyclability.
"The combination of additive manufacturing and cost-effective, bio-filled materials is a potential game-changer for Maine's boatbuilding industry by reducing the cost of marine tooling by as much as 50 percent," says James Anderson, senior research and development program manager at the UMaine Composites Center. "Maine boatbuilders cannot absorb the cost of acquiring a large-scale 3D printer and testing new feedstock materials. The UMaine Composites Center and the Maine boatbuilding industry share a tradition of innovation. We have the tools and knowledge to help Maine boatbuilders increase productivity, reduce costs and, ultimately, continue their tradition of excellence in the boatbuilding industry."
For the past 18 years, the UMaine Composites Center has been developing technologies to extrude plastics filled with wood cellulose and nanocellulose fibers. These plastics contain up to 50 percent wood fiber by weight, says Habib Dagher, executive director of the UMaine Composites Center.
"Now, we will use these same stronger and stiffer plastics in very large 3D printers to develop 20- to 100-foot boat molds and other boat parts for Maine boatbuilders," he said. "By 3D printing plastics with 50 percent wood, we aim to produce boat molds much faster and cheaper than today's traditional methods. As we learn, we will be working with boatbuilders to incorporate 3D printing in their production process for larger boat parts and, eventually, the boats themselves."
Boatbuilding isn't the only industry expected to benefit from UMaine's research and development. The university is working with Maine-based companies to develop a local supply chain for its unique, bio-filled materials.