Viking longship arrives in Rockland
Viking longship arrives in Rockland
Monday, July 23rd 2018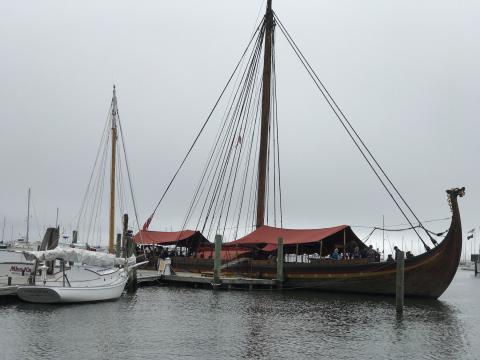 Not to worry the Vikings are not invading Rockland! But yes that is a Viking longboat tied up at the city's public landing. The Norwegian Viking ship, Draken Harald Hårfagre (Draken for short) motored out the fog and rain and into the harbor Sunday evening as part of its Expedition America: East Coast Tour 2018.
Considered the world's largest operating Viking ship, the Draken will be at the Rockland Public Landing, July 22-25, offering ship tours and activities on an onshore "Draken Village."
In 2016, the Draken successfully crossed the North Atlantic Ocean, recreating one of the most epic, mythical explorations of all time in the wake of the Viking Explorer, Leif Ericsson. Curated by Sigurd Aase, construction of the Draken began in 2010 – creating what would be the largest Viking ship ever built in modern times.
Named after Harald Hårfagre, the king who unified Norway into one kingdom, the great dragon ship was built in the town of Haugesund in Western Norway. Draken measures 115 feet from stem to stern, 26 feet wide, with 260 square meters of silk sail, and a 79-foot mast made from Douglas fir.
The clinker-built Viking longship is a reconstruction of what the Norse Sagas refer to as a "Great Ship." While not a replica of a known ship, the Draken's construction was based on historic documents – Norse Sagas, archeological findings, and Norwegian boatbuilding traditions. She carries one large, square sail, which can drive the ship at a speed of 14 knots and is equipped with 25 pairs of oars —each oar powered by two men. During her transatlantic Expedition America 2016, Draken Harald Hårfagre was crewed by 32 sailors.
The Rockland visit is hosted in partnership with the City of Rockland, Allen Insurance & Financial, The Strand Theatre, The Apprenticeshop, and the Penobscot Bay Regional Chamber of Commerce For information and a schedule of the visit, go to https://www.drakenhh.com/rockland.
The Viking ship also pans stops in New Hampshire, Massachusetts, Rhode Island, Pennsylvania, Maryland, Washington D.C., and Virginia.