Maine Boat & Home Show Announces New Name, Lineup of Special Events
Maine Boat & Home Show Announces New Name, Lineup of Special Events
Tuesday, May 1st 2018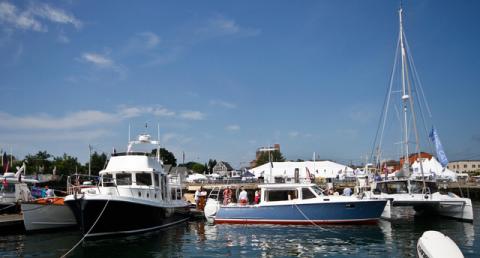 Maine Boat & Home Show gets a new name, but it's still the same great show. This year it will take place Aug. 10-12 in Rockland, Maine.The event , which formerly was known as the Maine Boats, Homes, & Harbors Show, will now be called the Maine Boat & Home Show.
"After a successful 15 years producing this popular event, we felt that it was time for an image brush-up. The new name, which also has the advantage of being shorter, is just one part of that effort," said John K. Hanson, Jr., publisher of Maine Boats, Homes & Harbors magazine and the show's founder. "It's still the same great event, the pages of MBH&H magazine brought to life, and a gathering of some of the state and region's best talent."
The three-day celebration is the largest in-the-water boat show north of Newport, Rhode Island. It showcases dozens of Maine's most talented artisans, architects, craftsmen, furniture makers, home builders, and jewelers alongside the region's finest boatbuilders on one spectacular waterfront site in Rockland, Maine.
Family activities will include live music each day, a tasty assortment of food from food trucks and vendors, the groovy second annual Small Boat Love-In, a selection of Icon Boats that visitors can climb aboard, and the popular, light-hearted World Championship Boatyard Dog® Trials.
This year, a special focus, Working the Coast, Charting the Future, salutes those who make their livelihood from the sea.
"Today, our lobster fishery is doing well while preparing to face the challenges ahead. Our science institutions are leading the world in marine research, the future looks bright for aquaculture, and our boatbuilders are world class," said Hanson. "We will salute these folk, and promote the many different and rewarding marine-related employment paths available to those who want to live and work in Maine."
Working the Coast will incorporate an exhibit tent plus outdoor and in-water spaces where builders and finishers of commercial vessels, vendors and installers of heavy-duty diesel engines and marine electronics, and reps from fisheries management and other agencies will be on hand to show their wares.
On the docks, attendees can climb aboard an assortment of working vessels as part of the show's "Icon Boats" exhibit. They will include: on Friday, the Maine Seacoast Mission's ship Sunbeam; on Saturday, the Maine Maritime Academy training vessel Friendship; and on Sunday, a special focus on lobsterboats where showgoers can get an up-close look at how the state's signature crustacean is harvested. All weekend, the Maine Maritime Museum's restored fishing schooner the Mary E will be open for visits.
Private owners of craft less than 20 feet long are invited to trailer their boats to Rockland and show them off over the weekend. Antique canoes, Boston Whalers, classic runabouts, elegant rowing shells, home-crafted projects, go-fast ice boats—all are welcome. There is no fee, but preregistration is required. Visit maineboats.com/boatshow/small-boat-love-in for details.
The Annual World Championship Boatyard Dog® Trials will begin at 10:30 a.m. on Sunday, August 12. A prechosen field of six dogs will help their handlers act foolish in front of an adoring crowd. Pre-registration is required; the deadline for entries is June 15, 2018. Visit maineboats.com/boatshow/visitors/boatyard-dog for entry information. We ask pet owners whose dogs are not competing to leave their furry friends as home as no other animals (except bona fide service dogs) will be allowed on show grounds.
You can buy tickets in advance on our web page. Each $15 adult ticket is good for all three days (kids under 12 always get in free). Special Access Passes that include free parking and other perks are also available. Gates open at 10 a.m. daily. For more information and to purchase tickets, visitmaineboats.com/boatshow or call 800-565-4951.
The show appreciates the support of its fine sponsors: Awlgrip/Interlux, Bangor Savings Bank, Bell's FurryFriends Photography, Epifanes, Hewes & Company, LCI Fiber Optic Networks, Loyal Biscuit, Maine Boats, Homes & Harbors magazine, Rock Harbor Brewing, and US Harbors. The support of the City of Rockland, the Rockland Main Street program, and West Bay Rotary is also much appreciated.