Land-based salmon farm planned on former mill site
Land-based salmon farm planned on former mill site
Friday, February 23rd 2018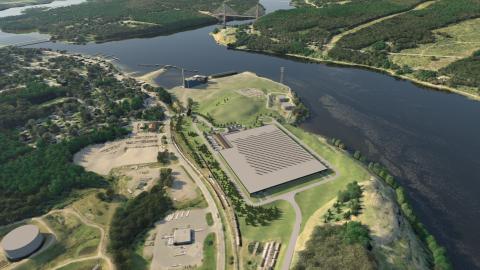 Just weeks after a Norwegian company announced its plans to located one of world's largest land-based salmon growing operations in Belfast, a Maine company calling itself Whole Oceans said Friday that it intends to build a major land-based salmon farm at the site of the former Verso paper Mill in Bucksport.
Whole Oceans' CEO Rob Piasio, who grew up in Yarmouth, Maine, said he has spent six years of research and preparation for the operation. He is leading efforts to launch Whole Oceans and its state-of-the-art recirculating aquaculture system. At full production, the company will create hundreds of direct jobs and invest more than $250 million in Bucksport, according to a press release from the company.
Plans call for producing 50,000 metric tons of Atlantic salmon per year. "The time for RAS has arrived and Whole Oceans will make Bucksport a global leader in sustainable Atlantic salmon production," according to Piasio. "But this story is much bigger than just Whole Oceans. This story is also about the resiliency and determination of towns throughout Maine that make projects like this possible. Whole Oceans is entering a long term partnership with the community of Bucksport, a responsibility we accept with the greatest care, and together we will strive to make Whole Oceans a source of pride every single day."
Whole Oceans already has pre-sold 100% of its total production for the next 10 years, according to the news release. Over time, Whole Oceans' mission is to capture 10% of the U.S. Atlantic salmon market using only earth friendly technologies, Piasio said.
"We will create hundreds of jobs and cement Maine's leadership in the future of land-based aquaculture. To execute our plan, we have assembled a team of global leaders in land based technology, including Billund Aquaculture based in Denmark and the Conservation Fund's Freshwater Institute in West Virginia," according to Piasio.
Whole Oceans plans to break ground in Bucksport in 2018. According to the cmpany's press release, Americans consume more than $2 billion of Atlantic salmon every year. While virtually all of it is farmed, more than 95% percent of Atlantic salmon consumed in the U.S. is imported from foreign offshore cage farms.
Rendering courtesy John Gutwin of Pepperchrome