Brooklin Boat Yard Building second Botin Partners custom sailing yacht
Brooklin Boat Yard Building second Botin Partners custom sailing yacht
Thursday, November 29th 2018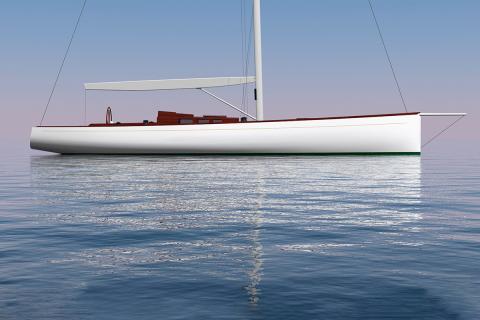 The crew at Brooklin Boat Yard is hard at work building an innovative, cold-molded 55-foot custom sailing yacht that was designed by Botin Partners of Santander, Spain.
Engineered for racing, the yacht has a simple, lightweight interior and three-spreader carbon mast. Upon her launch, the spirit of tradition sloop will race in the Panerai series of regattas in North America.
This is the Brooklin, Maine yard's second collaboration with Botin Partners; the yard launched the 22m Toroa in 2017. Seeing Toroa inspired the Botin 55 owner to approach Brooklin Boat Yard and Botin Partners to design and build this new custom yacht.
The Botin 55 features a lightweight cold-molded wood hull and deck built using some carbon-reinforced structure. A comfortable main salon amidships connects with a galley and nav desk. A quarter berth aft offers sleeping accommodations while underway, and a forward cabin has four bunks for crew plus a full head. The entire interior is styled with flat panel white oak and an English brown oak cabin sole. The elegant countertops throughout are built of pewter.
"We're grateful to our customer for offering us another opportunity to collaborate with Botin Partners," said Steve White, president of Brooklin Boat Yard. "This new yacht will be very competitive on the spirit of tradition racing circuit. We look forward to optimizing her performance."
Cold-molding construction of the Botin 55 hull was completed earlier this fall and shipwrights turned the hull right-side up and began working on her interior. The finished yacht will launch in May 2019.
Botin 55 Specifications
Length on Deck:                16.8 m / 55 ft.
Length Waterline:              15.7 m / 51 ft. 6 in.
Beam:                                4.27 m / 14 ft.
Draft:                                  3.0 m / 9 ft. 10 in.
Displ (approx):                   14.5 tonnes / 32,000 lbs
Weight of bulb (approx):    5012 kg / 11,050 lbs
Sail Area:                           153m2 1645 ft2
Engine:                               75 hp Volvo Saildrive