Small Boat Love-In at the Maine Boats, Homes & Harbors Show
Small Boat Love-In at the Maine Boats, Homes & Harbors Show
Friday, July 21st 2017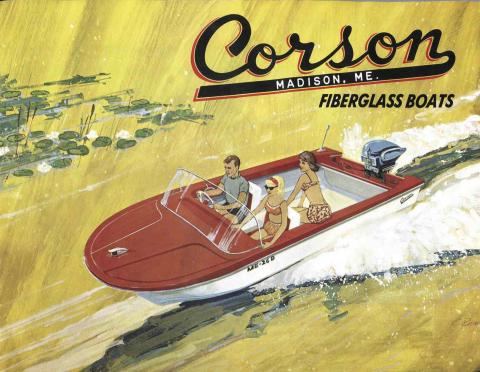 The 2017 Maine Boats, Homes and Harbors Show will host a "Small Boat Love-In" during the show August 11-13 in Rockland, Maine. The groovy gathering will celebrate the large joys of all small boats, and especially of one of Maine's most iconic, the Corson.
Built in Madison, Maine, from 1955 through the early 1990, these rugged family runabouts were some of the earliest boats in the country constructed out of what was then a newfangled material: fiberglass. They originally cost about $1,000, weighed less than 1,000 pounds, and, never wore out. More than 10,000 were built, and they went on to give more families more powerboat fun on the water over more years than any other Maine-built brand, said MBH&H Publisher John K. Hanson Jr.
"Some now are collectors' items, some now are hard-used workboats," said Hanson, who should know because he owns one himself. "We'll welcome them all, as well as other well-loved small boat members of the family. We expect to have Boston Whalers, sailing peapods, iceboats, center consoles, and a steam paddle wheeler on display. Maybe there'll even be a hydroplane."
Hanson and his vintage Corson were recently featured in an episode of the WCSH-TV show "Green Outdoors with Bill Green."
In addition to the small boat love in, the MBH&H Show will feature over 150 large and small, old and new boats on land and in the water as well as great food, arts and crafts and music. Tickets to the show are $15 per adult, good all weekend. Folks can get into the show free by trailering their favorite small boat to the event. All they have to do is pre-register (maineboats.com/boatshow). Space is limited so register soon. The Small Boat Love-In is sponsored by Hewes and Company and USHarbors.com.
To learn more about the Corson Runabout's impact on boating in the state of Maine, read this story by Ken Textor from the June 2017 issue of Maine Boats, Homes & Harbors magazine. http://maineboats.com/print/issue-146/classic-maine-plastic
To watch "Bill Green's Maine" featuring Publisher John K. Hanson and his vintage Corson), click here: http://www.wcsh6.com/entertainment/television/bill-greens-maine/maine-bu...
The 15th Annual Maine Boats, Homes & Harbors Show will take place August 11-13, 2017, in Harbor & Buoy Parks, Rockland The show was founded in 2003 by Maine Boats, Homes & Harbors Magazine, which is now in its 30th year. The three-day event is Maine's only in-the-water boat show. Admission: To honor the show's 15th anniversary, each $15 adult ticket is good for all three days (kids under 12 always get in free). Special Access Passes are also available for $75 (these passes include parking during the show and a magazine subscription, among other goodies.)
Gates open at 10 a.m. daily. For more information and to purchase tickets, visit maineboats.com/boatshow or call 800-565-4951.
The show appreciates the support of its fine sponsors: Awlgrip/Interlux, Bangor Savings Bank, Bell's Furry Friends Photography, Epifanes, Hewes & Company, LCI Fiber Optic Networks, Loyal Biscuit, Maine Boats, Homes & Harbors magazine, Maine Made: America's Best, Rock Harbor Brewing, and USHarbors.com. The support of the City of Rockland, the Rockland Main Street program, and West Bay Rotary are also much appreciated.
Please note: For the safety and enjoyment of all, no pets are allowed on show grounds (except bona fide service animals) and no baby strollers are allowed on the docks. Thanks for your consideration.