New stamp to honor Acadia
New stamp to honor Acadia
Monday, April 4th 2016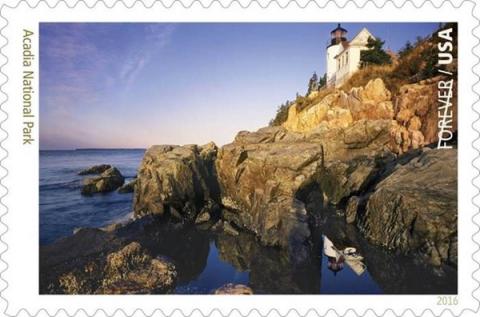 Acadia National Park and the National Park Service turn 100 this year and the Postal Service is honoring that anniversary with 16 "Forever" stamps featuring parks. The first image released to the public features a stunning photograph of Acadia National Park's Bass Harbor Head Light.
A June 2 first-day-of-issue ceremony for the National Parks Forever stamps panel will take place in New York City as part of World Stamp Show-NY 2016. Dedication ceremonies also will take place at or near each of the National Parks depicted on the stamps.
The stamp image depicting the Bass Harbor Head Light was photographed by David Muench. People have been drawn to the rugged coast of Maine throughout history. Awed by its beauty and diversity, early 20th-century visionaries donated the land that became Acadia National Park. The park is home to many plants and animals, and the tallest mountain on the U.S. Atlantic coast. Today visitors come to Acadia to hike granite peaks, bike historic carriage roads, or relax and enjoy the scenery.