New Poster for MBH&H Boat and Home Show in Rockland
New Poster for MBH&H Boat and Home Show in Rockland
Tuesday, May 23rd 2017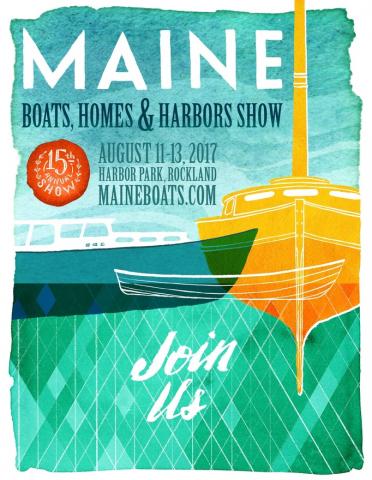 Maine Boats, Homes & Harbors, Inc. has unveiled the custom-designed poster for the 15th annual Maine Boats, Homes & Harbors Show, to be held August 11-13, 2017, on the waterfront in Rockland, Maine. The colorful creation, which features hand-painted artwork by local illustrator and furniture maker Clayton Thompson, deliberately echoes the show's focus on hand-crafted design, style, and workmanship.
"I felt like hand-drawn shapes, lines, and textures were a good fit for a show full of beautiful handmade, handcrafted wares. Not to mention those insane boats!" said Thompson. He has been an exhibitor at the show since he and his family relocated to the St. George peninsula from Salt Lake City, Utah, in 2015.
Thompsons' wife, Amy, is from the state, so when the need for "room to run around, fresh air, and some wildness" became apparent, the family turned to Maine. Thompson said, "In an effort to get back to her roots, Amy convinced me that Maine was the best place for our little family. For a bunch of nature geeks and art lovers Maine feels like home."
In addition to his work as a designer and illustrator, Thompson is also a well-known furniture maker. His company, Ivory Bill Furniture, will again present the latest designs of their handcrafted solid wood furniture at the 2017 show.
Thompson graduated with honors from the Academy of Art University in San Francisco, California, with a BFA in Traditional Illustration. He has worked for clients large and small, including Ashton Abeck for Pottery Barn Kids, Blue House Skis, Goyard San Francisco, and for many magazines. His design work ranges from web sites to life-size wooden cutouts. This is the second year that he has designed the show's poster.
As a souvenir of the 15th annual show, a limited number of signed copies of the poster will be on sale at the event for $20.
The show was founded in 2003 by Maine Boats, Homes & Harbors magazine, which is now in its 30th year. Held annually in early August on the waterfront in Rockland, the event attracts thousands of discerning attendees from all over the country and world. The three-day event is also Maine's only in-the-water boat show. Admission: To honor the show's 15th anniversary, each $15 adult ticket is good for all three days (kids under 12 always get in free). Gates open at 10 a.m. daily. For more information and to purchase tickets, visit maineboats.com/boatshow or call 800-565-4951.