New ownership for Islesford Dock Restaurant and Gallery
New ownership for Islesford Dock Restaurant and Gallery
Thursday, January 26th 2017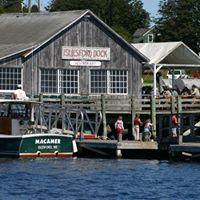 Good news for food lovers and boaters on Islesford and Mt. Desert Island: the Dock Restaurant and Gallery will stay open after all, under new ownership.
Bar Harbor restaurateur Michael Boland and billionaire MDI summer resident Mitchell Rales announced this week that they have purchased the Dock Restaurant and Gallery from Dan and Cynthia Lief, who had owned and operated it since 1993. The restaurant will open June 1 and is expected to stay open well beyond Labor Day, the new owners said in a press release. The Liefs had announced last fall that they were shutting down the restaurant and looking for a buyer.
Boland owns and operates Bar Harbor's Havana and Choco-Latte restaurants. He will be the operating partner overseeing day-to-day operations of the restaurant. "We plan to provide good jobs to local residents and purchase as much as possible from local or Maine-based vendors, which will help us achieve our goal of serving our customers great food and beverages in a unique setting," he said. "Mitch and I feel strongly that maintaining and growing this historic restaurant is important for the local community. It has been a good source of income to lots of folks over the years and has been a part of so many special memories for all of us."
Rales, a seasonal resident of Northeast Harbor, added, "Partnering with Michael to serve so many in the region – both with quality food and the deep sense of community the Islesford Dock provides – is an opportunity I couldn't pass up. We certainly hope to run as great a restaurant as Dan and Cynthia did for the last 24 years. However, we are equally excited about the economic impact of keeping this icon going and increasing its economic impact through various means, including lengthening the season."
Final decisions regarding menu items, lunch, dinner and brunch service haven't been made, said Boland. "We don't envision many changes," he added. "Certainly, the overall vibe of the Islesford Dock Restaurant will remain, and we plan on keeping many of the most popular dishes on the menu while adding some new ones. And of course we're equally excited about retaining the fantastic Islesford Dock Gallery going. We look forward to seeing everyone on June 1."
He told the MDI Islander newspaper that the Islesford Dock Gallery, adjacent to the restaurant, would remain open. In addition, the Islesford Dock has housed a pottery shop, a craft shop and the Little Cranberry Yacht Club. Boland said those tenants would be staying, as well.
Rales and his brother Steven founded Danaher Corporation, which owns dozens of companies in a wide range of manufacturing and technology fields.