Maine's 2016 Commercial Marine Resources Top $700 Million for the First Time
Maine's 2016 Commercial Marine Resources Top $700 Million for the First Time
Monday, March 6th 2017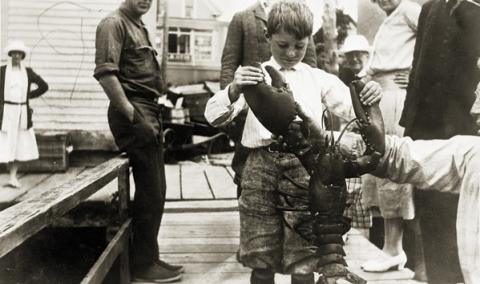 Maine's commercially harvested marine resources topped $700 million in overall value in 2016, according to preliminary data from the Maine Department of Marine Resources. The total reflects yet another all-time high and an increase of nearly $100 million in value over 2015.
For the second straight year, the largest single increase in value was in Maine's lobster fishery. The fishery saw the overall landed value jump by more than $30 million while the average per pound value remained over $4 for the second year in a row, at $4.07. The overall value of Maine's lobster fishery was again by far the highest at $533 million.
When factoring in bonuses paid to harvesters as reported by 14 of Maine's 19 lobster co-ops, the overall landed value of Maine's lobster fishery reached $547 million. 2016 marked the first year ever that Maine lobster harvesters landed over 130 million pounds, with a total of 130.8 million pounds.
"The historic landings reflect the hard work of our harvesters to build and sustain this fishery," said Maine Department of Marine Resources Commissioner Patrick Keliher. "The exceptional value is the result of growing demand by consumers who appreciate both the quality of Maine lobster and the long-standing commitment to sustainable harvesting practices that characterize this fishery."
At $19 million, Atlantic herring, the primary bait source for Maine's lobster industry, saw an increase in value over 2015 of more than $5 million. The dollar amount ranked it as Maine's second most valuable fishery, despite a nearly 11 percent decline in landings. "Overall herring landings declined in 2016 as a result of a lack of fish off-shore, resulting in demand that far surpassed supply," said Keliher.
Maine's softshell clam industry dropped from second place in 2015 to third in 2016 with an overall value of $15.6 million The decline in overall value reflected a 13.4 percent decline in per pound value as well as a 20 percent decline in pounds landed. "One significant factor that contributed to the decline in softshell clam landings was a closure of harvest areas between the Canadian border and Mount Desert Island associated with Amnesic Shellfish Poisoning late in the season," said Kohl Kanwit, Director of the DMR Bureau of Public Health. While the closure was minimized as much as possible through rigorous testing, many areas were closed for 2 to 4 weeks to ensure public health and safety.
Maine's elver fishery was again by-far the most lucrative of Maine's commercial fisheries on a per pound basis at $1,430.51 a pound. Maine harvesters netted 9,400 of the 9,688 available pounds of quota for an overall value of $13.4 million an increase of more than $2 million from the previous year. The overall value ranked the elver fishery as Maine's fourth highest.
"While we can take this moment to celebrate the great value of Maine's marine resources, we cannot lose site of the signs of change," said Keliher. "The agency and the industry must work to not only safeguard our iconic lobster fishery but also to work together on solutions that ensure the health and resiliency of all Maine fisheries."
Photo Caption:
A lobster this big, caught in the early 1900s somewhere off South Bristol, would make a lot of salad and bisque. But Maine State Law now prohibits keeping any lobster measuring more than 5 inches from the eye to the base of the tail. 
Image 
Courtesy Penobscot Marine Museum