The Hinckley unveils the world's first fully electric luxury powerboat.
The Hinckley unveils the world's first fully electric luxury powerboat.
Thursday, September 14th 2017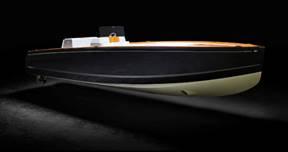 The Hinckley Company has unveiled what it is billing as the world's first fully electric luxury powerboat.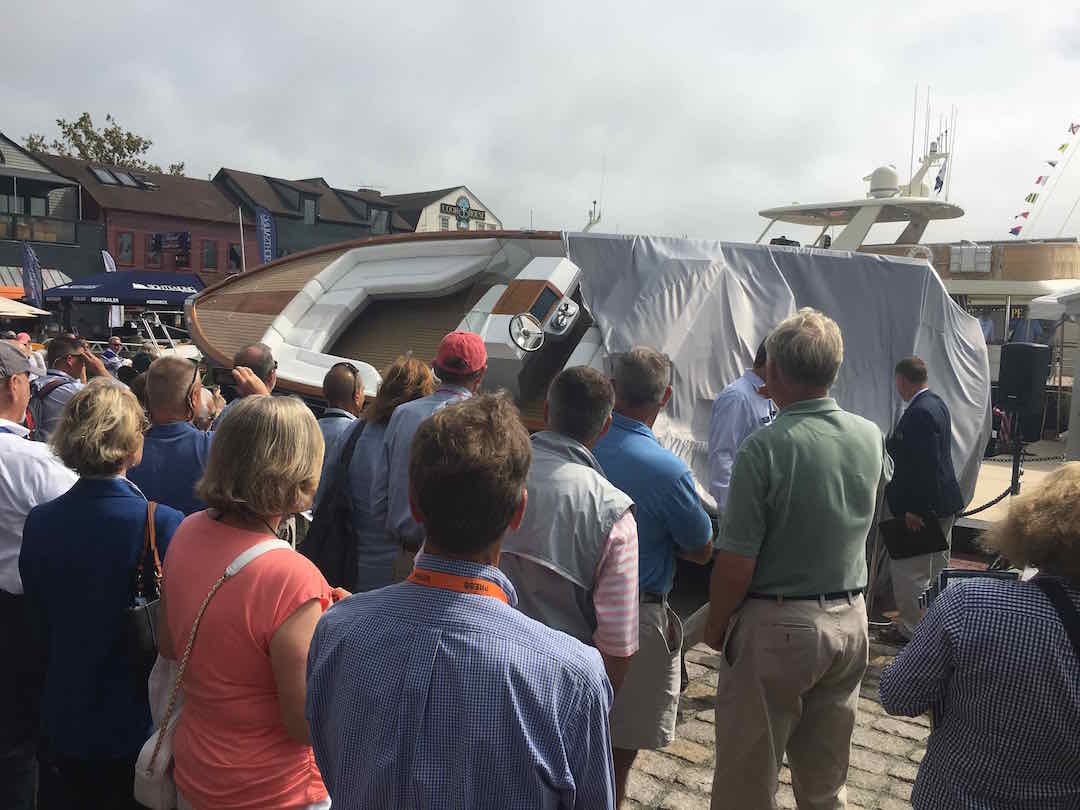 At 6,500 pounds this is the lightest Hinckley yacht ever built. Named Dasher, the first model of the 28.5'-long twin-screw center console runabout was introduced with great fanfare at the Newport International Boat Show today (Sept. 14). Dasher also was the name of Hinckley's then groundbreaking first Picnic Boat, which was launched in 1994.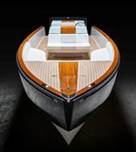 "Since 1928, Hinckley has pioneered beautiful, timeless, and highly innovative yachts. We have a long tradition of innovation in pursuit of the perfect yachting experience. From the early use of fiberglass in the Bermuda 40 in the 1960's to the adoption of jet drives on the category-defining Picnic Boat, we've always worked to combine the latest technology with cutting edge naval architecture to do what has not yet been done" said Peter O'Connell, Hinckley's president and CEO.
The new electric boat, which was designed by Michael Peters, features an angular carbon-epoxy hull slathered with what appears to be Hinckley's signature bright work. Except it's not wood. Rather it's a molded composite product hand painted to look like teak, but much lighter than real wood — Hinckley calls it "Artisanal Teak." The deck hardware is lightweight titanium.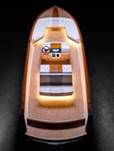 Power comes from twin 80-hp electric drives manufactured by Torqueedo, with waterproof lithium-ion battery packs lifted from the BMW i3 automobile. Her cruising speed is 10mph with fast cruising at 18-27 mph. Range is 40 miles at cruising speed and 20-25 miles at fast cruising speeds. Dasher is equipped with standard on-board chargers that accept dual 50 amp charging cables gaining a full charge in 4 hours.
"The Hinckley Whisper Drive silent propulsion system combines the latest hydrodynamics, electric power and digital control systems to achieve the performance handling and maneuverability that discerning clients will expect" said O'Connell.
Dasher has a beam of 8'7" and draws 2'4".
Hinckley says the open-plan cockpit is designed to be "not just about the boat, but how the boat connects with its people." A single touchscreen controls everything on board, from the lights to the motors to the music. Touch a single button, and the boat comes to life and leaves the dock in silence. The loudest noise is the props moving the water.
The idea for the new boat came out of a meeting about a year ago with yacht designers and others to brainstorm what might be the next new thing for the boat world. Hinckley is taking orders now for the new model, with deliveries in summer 2018, Hinckley officials said.