Calling all Corson boat owners!
Calling all Corson boat owners!
Thursday, July 13th 2017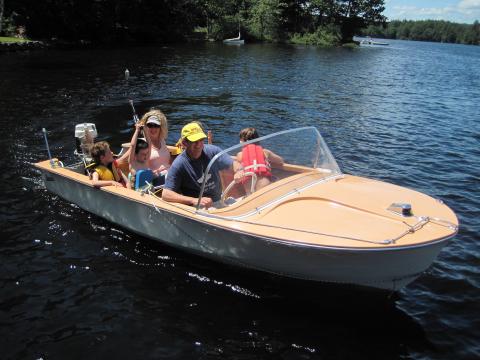 The 2017 Maine Boats, Homes and Harbors Show is having a "Small Boat Love-In" at the Maine this August 11, 12 at the Rockland show. Among other boat types, the show is celebrating Maine iconic small motorboat, the Corson.
This rugged family runabout was built in Madison, Maine from 1955 through the early 1990s. These were some of the earliest production boats in the country that were built of that new material, fiberglass. Over 10,000 were built, and Corson boats have probably given more Maine families fun on the water over more years than any other Maine brand.
"Some now are collector's items, some now are hard-used workboats," says John K. Hanson Jr., organizer of the Maine boats, Homes & Harbors Show. "We welcome them all, as well as other other well loved small boat members of the family. Boston whalers, sailing peapods, ice boats, hydroplanes, folks can get into the show for free by bringing their favorite small boat to the show. All they have to do is register.
"Small boats are as beloved as the family dog, they just last much longer. We want to see the boats and hear the stories."
To register for the small boat love in, visit the MBH&H show website at at: maineboats.com/boatshow/small-boat-love-in or call 207-594-8622.
Even if you don't have a small boat to show off or don't want to haul your boat to Rockland, come to the show to look at the boats and hear the stories. The Maine Boats Homes & Harbors Show will take place Aug. 11-13 on the waterfront in Rockland. In addition to the small boat love in, the show will feature over 100 boats in the water and on land, as well as fine art, crafts, good food and lots of fun! Beat the lines by buying your ticket in advance on-line; $15 covers admission to all three days: maineboats.com/boatshow/visitors/tickets.