Maine Boats Homes & Harbors Show Introduces Concours d'Epifanes
Maine Boats Homes & Harbors Show Introduces Concours d'Epifanes
Tuesday, August 2nd 2016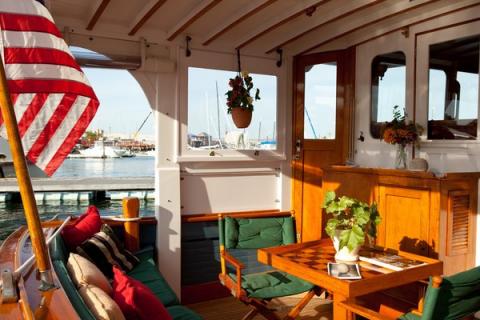 The 14th Maine Boats, Homes & Harbors Show has unveiled a new feature for the annual high-summer event, to be held August 12-14, 2016, in Rockland, Maine. The show has teamed up with Epifanes Yacht Coatings, a North American distributor of marine paints and varnishes, to create an exhibit filled with eye candy: the Concours d'Epifanes.

Playing off the French term, concours d'élégance, "a show of automobiles or other vehicles in which the entries are judged chiefly on elegance and appearance," the Concours d'Epifanes is a beauty contest for expertly refitted and restored sailing yachts, motorboats, and vintage small craft. The select fleet of featured vessels will be on display by invitation, and will represent many of Maine's most highly regarded boatyards.
Each will be chosen as a prime example of the ways that painstaking preparation, paint, and varnish can combine with technologically astute repair and replacement to bring beloved older vessels into as-good-as-new (or better!) condition.
"We created the Concours d'Epifanes to convey to the general public the great possibilities of renovating beloved older designs," Hanson said. "We also hope to promote this highly skilled facet of the boat industry by highlighting and rewarding the best efforts being done in this field."
The Concours will be an opportunity for event attendees to get up close and admire these stunning boats, which will be displayed afloat in their natural element on Dock G and strategically placed around the show grounds. Viewing the fleet is included in the show admission fee, as is viewing the stellar work of hundreds of artisans from Maine and the region.
The exhibit has been underwritten by Epifanes, N.A., in cooperation with Maine Boats, Homes & Harbors and USHarbors.com. Epifanes, N.A. is headquartered in Thomaston, Maine, and develops and manufactures some of the world's finest marine coatings. Using state-of-the-art technology and the finest materials, Epifanes has set the highest standards for varnish and paint quality in beauty, conservation, and performance.
The Maine Boats, Homes & Harbors Show is known for fine boats in the water and on land, plus exhibits of handsome home wares, custom-made jewelry, and bespoke furniture. Other signature events and displays will include Boats that Make Maine Work, featuring the restored windjammer Ladona and the Maine Maritime Academy tugboat Pentagoet; the Demo Docks, where boats will be available for sea trials by appointment; a rasher of food vendors; live music on the bandstand; fun and science for the kiddos; and the always-popular (and seriously silly) World Championship Boatyard Dog® Trials* (Sunday morning).
The 2016 Maine Boats, Homes & Harbors Show will be held August 12-14. Gates open at 10 a.m. daily. Tickets are $12, children under age 12 get in free. Multi-day passes available. Hours are Friday, August 12, 10 a.m.-5 p.m.; Saturday, August 13, 10 a.m.-4 p.m.; and Sunday, August 14, 10 a.m.-4 p.m. Advance tickets are available online (maineboats.com/boatshow) or call 800-565-4951 or e-mail showinfo@maineboats.com. For more information, to order tickets, and to view a full list of exhibitors and activities, visit maineboats.com/boatshow.
The show appreciates the support of Epifanes for the Concours d'Epifanes and the show docks, and of overall show sponsors Awlgrip/Interlux, Bangor Savings Bank, Bell's Furry Friends Pet Photography, Center for Maine Contemporary Art, Hurricane Island Center for Science and Leadership, Loyal Biscuit, Maine Boats, Homes & Harbors magazine, and Maine Made: America's Best, Port Harbor Marine, and USHarbors, and WERU-FM. The support of the City of Rockland is also much appreciated.
*NO pets are allowed on show grounds (except the pre-selected Boatyard Dog® Trials competitors on Sunday only and bona fide service animals).