Ralph Stanley honored by Marine Museum
Ralph Stanley honored by Marine Museum
Tuesday, May 23rd 2017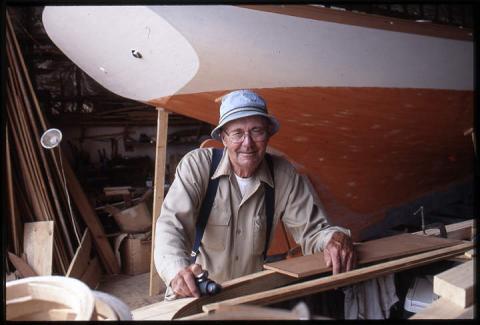 On Saturday, May 27, from 1 to 5 p.m., the Penobscot Marine Museum in Searsport will host an afternoon of boat talk and music in celebration of the career and talents of MDI boatbuilder, National Heritage Fellow and Penobscot Marine Museum Trustee Ralph Stanley, who will be on campus.
Stanley is recognized in the State of Maine and nationally as a master boatbuilder. In 1946, he began his wooden boat building career. During this time, he built and restored more than 70 boats including lobster boats and yachts, dories, rowboats and Friendship Sloops. Stanley became a National Endowment of the Arts National Heritage Fellow in 1999 for his contributions to boatbuilding as a traditional art. Along with boatbuilding, he is a musician who enjoys making his own violins.
At 1 p.m., the short documentary "Ralph Stanley: An Eye for Wood" will be screened with live commentary by film director Jeff Dobbs.
At 2 p.m., attendees will enjoy a selection of traditional fiddle music presented by Belfast Bay Fiddlers & Friends. Belfast Bay Fiddlers is a group of local musicians who enjoy playing and sharing their music; feel free to bring your instrument and join in with the group.
At 3 p.m., everyone is invited to raise a glass in a toast to Stanley and hear stories and tributes about him and his influence on the coast of Maine (thanks to Marshall Wharf Brewing Co. of Belfast for its generous support).
At 4 p.m., Old Grey Goose will play a selection of American folk songs on a variety of acoustic instruments. The band's music focuses on core American values through songs of love, work, diversity and achievement. Penobscot Marine Museum is open 10 a.m. to 5 p.m.
Admission for this special day, the first of the 2017 season, is just $1 per person. The museum's theme for the 2017 season is Gone Fishing! with its featured exhibit, "The Net Result: Our Evolving Fisheries," exploring the world of Maine's commercial fisheries through exhibits and programs. For more information, call 548-2529 or visit penobscotmarinemuseum.org.