New leader at Morris Yachts
New leader at Morris Yachts
Friday, July 17th 2015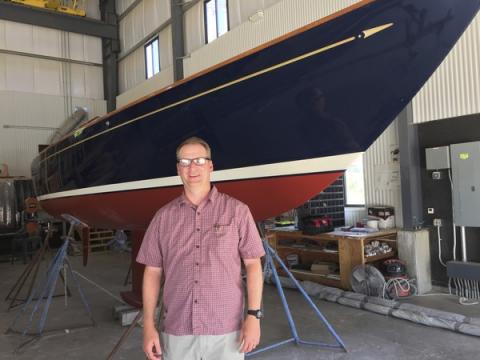 Morris Yachts, a Maine-based builder of high-end sailing yachts from 29-to-80 feet, has appointed new leadership. Pete Carroll is now responsible for all aspects of Morris Yachts' operations, customer service, finance and facilities.
A native of Fort Collins, Colorado, Carroll recently retired from the U.S. Coast Guard after 20 years of active duty, completing his position as Commanding Officer of the Civil Engineering Unit Cleveland where he was responsible for facilities in the Great Lakes and Mid-Atlantic States worth $1 billion. He holds a Masters Degree in Science and Engineering from the University of Illinois Champaign-Urbana, as well as in Business Administration from the University of Michigan. While Carroll was obtaining his undergraduate education at at the U.S. Coast Guard Academy in New London, Connecticut he was a member of the Coast Guard Dinghy Racing Team; he and his sailing partner won the freshman dinghy nationals. He holds an equivalent to a 1st mate license for vessels less than 800 tons while serving aboard the USCGC RELIANCE out of Kittery, Maine.
Carroll and his family are long-time friends of the Morris family going back to when Tom Morris first started the company over 40 years ago. He has spent every summer at his family-owned cottage in Southwest Harbor since the age of two. Mr. Carroll and his wife Rebecca, and their two children Mia and Wyatt, will be making Mount Desert Island their full-time home.
"The Morris family is excited to have Pete join our team in Maine," said Morris Yachts owner, Cuyler Morris. "His background of leadership, engineering and business acumen will serve Morris Yachts and our customers very well and help us integrate and support our world-class boatbuilding and service teams."