$15,000 reward offered in lobster trap cutting case
$15,000 reward offered in lobster trap cutting case
Tuesday, November 1st 2016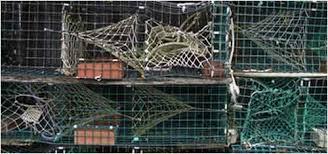 An escalation of trap cutting incidents in recent weeks between Cape Rosier and Schoodic Point prompted a $15,000 reward from Operation Game Thief for information that will help Marine Patrol in its investigation.
"This has been going on since early summer but in recent weeks we have received numerous reports of traps being cut along the B/C line, and the possibility of these incidents continuing to escalate has prompted me to approve additional Marine Patrol assets including overtime and vessels to support investigations into these incidents," said Maine Department of Marine Resources Commissioner Patrick Keliher.
Lobster Zone B extends from Schoodic Point to Newbury Neck while Zone C stretches from Newbury Neck to Cape Rosier.
"While these incidents are territorial disputes among a few harvesters, I will take whatever action is necessary to bring a stop to these violations, including closing the area associated with these incidents," said Keliher. "I don't want to take an action that could potentially penalize law abiding harvesters, but I am committed to preventing this from escalating even further."
The trapping cutting incidents, which Marine Patrol Colonel Jon Cornish called the "mostly costly loss of gear" he has witnessed in his 32-year career, are the most recent of several incidents affecting Maine lobstermen. Earlier in this fall, a boat owned by a lobsterman in Port Clyde was sunk an amazing three times in six weeks. After the first two sinkings, Anthony Hooper was able to relaunch his 35-foot boat named Liberty. The third time he said he would not be able to get it back in the water for this season. Operation Game Thief has offered a $2,000 reward for information in that case.
Earlier in September, two men were charged in connection with the sinking of yet another lobster boat, this one in Tenants Harbor. Authorities have said they believe the two men who sunk that boat did so in return for money they used to buy drugs.
In the most recent trap cutting case, the gear loss is estimated "to far exceed $350,000 dollars," Cornish said. "Trap molesting is a serious offence with the potential for multiple year license suspensions. We are working hard to investigate these incidents and are grateful for the support of the Operation Game Thief program."
Anyone with information is encouraged to call the Operation Game Thief Hotline at 1-800-253-7887 (1-800-ALERT-US); out of state callers dial 1-207-287-6057. Information can also be provided through the OGT online Tip Reporting Form at http://www.maineogt.org/report.php. Information provided by phone or the Tip Reporting Form can be provided anonymously.