Brooklin Boat to build 22-meter sloop
Brooklin Boat to build 22-meter sloop
Wednesday, August 12th 2015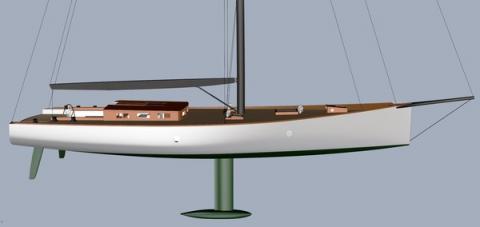 Brooklin Boat Yard of Brooklin, Maine, USA has been selected by the Spanish yacht design firm of Botin Partners to be the builder for their newest cruising design sloop of 22 meters.
Botin Partners is perhaps best known for their work with modern race boat design having been responsible for many of today's successful box rule racers like TP52's, Class 40's, Volvo 70's, HPR/IRC 44's & IRC 52's.
Botin Partners has had equally great success in the world of cruising sailboats with designs that marry high performance with comfort and style such as the Grand Soliel 37, 40, 43, 46 & 50, the Murtic 52 and other custom one-off projects.
This boat will be of wood / carbon fiber / foam and epoxy composite construction and Brooklin Boat Yard was selected by Botin Partners for this project based on Brooklin's proven record in wood / carbon composite construction.
Some examples of Brooklin Boat Yard built boats similar in size, construction and complexity to this new Botin Partners design would be GOSHAWK(76' Spirit of Tradition Sloop, 2005) , ISOBEL (69' Fast Sloop, 2011) and most recently FOGGY a 74' German Frers designed daysailor / racer launched in June of 2015.
In hull shape and sail plan the Botin 22 will be very similar to many of today's modern racing boats with extended bow sprit, plumb bow, wide beam running well aft, T-bulb (lifting) keel and twin rudders.
Unlike todays stripped out racing yachts the Botin 22 will be built with interior accomodations and cruising amenities that will allow her owner, family and guests to cruise the world's oceans in comfort, style and speed.
Construction has begun (August 2015) and launching is anticipated for late Fall of 2016.
BOTIN 22 Meter Sloop
Principle Dimensions & Information
Designer: Botin Partners / Santander, Spain
Builder: Brooklin Boat Yard / Brooklin, Maine, USA
LOA: 25.80 meters / 84.64 feet
LOA: (Hull): 22.27 meters / 73.06 feet
LWL: 21.09 meters / 69.19 feet
Max Beam: 6.11 meters / 20.05 feet
Displacement: 28,000 kilograms / 61,729.43 lbs.
Max Draft: 4.5 meters / 14.76 feet
Mainsail Sail Area: 180.80 sq. meters / 1,946.11 sq. feet
J1 Sail Area: 121.10 sq. meters / 1,303.50 sq. feet