Maine Marine Patrol Recognized for Rescue
Maine Marine Patrol Recognized for Rescue
Friday, April 1st 2016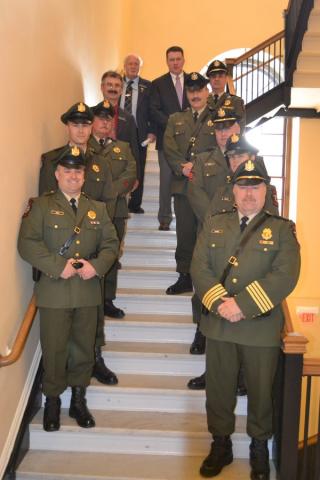 Seven Maine Marine Patrol Officers were recognized March 31 by the Maine Legislature for saving a life while on duty. Both House and Senate passed the Joint Resolution honoring them for the importance of their profession, the knowledge and skill their job demands, and for putting their own lives at risk to save the lives of others.

Marine Patrol personnel honored included Sergeant Russell Wright of Lubec, Officer Brian Brodie of Lubec, Specialist Mark Murry of Marshfield, Officer Wesley Dean of Warren, Officer Brian Tolman of West Rockport, Specialist Corrie Roberts of Lincolnville, and former Officer Benjamin Burnes of Wells. Each has also received or will receive a Marine Patrol Lifesaving Award for their actions.
In 2000 Specialist Murry rescued a sea kayaker who capsized in 10 to 20 foot seas and spent 15 hours clinging to a navigational buoy. In 2012, Sergeant Russell Wright, then a Specialist, saved the man whose canoe had capsized on Whiting Bay. In 2014, Officer Dean saved the life of an 18-month old baby who was choking by performing the Heimlich maneuver.
In 2015, Sergeant Wright and Officer Brodie saved the lives of two urchin fishermen in separate incidents two months apart. In the first, they rescued a fisherman whose skiff had overturned in the turbulent and frigid waters of the Lubec Narrows. In the second, they rescued two fishermen whose boat had overturned, leaving them clinging to a ledge near Cutler.
In July 2015, former Marine Patrol Officer Benjamin Burnes rescued a man who was near drowning as he tried to swim ashore in swift current of the York River after his boat capsized. In August 2015, Specialist Corrie Roberts and Officer Brian Tolman performed first aid on a man with a life threatening laceration.
"It is my honor to be able to recognize the fine men and women of the Marine Patrol," said Representative Walter Kumiega of Deer Isle, the lead sponsor for the resolution. "The lifesaving and rescue actions that we cited in the Joint Resolution are examples of the important work that Marine Patrol does every day. Their professionalism and dedication is remarkable."
"Each of the honorees has shown the instinct to react when needed, and the training to perform extraordinary feats of skill and courage in often difficult and dangerous circumstances," said Maine Department of Marine Resources Commissioner Patrick Keliher. "This is an honor that recognizes how indispensable the Maine Marine Patrol is for the safety of Maine's coastal communities."
"I'm extremely proud of these Officers," said Marine Patrol Colonel Jon Cornish. "Each one of them has given someone the gift of life through their actions. While every day they protect and preserve a half billion dollar industry, the lives they have saved are priceless."