MB&H Show - Event Schedule
The Annual Maine Boat & Home Show is typically held the second weekend of August. Gates open at 10 a.m. daily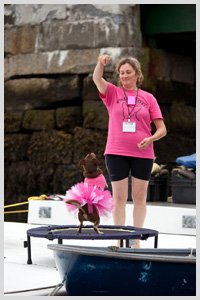 The Annual Boatyard Dog® Trials
are always a hoot!
2023 Event Schedule
2023 Show Dates & Times:
Friday August 11: 10 a.m. - 5 p.m.
Saturday August 12: 10 a.m. - 5 p.m.
Sunday August 13: 10 a.m. - 4 p.m.
Admission:
Adult tickets: $15
Sailors under 12 always get FREE admission
Special Access Passes: $75 single/$125 couple (includes parking,
Exhibitor Party invite, and more)

2021 EVENTS (stay tuned for 2023 EVENTS)
Icon Boats (Dock F) ~
Friday:        Penbay Pilot Boat: These guideboats work the waters of the Penobscot and Frenchman Bays arounk the clock and year round escorting vessels safely to their destinations. 
Saturday:    Schooner Bowdoin: Built in 1921 for Arctic explotation, the Bowdoin made three voyages to the Arctic Circle. It is the Official Vessel of the State of Maine and the flagship of Maine Maritime Academy's Vessel Operations and Technology program.
Sunday:    A fleet of Lobster Boats: The docks will welcome a collection of lobster boats, Maine's iconic vessel.
200 Years of Maine Boats (Buoy Park) ~   For 200 years, Mainers have built some of the world's best boats. This tradition continues to this day. In celebration of Maine's Bicentennial and with support from the Maine Bicentennial Commission and the City of Rockland, Maine Boats Homes, & Harbors magazine will partner with The Apprenticeshop to present and honor this heritage. Craft from museums and private owners will be on display at the annual Maine Boat & Home Show on Rockland's waterfront for a special retrospective of 200+ Years of Maine Boats. Vessels ranging from birchbark canoes to the ultra- modern 3D-printed boat 3Dirigo from the University of Maine's Advanced Structures and Composites Center will be on display. Here, people can see a wide selection of boats from Maine's past, present, and future. This special exhibit area is open to the public, free of charge, as well as to ticketed showgoers.
Model Sailboat Regatta (Docks) ~   Don't miss the fun— a radio-controlled model sailboat regatta will be held from 3:30 - 4:30 on Saturday. Come cheer them on!
Just for Kids' Area (Tent H) ~   There will be free organized activities for younger sailors, presented by Coastal Children's Museum, and a Cedar Works "Ship Ahoy" play boat to clamber aboard. Kids under 12 always get in FREE.
Scavenger Hunt (Tent B) ~   Families can sign up for a Scavenger Hunt at the Maine Boats, Homes & Harbors Kiosk (Tent B), then go forth and earn prizes (everyone's a winner). 
Life at Home (Area K) ~   A volunteer crew from the Midcoast Chapter of Habitat for Humanity will build a tiny house on site. Nearby, Shed City will have a sturdy building on display.
 
On The Bandstand
AFTERNOON TUNES!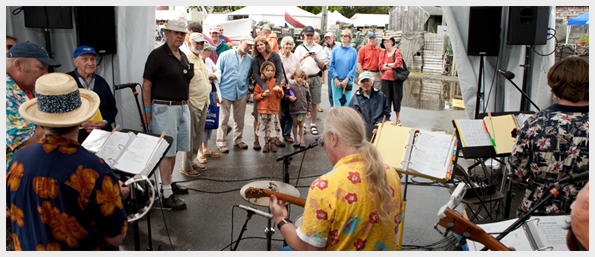 University of Maine at Machias Ukulele Band
Maine is alive with the sounds of great music all year long, and the MB&H Show presents a fine and varied selection. You'll find some wonderful performers strutting their stuff just for you. It's all FREE, and included with the your show admission.
The 2021 Lineup:
All Weekend: Miners Creek, in the Epifanes Tent, Outdoor East
Saturday (only): Roll & Go ~ roaming the show grounds performing sea songs and shanties.