MB&H Show - Event Schedule
The Annual Maine Boat & Home Show is typically held the second weekend of August. Gates open at 10 a.m. daily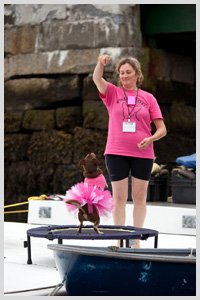 The Annual Boatyard Dog® Trials
are always a hoot!
2021 Event Schedule
2021 Show Dates & Times:
Friday August 13: 10 a.m. - 5 p.m.
Saturday August 14: 10 a.m. - 5 p.m.
Sunday August 15: 10 a.m. - 4 p.m.
Admission:
Adult tickets: $15
Sailors under 12 always get FREE admission
Special Access Passes: $75 single/$125 couple (includes parking,
Exhibitor Party invite, and more)

2019 EVENTS (2021 Events TBD!)
Icon Boats (Dock F) ~
Friday:        The diesel-electric steamship America will be on the docks. Their mission: Getting veterans and their families out on the water. 
Saturday & Sunday:    The 1897 tugboat Wallace Foss will be on the docks. The Foss is the longest-in-service tug in the U.S. and the oldest on the Eastern Seaboard.Climb aboard a Maine windjammer. 
Music ~
Miner's Creek will perform their unique blend of old-time and contemporary bluegrass throughout the weekend. Hear them in the Epifanes tent (Near Tent B).
On Saturday, back by popular demand, the Blue Hill Brass will roam the grounds with their lively mix of tunes that spans the ages.  
Demo Dock: Power and Sail (Dock F) ~
Back by popular demand, the Demo Docks are where some fine craft will be standing by, at the ready for sea trials. Potential boat owners can make an appointment to climb aboard and experience the ride (and Rockland Harbor) first-hand.
Located on Dock F.
Get Involved (Area A) ~
As part of this new initiative, students from the Maine Ocean School will show off their entry in the 18-Volt Electric Canoe Challenge, to be held on Saturday afternoon. They'll be joined by other nautical nonprofits, including:
The Apprenticeshop: hands-on demonstrations
Hurricane Island Outward Bound School: pulling boat on display
Penobscot Marine Museum: knot-tying demos all weekend
Plus: A fleet of smaller craft from hydroplanes to iceboats. In Maine, the nonprofit and for-profit worlds work well together; come see what is possible.
Kids' Area (Tent H, Food Court) ~
There will be free organized activities for younger sailors, presented by Owls Head Transportation Museum, and a Cedar Works "Ship Ahoy" play boat to clamber aboard.
Scavenger Hunt (Tent B) ~
Families can sign up for a Scavenger Hunt at the Maine Boats, Homes & Harbors Kiosk (Tent B), then go forth and earn prizes (everyone's a winner). 
Life at Home (Area K) ~
Back by popular demand, a volunteer crew from the Midcoast Chapter of Habitat for Humanity will build (and auction off) a tiny house on site. Next door, a canvas "glamping" tent will be tricked out by Frantz Furniture with interior design ideas and options for boat and home. Nearby, Shed City will have a sturdy building on display.
Annual World Championship Boatyard Dog® Trials
Sunday, August 15, 2021, 10:30 a.m.
The excitement is building! A paw-full of brave (crazy?) competitors are chosen each year for the seriously silly World Championship Boatyard Dog Trials. They hone their wild and wacky acts to wow the crowd. The 18th annual running of this pawsome event will begin at 10:30 a.m. on the waterfront; gates will open at 9:45. Come cheer on your favorite pooch (but do leave your pets at home, they will not be allowed on show grounds).
 
Just For Kids
There will be room near the Food Court for children to stretch their legs and let off a little steam before they enjoy the rest of the Maine Boat & Home Show's many fine offerings. There'll be shade and yummy treats there as well.
Nearby, CedarWorks will have a "Ship Ahoy" play boat for young sailors to climb aboard.
In Tent H, the Owls Head Transportation Museum will host fun activities for junior mariners.
And be sure to visit Tent B (the Maine Boats, Homes & Harbors kiosk) to find out about a scavenger hunt with fun prizes.
Did we mention that kids under 12 always get into the show FREE?
Sponsored by Maine Boats, Homes & Harbors, Inc.
On The Bandstand
AFTERNOON TUNES!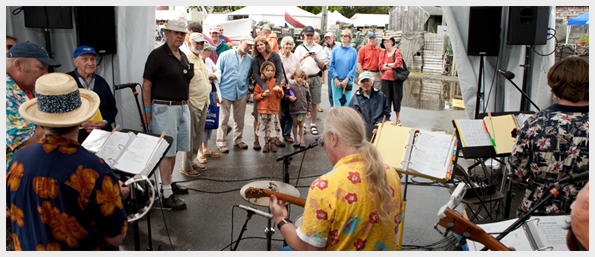 University of Maine at Machias Ukulele Band
Maine is alive with the sounds of great music all year long, and the MB&H Show presents a fine and varied selection. You'll find some wonderful performers strutting their stuff just for you. It's all FREE, and included with the your show admission.
The 2019 Lineup:
All Weekend: Miners Creek, in the Epifanes Tent, Outdoor East
Saturday (only): Blue Hill Brass ~ roaming the show grounds