MB&H Show - Event Schedule
MB&H Show - Event Schedule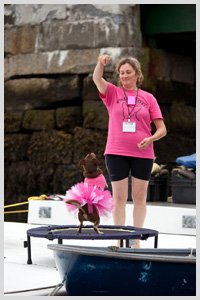 The Annual Boatyard Dog® Trials
are always a hoot!
2018 Events Schedule
2018 Show Dates & Times:
Friday: August 10, 10 - 5
Saturday: August 11, 10  - 5
Sunday: August 12, 10  - 4
Admission: $15/adult ticket (good all weekend), under 12 FREE admission
Small-Boat Love-In ~ Enthusiasts from around the region will gather with their privately owned small boats to share stories, swap tips, and celebrate. A wide variety of makes and models will be represented: fiberglass and wood, power and sail, and human-powered. All weekend, Buoy Park.
Click here to learn more about the Love-In and sign up to bring your boat (pre-registration required).
NEW! Working the Coast: Charting the Future ~This year's show salutes those who make their livelihood from the sea with a special crossover event designed to introduce commercial marine interests to the recreational market and vice-versa. Working the Coast will incorporate an exhibit tent plus outdoor and in-water spaces where builders and finishers of commercial vessels, vendors and installers of heavy-duty diesel engines and marine electronics, and reps from fisheries management and other agencies will be on hand to show their wares. On the docks, attendees can climb aboard an assortment of working vessels as part of the show's "Icon Boats" exhibit (see below).

Icon Boats (part of Working the Coast) (Dock B)
Friday:        Maine Seacoast Mission ship Sunbeam – Learn how the mission has provided care to Maine's islands since 1905.
Saturday:    Maine Maritime Academy training vessel – See what it takes to become a merchant mariner.
Sunday:       Lobsterboat Sunday – Get an up-close look at how the state's signature crustacean is      harvested.
All Weekend:   Maine Maritime Museum – Climb aboard the Mary E, a restored  fishing schooner.
Brokerage Dock (Dock G)
See fine examples of boats that have been revitalized by talented boatyards and boatbuilders from around the Gulf of Maine. Sponsored by Epifanes.
Live Music ~ The MB&H Show presents a fine and varied selection of live music on the Bandstand, which is conveniently located in Tent C near the food. It's a great place to take a short break or to meet up with your party. You'll find shelter, chairs to sit in, and best of all, wonderful performers strutting their stuff just for you. Check our our weekend music lineup here.
Demo Docks: Power and Sail ~ Back by popular demand, the Demo Docks are where some fine power and sailing craft will be standing by, at the ready for sea trials. Potential boat owners can make an appointment to climb aboard and experience the ride (and Rockland Harbor) first-hand.
Located on Dock F.
16th Annual World Championship Boatyard Dog® Trials
Sunday, August 12, 2018, 10:30 a.m.
The excitement is building! A half-dozen brave (crazy?) competitors will be chosen for the seriously silly World Championship Boatyard Dog Trials. They'll hone their wild and wacky acts to wow the crowd. The 16th annual running of this pawsome event will begin at 10:30 a.m. on the waterfront; gates will open at 9:45. Come cheer on your favorite pooch (but do leave your pets at home, they will not be allowed on show grounds).