UMaine Composites Center prints 2 boats for Department of Defense
UMaine Composites Center prints 2 boats for Department of Defense
Friday, February 25th 2022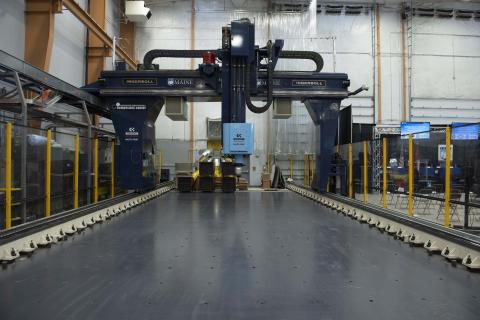 The University of Maine Advanced Structures and Composites Center has achieved a groundbreaking milestone in composite manufacturing with the production of two 3D-printed prototype logistics vessels for the U.S. Department of Defense.
Marine Corps Systems Command's Advanced Manufacturing Operations Cell, in collaboration with the UMaine Composites Center, used advanced manufacturing techniques to develop the expendable polymeric composite ship-to-shore vessels, according to a UMaine press release. The longer of the two vessels, the largest ever 3D-printed, simulates ship-to-shore movement of 20-foot containers representing equipment and supplies. The second vessel can transport a Marine rifle-squad with organic equipment and three days of supplies. The prototypes can be connected, maximizing the transport capability of a single-tow vehicle.
The news was announced Feb. 25 at a press conference at the UMaine composites center. Guests were not allowed to view the boats. Speakers at the event included Barbara K. McQuiston, director of Defense Research and Engineering for Research and Technology, Office of the Secretary of Defense, U.S. Senators Susan Collins and Angus King, U.S. Department of Defense leadership and University of Maine officials. 
The ship-to-shore logistics vessels align with the 38th Commandant of Marine Corps Gen. David Berger's vision of seeking low-cost, speed and ease of production when conceiving of the future amphibious portion of the fleet, the release noted.
In 2019, UMaine unveiled the world's largest 3D-printed object — a 25-foot patrol boat. "Today, we celebrated the creation of 3D-printed vessels that will be more than twice as large and represent the next remarkable leap in innovation by UMaine," according to a quote from the release. "These new boats continue the Composite Center's contributions to national defense and will help fuel new breakthroughs in advanced manufacturing that will create good jobs here in Maine."
Using traditional materials and methods, landing craft utility vessels can take over one year to produce. The UMaine Composites Center printed and assembled one of the two vessels in a month using the world's largest polymer 3D printer, which the center commissioned on Oct. 10, 2019.
Back then, in order to demonstrate the new printer, the Composites Center 3D-printed a 5,000-pound boat, 3Dirigo, in 72 hours, and printed a U.S. Army communications shelter in 48 hours. At the time, several Maine boat builders had noted that the greatest potential for the printer was to cut down on the cost of making boat molds, more than to build actual boats. 
The printer, with both additive and precise subtractive manufacturing capabilities, enables rapid prototyping for both defense and civilian applications. This latest project to create the two 3D-printed logistics vessels is a significant milestone toward demonstrating advanced manufacturing techniques to rapidly constitute critical DOD assets closer to the point of need, defense officials said. The vessels manufactured by the UMaine Composites Center are multimaterial composites with engineering polymer and fiber reinforcement.
"As the Marine Corps seeks to modernize logistics to better respond to current and future conflicts, advancements in additive manufacturing will ensure we remain agile, lethal and expeditionary," said William Williford, executive director of Marine Corps Systems Command, at the press event.
 "The University of Maine is at the forefront of cutting-edge research and high-impact technologies, including advanced manufacturing, AI and 3D printing important for industries in Maine and beyond," said University of Maine System Chancellor Dannel Malloy. "These prototype vessels are the latest innovations from the Composites Center that demonstrate the future of manufacturing."
Habib Dagher, executive director of the UMaine Composites Center, noted that in partnership with the Department of Defense, UMaine has been improving material properties, speeding up the printing process and connecting its printer with high-performance computers that can monitor the print. "With these tools in place, we have now printed a prototype vessel that will be tested by the U.S. Marine Corps," he said. "The Advanced Structures and Composites Center is at the cutting edge of advanced manufacturing research and development, advancing state-of-the-art technologies like large-scale additive manufacturing and high-performance computing to develop practical, rapidly deployable and cost-effective solutions for defense and civilian applications." 
The Advanced Structures and Composites Center is a world-leading interdisciplinary center for research, education and economic development, encompassing material sciences, advanced manufacturing and engineering of composites and structures. Housed in a 100,000-square-foot ISO-17025-accredited facility, the center has been recognized nationally and internationally for cutting-edge research programs leading and impacting new industries, including offshore wind and marine energy, civil infrastructure, biobased composites, large-scale 3D printing, soldier protection systems and innovative defense-related applications.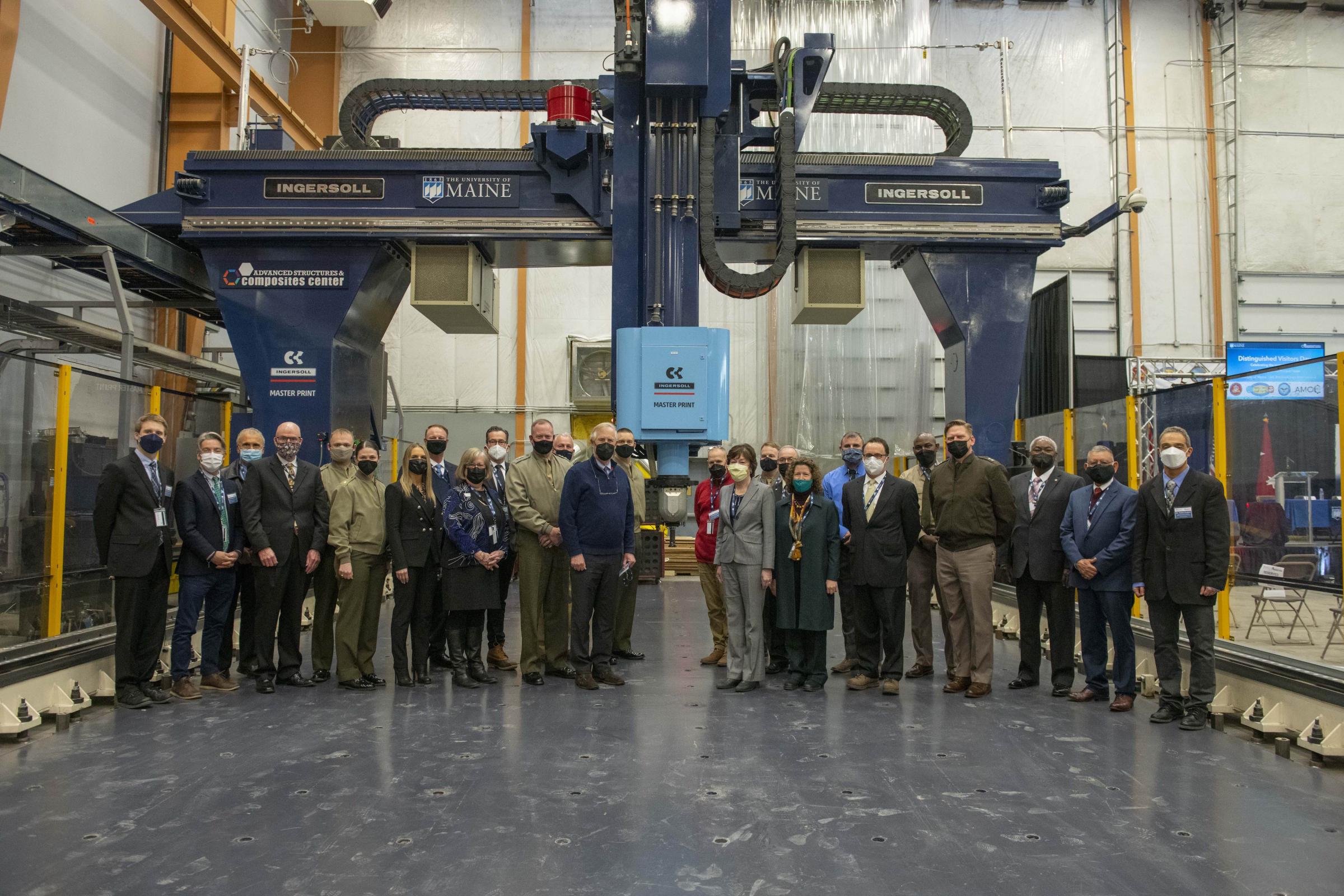 Captions:
The UMaine printer and officials at the press event. Photos Courtesy theUniversity of Maine Advanced Structures and Composites Center