Boat club adds new Maine location
Boat club adds new Maine location
Wednesday, October 14th 2020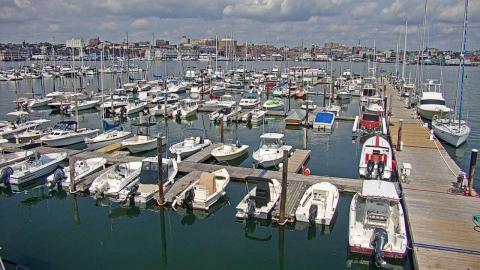 Freedom Boat Club of Maine is expanding once again. Through a new partnership agreement with Sunset Marina, the Maine franchise plans to open an additional location in South Portland for the 2021 boating season. This will be Freedom Boat Club's fourth location in Maine. The boat share service currently has clubs at Yarmouth Boat Yard on the Royal River in Yarmouth, at Moose Landing Marina in the Sebago Lakes Region in Naples, and at Fore Points Marina in Downtown Portland.
"Interest in the boat club has grown exponentially so we wanted to offer our members more options" noted Steve Arnold, owner of Yarmouth Boat Yard, Moose Landing Marina, and Freedom Boat Club of Maine. "Boating is a great way to explore Maine and this new club location will provide our members additional vessels and waterways to enjoy."
Dan and Elaine Lilley owners of Sunset Marina said they were excited to welcome Freedom Boat Club members to their marina. "We're confident they'll appreciate our convenient location and our full marina amenities which include an onsite restaurant," they said.
Located in Portland Harbor, Sunset Marina offers daily and seasonal boat slips and dockage for powerboats and sailboats up to 250′. The marina also offers launching, storage and maintenance service. Family owned and operated since 1997, Sunset has a fully attended fuel dock, pump-out station, ice and water and every slip has freshwater access, wifi and electricity. For more information on Sunset Marina, visit Sunset-Marina.com or call 207-767-4729.
The Sunset Marina location will start out with three vessels, bringing the total Freedom fleet size in Maine to 25 new model year boats. All Freedom Boat Club of Maine members have unlimited access to all fleet vessels at all club locations in the state.
Freedom Boat Club offers an alternative to boat ownership. Club members enjoy maintenance-free boating and unlimited access to fleets of new model year boats at four locations in Maine plus 240+ locations across the U.S., Canada and France at no extra charge. With no repair or cleaning concerns, boaters can enjoy time on the water with their family and friends. Fleet vessels in Maine include center consoles, dual consoles, deck boats, downeast cruisers, rigid inflatables, and pontoon boats. For mor information, visit FreedomBoatClubMaine.com