MBHH Show is This Weekend
MBHH Show is This Weekend
Tuesday, August 11th 2015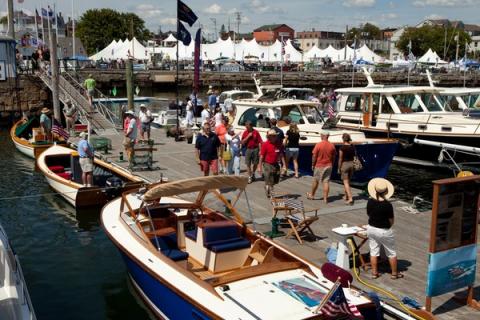 The MAINE BOATS, HOMES & HARBORS SHOW has assembled a varied flotilla of events and displays for the 13th annual event, which runs August 14-16, 2015, on the waterfront in Rockland, Maine. This is the state's premier boats and homes show, with more than 100 boats in the water and on land, showcasing the work of Maine's world-renowned boatbuilders and craftspeople. With nearly 200 exhibitors overall, the show also includes handsome home wares, fine builders, custom-made jewelry, and bespoke furniture.

Maine's boatbuilding business is on the rebound. Builders bringing yachts to the show include Artisan Boats, Back Cove, Classic Boatshop, Hinckley, Hunt, Kittery Point Yacht Yard, Lyman-Morse, Morris, Port Harbor Marine, Robinhood Marine, Sabre, John Williams and many more.
Each year, the show organizers include new events and displays, designed to entertain, educate, and enlighten new and long-term attendees alike. This year's show will feature a food truck rally, a rendezvous of vintage Boston Whalers, a fleet of model boats built by young sailors, docks filled with brand-new and beautifully refitted yachts, and the seriously silly World Championship Boatyard Dog Trials. People who want to learn how to drive a powerboat will enjoy the U.S. Power Squadron's virtual trainer. Also over the weekend several signature vessels will visit the waterfront including the Maine Maritime Academy's sail-training schooner Bowdoin, the Maine Seacoast Mission's Sunbeam V and a fleet of classic wooden lobsterboats.
HIGHLIGHTS
Boats that Make Maine Work: All weekend, on the docks
To honor the boats that help make Maine tick, the docks will play host to a rotating fleet of hard-working vessels. Friday's visitor will be the Sunbeam V. Saturday, Maine's official ship the Bowdoin will be on hand. On Sunday, there'll be a fleet of wooden lobsterboats from John's Bay Boat Company lining the docks.
Refit Docks: All weekend, Dock G
To complement all the wonderful brand-new boats on the docks and on show grounds, some very fine examples of professionally restored and refurbished yachts will be on display all weekend long. Do you own an older boat? Come see what is possible, and fuel your restoration dreams. Among boats on display will be a 1968 Allied XL 42 yawl, a shoal-draft beauty that has been redone stem to stern at Robinhood Marine, and a 1985 Wilbur 34 flybridge cruiser built by Lee Wilbur himself that has undergone a total refit at Kittery Point Yacht Yard.
Boston Whaler® Rendezvous: All weekend (Buoy Park)
This will be the show's first-ever gathering of privately owned Whalers—like-new and well-used—trailered in from near and far. Brand-new Boston Whalers will be on display as well, and there'll be restoration information and advice galore. The fun will include the first-ever "Whaler Tales" party, a pig roast and music fest on Saturday evening (vegetarian options available). Party tickets are $25 per person and should be reserved in advance at www.maineboats.com/boatshow/bostonwhaler.
USPS Boating Skills Virtual Trainer: All weekend (Rockland Yacht Club Building)
The Bowdoinham branch of the U.S. Power Squadron will set up in the Rockland Yacht Club's facility on show grounds, where they will host the Boating Skills Virtual Trainer, an interactive, simulation-based boating safety program. The BSVT allows students to maneuver a "Boston Whaler" on a "lake" in a virtual mode.
Food Truck Rally: Friday & Saturday (Buoy Park)
The food truck craze is here and we'll have some fine examples on show grounds. On Friday and Saturday, you can vote for YOUR favorite food truck and qualify to win a fun prize from FIORE Artisan Olive Oils. To sweeten the pot, on Saturday afternoon there will be special samples available for sale, so you can try before you vote.
This year's food options will range from locally roasted coffee and Maine-crafted ice cream to seafood, gourmet sandwiches, wraps, Asian specialties, and more.
Live Music: All weekend (On the Bandstand, Buoy Park)
Two groups are back by popular demand, Bel Isle and Blue Hill Brass, plus there'll be a newcomer on the scene on Friday: Tonal Spectrum. Tonal Spectrum's grooving drums, funky bass, melodic sax, and sparkling keyboards make for a fantastic combo.
Kids Marine Experience Park: Fri. 10-5, Sat. 10-4, Sun. 11:30-3. (Tent M, Buoy Park)
With the help of the Hurricane Island Center for Science and Leadership, MBH&H has ramped up the offerings at the show for the younger set. They can burn off steam, get creative, learn new things, or just unwind a bit with creative projects for young sailors (and their captains). Activities will vary from day to day, so stop by Tent M and see what's up.
World Championship Boatyard Dog® Trials:
Sunday morning, 10:30 (On the waterfront)
This event, a lighthearted celebration of all things dog, boat, and water, is a crowd-pleaser every year. New for 2015 is the requirement that each dog and handler incorporate a Frisbee into their "Freestyle" segment. There is also a brand-new perpetual trophy, custom-built by Fred Carey and dubbed the "Canine Crown." Come cheer for your favorite competitor (but be sure to leave your pet at home). Sponsored by Bell's Furry Friends Photography and Loyal Biscuit Co.
The Maine Boats, Homes & Harbors Show is known for fine boats in the water and on land, handsome home wares, custom-made jewelry, and bespoke furniture. The 2015 event will be held August 14-16 on the waterfront in Rockland, Maine. Hours are Friday, August 14, 10 a.m.-6 p.m.; Saturday, August 15, 10 a.m.-5 p.m.; and Sunday, August 16, 10 a.m.-4 p.m. Tickets are $12, children under age 12 get in free. Please note: no strollers are allowed on the docks and no pets are allowed on show grounds (all service animals should be marked as such).
For more information and a full list of exhibitors and activities, visit www.maineboats.com/boatshow.