Presidential yacht SEQUOIA lands in Maine
Presidential yacht SEQUOIA lands in Maine
Monday, October 21st 2019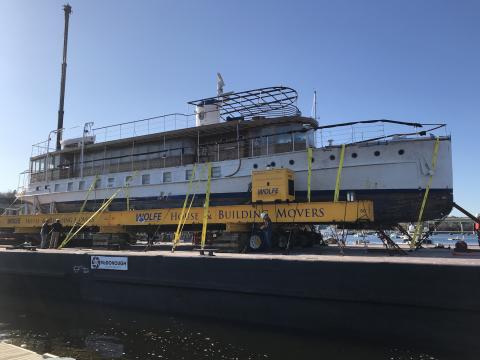 A crowd of hundreds watched Monday, October 21, as a crew of workman slowly unloaded the presidential yacht Sequoia from a huge barge at the Belfast waterfront. The piece of American history that many call "the floating White House," arrived in the harbor after being barged up the East Coast from Maryland.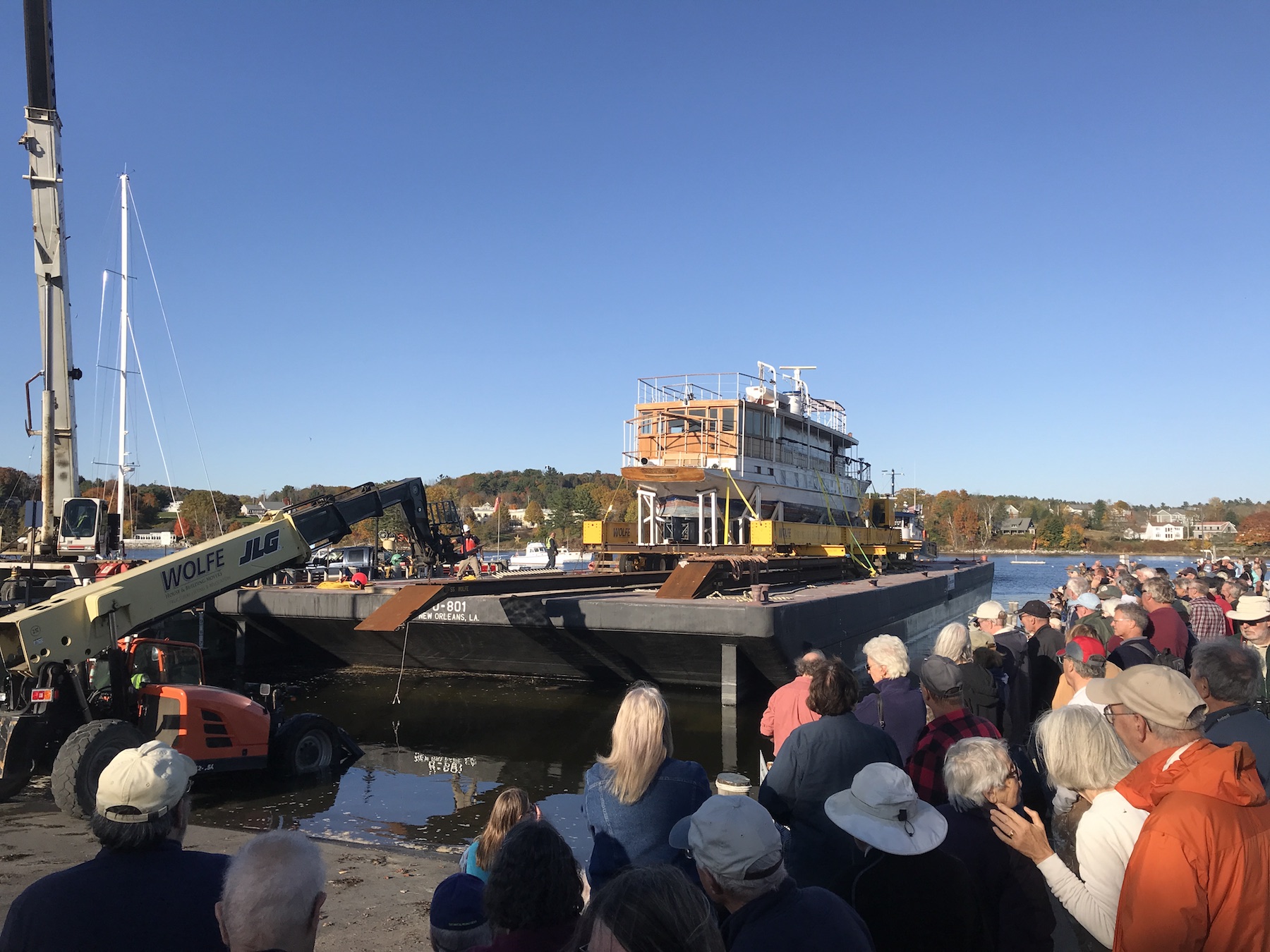 After a six-year legal battle—including a period when a family of raccoons occupied the stately 104- foot yacht—the USS Sequoia will be fully restored at the French & Webb boat yard. 
"Just over a week ago, we began carefully transporting Sequoia by barge from Cambridge, Maryland to Belfast, where a team of talented boatbuilders and craftsmen will restore it plank by plank," said Michael Cantor, Managing Partner of Equator Capital Group, which owns the vessel. "In four years, and hopefully sooner, Sequoia will be seaworthy and ready for Americans to once again enjoy the former presidential yacht's storied past."
Project manager Todd French of French & Webb will lead the effort to rebuild the Sequoia. He said a building will be constructed around the boat adjacent to his facility in Belfast that will include a display of historic objects telling the Sequoia's story, as well as a viewing area where members of the public will be able to watch the restoration. That work is not expected to begin until nine or 10 months from now, French said.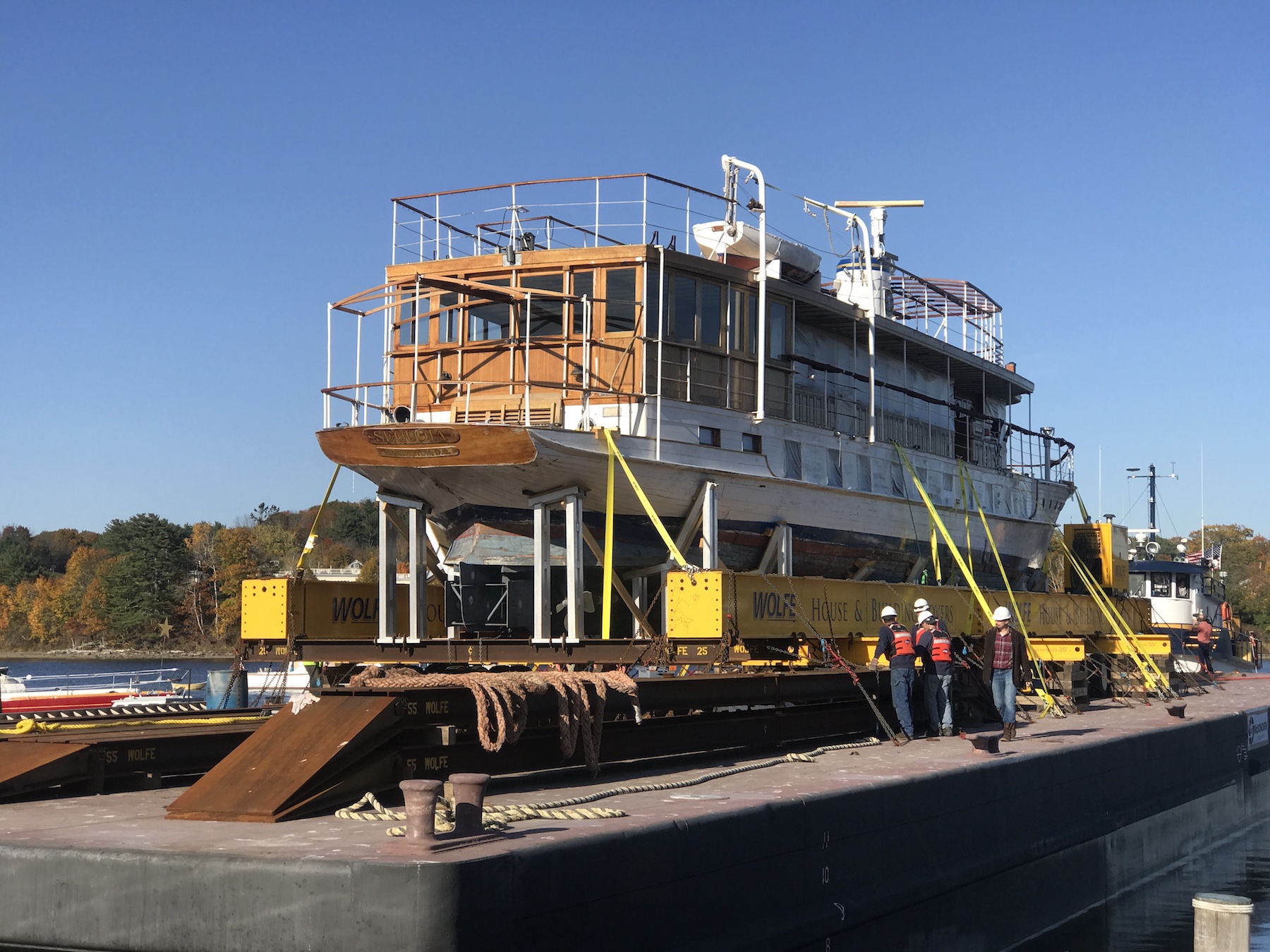 "We need to do scoping and design work and engineering," he said. Ultimately he expected to hire a crew of 35-40 people to work on the project.
"This is epic," he said, looking out at the presidential yacht perched on the barge Monday. "This is a momentous occasion for Maine and Belfast in particular. 
Once he was hired as project manager a few months ago, French said he looked up and down the east coast for yards where the restoration might be able to take place before settling on Belfast. 
"The city was really great working with us," he explained. "And we have great accessible talent here and can draw on traditional craftspeople as we need to." 
French said plans call for making the project as "green" as possible, to source sustainable materials and construction methods, and to look into the potential for "green" propulsion. He said he hoped to make the project educational, as well. For example, he would like to have a crew of seasoned professionals working with and mentoring young people starting out their boat building career. 
Designed by John Trumpy and built by the John H. Mathis & Co.Shipyard in Camden, New Jersey of long-leaf yellow pine, mahogany and teak, the Sequoia was launched in October 1925. Her first owner was Emily Roebling Cadwallader and her husband. The yacht was sold to the U.S. Bureau of Navigation in 1931, which used it as a decoy in the Chesapeake and Delaware Bays to attract bootleggers. President Herbert Hoover brought the yacht into presidential service later that year.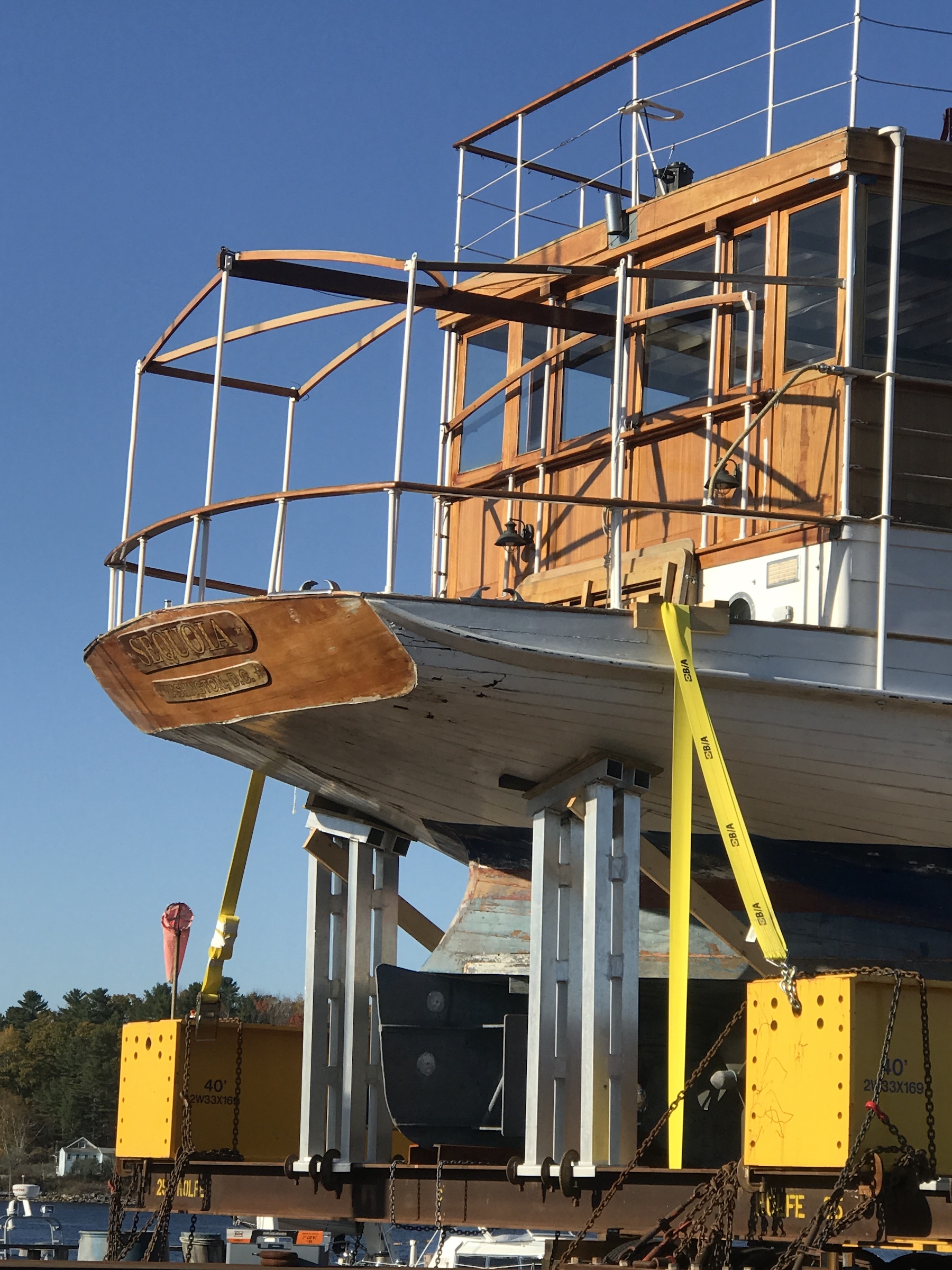 Sequoia served every US president from Hoover through Gerald Ford. President John Kennedy celebrated his 46thand final birthday aboard the Sequoia, accompanied by First Lady Jacqueline Kennedy, friends and two orchestras. President Roosevelt hosted the British Prime Minister on the Sequoia to discuss the Depression and ways to avoid war with Hitler's Germany. President Nixon played "God Bless America" on the Sequoia's piano after deciding to resign over Watergate. And, while aboard Sequoia, President Lyndon Johnson pressured members of Congress to pass landmark civil rights legislation and plotted his next moves in Vietnam.
The yacht, which has been designated as a National Historic Landmark, can sleep eight guests in three double and two single state rooms. There is room to seat 22 people for formal dinners.
President Jimmy Carter ordered the vessel sold at auction in 1977. Since then the yacht has had seven private owners. But for the past four years, the historic vessel has been  trapped in legal limbo at a small boatyard in Deltaville, Virginia. After purchasing the yacht from the former owner during late 2016, in March, Equator Capital won a $700,000 settlement against the Virginia boatyard and Sequoia was freed.
In September, Sequoia was barged from Virginia to Cambridge, Maryland—a return visit. In October 1935, President Roosevelt had sailed Sequoia into Cambridge to dedicate the Choptank River Bridge, an early WPA project. From Sequoia's foredeck, the President addressed a crowd of thousands.
The Sequoia departed Cambridge Sunday October 13, making a stop in Manhattan (circling the Statue of Liberty, cruising under the Brooklyn Bridge and posing for television news choppers). Then, due to rough sea conditions, Sequoia sought refuge in New London, Connecticut. In New London, 85 years earlier, President Franklin Roosevelt signed dozens of bills from the rear deck of Sequoia, including important railroad and banking legislation. The President had received an Honorary Degree from Yale the previous day and was escorted to the Thames by a fleet of submarines as he approached New London on Sequoia on June 21, 1934, to attend the Harvard-Yale regatta.
"Once Sequoiais back in service, our intention is to base her in Washington, DC. She will cruise locally and along the East Coast, as a floating venue to teach American presidential history and to promote conservation and ocean conservation causes," Cantor said.
The Equator Collection provides funding to preserve and maintain maritime assets that are significant to the history of the United States. In addition to Sequoia, Equator also owns Tenovus, a 31-foot "Seven Seas" yawl built for Joseph P. Kennedy in 1931.