New mini-boat can be steered remotely
New mini-boat can be steered remotely
Friday, May 10th 2019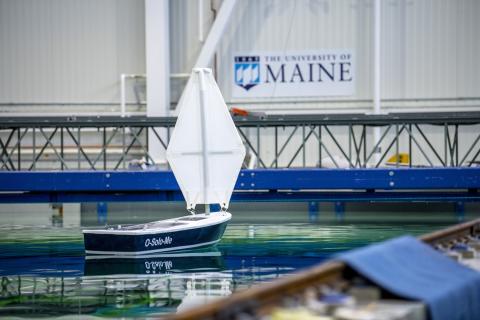 Naval architect Mark Fitzgerald is accustomed to designing full-sized yachts for customers who plan on using them for day outings or cruising. A recent project, however, involved designing a small yacht, no longer than five feet, that would sail by itself across oceans.
The new yacht was tested at the University of Maine's tank testing facility and passed with flying colors. Designed to carry a full array of scientific sensors and to be steered by either an onboard micro-computer with auto-pilot or through satellite communication, O-Solo-Me is part of the fleet of mini-boats launched under the aegis of Educational Passages, a Maine-based nonprofit that for eight years has been working with school children around the world to launch these small boats and track their ocean travels. To date the organization has launched close to 100 of these small wind-powered vessels. Until now, though, the students have not been able to steer the boats. Rather they have been at the mercy of wind and currents.
Fitzgerald's task was design a model that could sail freely downwind and be propelled solely by the prevailing winds and currents, but that also could be steered remotely. 
"Together with our collaborators we came up with an amazing boat design that does all the above," said Educational Passages founder Dick Baldwin. "This design allows us to easily position the keel forward for computer steering, aft if we want it to act as a 'tailfeather' to keep her tracking straight downwind. We can adjust the ballast by varying the ratio of sand to lead shot to adjust stability and balance for different payloads and expected sea conditions."
Doug Pope of Pope Sails made the boat's sails.
Baldwin has started teaching boat building at the United Technologies Center in Bangor, Maine, and recently received his certification. Now students in the composite fabrication department are building the  boats. Their robotics department is designing and installing scientific sensors and working on developing computer and satellite steering. 
This month, Educational Passages will launch two boats off the Maine Maritime Academy State of Maine training ship. In July Baldwin will launch University of Maine's boat off South Africa's Research Vessel with the University of Cape Town's Oceanography Department and about 40 select university students and professors on their 11-day research cruise. 
Check out this video showing the new boat being tank-tested. http://bit.ly/2VqyfGq