Maine's lobster landings inch back up
Maine's lobster landings inch back up
Monday, March 4th 2019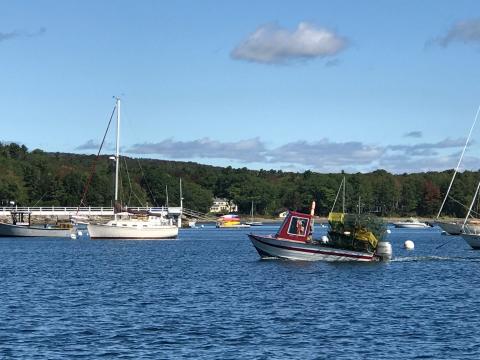 After a drop last year, Maine's lobster landings shot back up in 2018. Overall, the value of Maine's 2018 Commercially harvested marine resources increased by more than $60 million over 2017, and for only the third time in history exceeded $600 million, according to preliminary data from the Maine Department of Marine Resources.
Maine's lobster harvesters landed 119.6 million pounds of lobsters in 2018, which was an increase of nearly 8 million pounds over 2017. At $484.5 million, the value of Maine's lobster fishery climbed by more than $46 million over 2017 on the strength of a boat price that increased from $3.92 per-pound in 2017 to $4.05 in 2018.
According to data published by NOAA, American lobster was the most valuable single species harvested in the U.S. in 2015, 2016, and 2017, with Maine landings accounting for approximately 80 percent of that value each year.
Despite a season shortened because of illegal sales which put the state in jeopardy of exceeding its allotted quota, elver harvesters pocketed $21.7 million in 2018, according to DMR. The total was an increase of $9.5 million, or 78 percent, over 2017 and ranked the fishery as Maine's second most valuable. 
A record per-pound price for Maine elvers of $2,366 resulted in an overall value that makes 2018 the third most lucrative in the fishery's history, behind only 2012 and 2013 — years in which there was no quota for elvers.
The value of Atlantic Herring placed it third overall at $16.6 million, notwithstanding harvest levels that were 3.6 million pounds lower than 2017.
Softshell clam harvesters earned an additional $514,678 over 2017 due to an increase over 2017 of 258,642 pounds harvested. At $12.9 million, the fishery was Maine's fourth most valuable in 2018.
Sea urchins and scallops ranked fifth and sixth, respectively in value of harvested resources. Harvesters landed 2 million pounds of urchins valued at $6.2 million. Maine scallop harvesters landed 239,428 pounds less in 2018 than in 2017 which, combined with a decrease of $1.20 per pound, resulted in a $3.5 million decline in value from 2017 for a total of $5.9 million in 2018.
Underscoring the importance of commercial fishing to Maine is the most recent data from the Atlantic Coastal Cooperative Statistics Program which reveals that Maine commercial harvesters took more than twice the number of commercial fishing trips than any other state on the east coast. In 2017, Maine harvesters reported 447,523 trips while harvesters from Virginia, the next highest state, reported just 217,940.
"Maine's commercial fishing industries remain a critically important driver for our state's economy and identity," said DMR Commissioner Patrick Keliher. "However, there are challenges we must tackle to sustain our marine resources and the communities they support. We must continue to look at adapting to a changing Gulf of Maine while facing related challenges that include a pending bait shortage and whale rules."
More landings data can be found at https://www.maine.gov/dmr/commercial-fishing/index.html.