Documentary of classic yacht restoration now online
Documentary of classic yacht restoration now online
Wednesday, June 27th 2018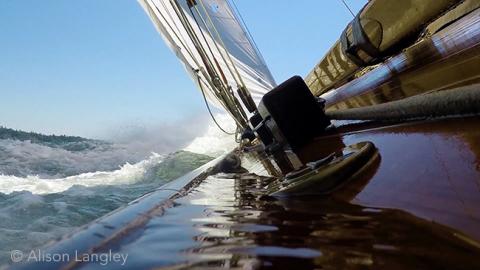 Looking for a good movie to watch? If you love classic boats, then you will love filmmaker and photographer Alison Langley's documentary NY40 Marilee: Restoration of a Herreshoff Classic.
Over the course of two-plus years, Langley followed the meticulous restoration and racing program of Marilee, the Nathanael Herreshoff-designed classic New York 40 racing yacht. Todd French and his crew at French & Webb in Belfast Maine, went above and beyond a typical restoration, which included a unique interior and interchangeable rigs. This documentary tells the history of the Herreshoff Manufacturing Company and Captain Nat's design of the NYYC classes, and unveils the digital archiving of HMCo.'s plans and drawings that are part of the Hart Nautical Collections at the MIT Museum. The result is an amazing story and stunning imagery.
Langley has done a nice job combining gorgeous sailing shots with interviews and history. The film has been screen at several locations in New England and now aviolable online to the public, thanks to the generosity of the current custodian of Marilee. You can watch it here,
Full Length Film - NY40 MARILEE: Restoration of a Herreshoff Classic from Alison Langley Films on Vimeo.