Maine sailors shine at J24 worlds
Maine sailors shine at J24 worlds
Friday, October 6th 2017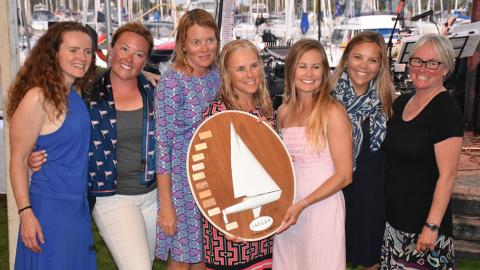 An all-women team of sailors from Maine won first place for all-female finishers in the 2017 J/24 World Championship in Mississauga, Canada, and a youth team from Maine also won its division.
The J/24 World Championships included qualified J/24 racers from all over the world. The championship consisted of ten races over five days of racing, September 15-23, 2017.
Other Mainers also did well in the event. South Freeport native Tony Parker, who now lives in Washington, D.C., skippered his Bangor Packet to a second-place overall finish.
In all 63 teams that qualified for the event from more than 10 countries and multiple states competed over five days in mostly light winds and challenging conditions against the best sailors in the world.
You Regatta owned by Carter White and Molly White of Portland, and also including Michael McAllister of Portland, finished fifth. Carter White is the sailing coach at Greely High School in Cumberland Center and Molly White is a fifth-grade teacher at Greely Middle School. Both are Greely graduates. Michael McAllister is the executive director of SailMaine a non-profit organization that provides community sailing in Portland and also facilitates high school sailing for seven schools in the Greater Portland area.
Finn Hadlock of South Freeport, Maine and the Harraseeket Yacht Club, skippered his J/24 Boreas with an all youth team of sailors under age 25 to a 28th-place finish and also won the top youth team and skipper award for the event. Hadlock competed with Anna Parker, Griffin Primeau, and Emmet Todd.
Andrew Carey of Falmouth placed 31st. His team consisted of Stephanie Helms from Freeport, Scott Thomas of South Portland, Sam Lloyd of Boothbay Harbor and Spencer Howe of Saco. Erica Beck Spencer's all-woman team, which was sponsored by Sea Bags, included Jess Harris of Falmouth and Charlotte Kinkade of Kennebunk.