Hinckley parks on the White House lawn
Hinckley parks on the White House lawn
Tuesday, July 18th 2017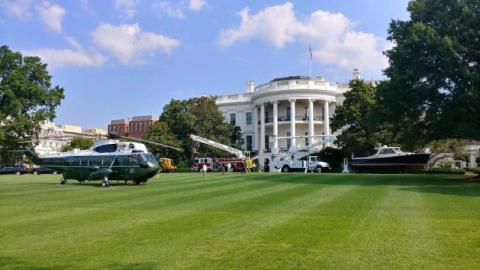 A Hinckley yacht made it all the way to the White House this week, representing products made in Maine as part of a White House initiative to showcase products that are made in America.
A Hinckley Picnic Boat 34, named Freedom III, arrived by trailer July 17, and was on display for a few hours before being returned to its Chesapeake Bay homeport. The boat belongs to Jack and Susan Stoltz of St. Michaels, Maryland.
"It was one of those things where someone called and we were able to put something together," said Hinckley VP of Sales and Marketing Phil Bennett. "They wanted a manufactured product, something tangible."
In Maine, The Hinckley Company employs over 350 people in its boat building facility in Trenton, and in its two boatyards in Southwest and Northeast Harbors. The company builds about 50 boats a year in Maine. In addition, Hinckley operates another five boatyards along the east coast of the U.S. and an operation in Portsmouth, RI where it builds its line of Hunt Yachts.
"This is the kind of employment that boat building provides," said Bennett. "This company has been around for 90 years building boats."
In total, the company employs 695 people in the U.S. In recent years, the company's building efforts have been primarily focused on powerboats of which the Picnic Boat is its most popular. 1,050 Hinckley powerboats have been built by the company since it launched its first waterjet propelled motorboat in 1994. Accompanying the Picnic Boat at the event were Hinckley President Peter O'Connell and Regional Sales Director Jack Erbes, a Maine native who started out as an electrician with the company 20 years ago.
Bennett said he did not expect to sell a boat to President Trump, but was pleased with the high level exposure for the company's product.