What's killing the eelgrass?
What's killing the eelgrass?
Tuesday, June 14th 2016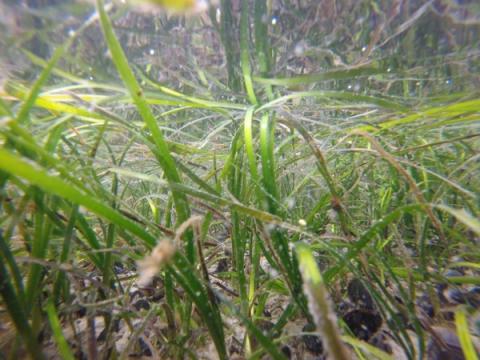 What is happening to eelgrass beds along the coast of Maine? A group of researchers at the MDI Biological Laboratory in Bar Harbor are seeking the help of citizen scientists in gathering data about eelgrass and eelgrass disappearance.
Such data is vital to improving knowledge about Maine's eelgrass, focusing efforts to restore eelgrass and improving public awareness about eelgrass and its critical role in coastal ecosystems, according to the researchers from the lab's Community Environmental Health Lab.
Eelgrass is a native seagrass that plays an important role in coastal marine ecosystems, improving water quality, stabilizing sediments, protecting shorelines against erosion, providing vital habitat for invertebrates and juvenile fish, including commercial valuable species such as cod, hake, lobster, clams, and mussels, and helping to mitigate climate change through its ability to sequester carbon. But it is disappearing, with severe setbacks in 2013 in Frenchman Bayoff Bar Harbor, and Maquoit Bay, the northwestern arm of Casco Bay. Causes of eelgrass loss can include development, water pollution, mussel dragging and invasive green crabs (Carcinus maenas). These losses can have cascading effects throughout Maine's fisheries.
"In order to get a clearer picture of where eelgrass is thriving and where it has disappeared we need statewide data, which is why we set up a site to 'crowd-source' this project with the help of citizen scientists," said Senior Staff Scientist Jane E Disney, Ph.D., who directs the CEHL. "The contributions of citizen scientists are vital to our efforts to restore eelgrass habitat in Maine. Over the past decade, they have contributed to the design of restoration methods and the assessment of restoration success."
Members of the public who are interested in learning more about how to share their observations with this citizen science project can visit the "Eelgrass in Maine" site on Anecdata.org for more information at https://www.anecdata.org/projects/view/eelgrass-in-maine.
With the help of project partners from government, conservation, watershed and educational groups around the state, the CEHL has been leading a collaborative effort to study and restore eelgrass since 2007.
The immediate goal is to gain a greater understanding of why some eelgrass meadows survive environmental threats, while others succumb to massive die-offs. The identification of factors that confer resilience could lead to better management of eelgrass habitat.
The broader goal of the CEHL is to identify, locate and help remedy threats to public health and the waters of coastal Maine with the help of community volunteers, students and teachers.
Other CEHL programs include swimming beach water quality monitoring; red tide monitoring; "All About Arsenic", a school-based, EPA-funded arsenic testing and awareness project in Maine and New Hampshire; and Anecdata.org, a free online citizen science data management program. Originally developed for the eelgrass project, Anecdata.org is now used by citizen science programs around the world.