Hermione headed to Castine
Hermione headed to Castine
Tuesday, July 7th 2015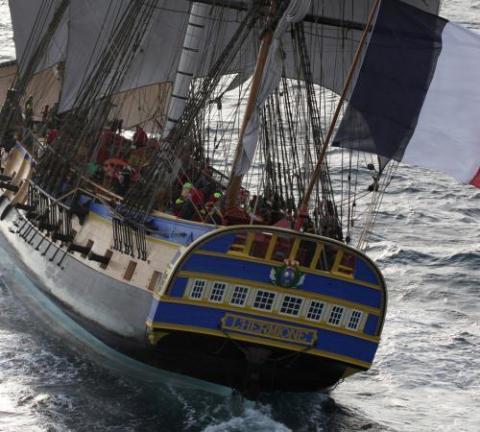 This meticulously built replica of the ship that carried the Marquis de Layfayette across the ocean during the American Revolution will arrive in Castine, Maine on Bastille Day, July 14. The town is busy putting final touches on plans for an exciting festival starting on Saturday, July 11, lasting through Hermione's departure early on July 16 (castinehistoricalsocietyhermione.org).
Organizers are planning a parade of ships to welcome and escort Hermione from Green Ledge to the Castine Harbor Bell ( approximately 5.5 nm). Details can be found on castineparade.com or castinehistoricalsocietyhermione.org. If you are interested in participating, register your boat by Friday, July 10th for updates on the parade including safety issues, parade order and general information.
The parade is "In Honor of Francis W. Hatch Sr & Jr". Both were avid historians and throughout their lives constantly wrote and spoke of the importance of Castine and Penobscot Bay in history and encouraged others to do the same.
Festivities begin on Saturday, July 11th with the dedication of the Castine Historical Society's newly restored Grindle House on the Common followed by a lecture by world renowned art historian, John Wilmerding. Following the Hermione's arrival on July 14, the Castine Historical Society will collaborate on July 15 with George Washington's Mount Vernon and offer a lecture by Curt Viebranz, President and CEO of Mount Vernon. This will be followed by a formal presentation of a portrait of George Washington to the Castine Historical Society and the Adams School.
Check the castinehistoricalsocietyhermione.org website for updates.