Toppingwold
By Brad Emerson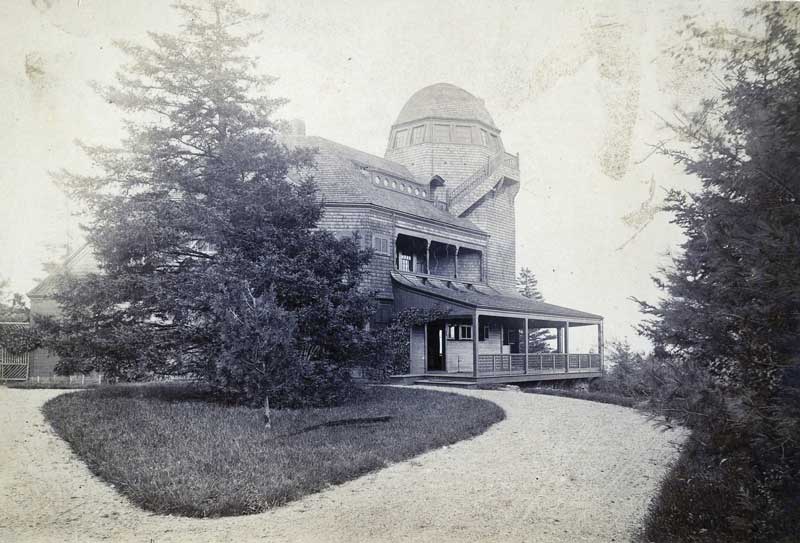 A view of the front of the house with the tower. Photographer unknown. Courtesy of the Maine Historic Preservation Commission
Bar Harbor, by the 1880s one of the most fashionable resorts in the country, had also become an innovative center of the new shingle style that would come to define American summer architecture. In 1883, the fame of its architecture was so great that the French architectural photographer Albért Levy journeyed up to photograph the new work for a Mt. Desert volume in his magisterial L'Architecture Americaine. Among the cottages he photographed was "Toppingwold," the Francis Lawrence cottage on Malden Hill, which was completed that same year.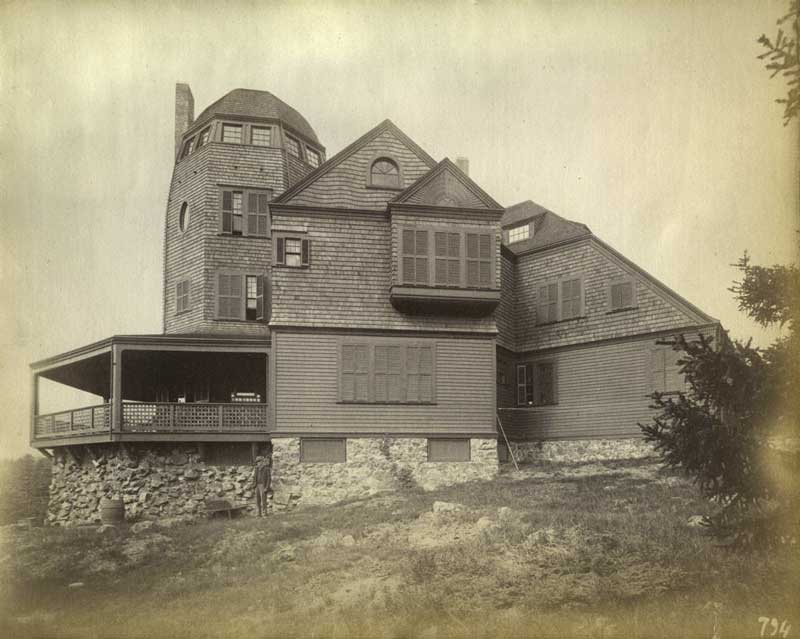 This is one of the photos taken by Frenchman Albert Levy for his book.
Francis Lawrence was a grandson of Amos Lawrence, a leader of New England's textile industry in the early 19th century. His architect was his second cousin, Arthur Rotch of Rotch & Tilden, who had been trained in the Beaux Arts method at MIT. Dominated by a great lighthouse inspired tower, "Toppingwold" was sited at the edge of a rocky slope with dramatic views of the ocean and surrounding mountains.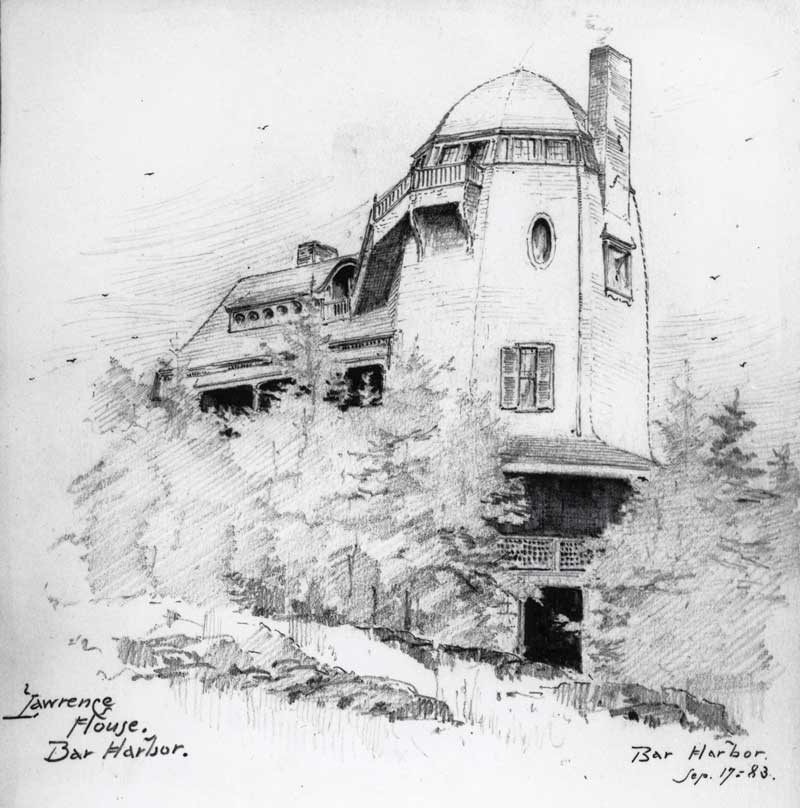 Architect John Calvin Stevens drew Toppingwold during a sketching trip to see the new architecture in Bar Harbor in 1883. Private collection An early newspaper description records that the tower was 65 feet high, encircled by a 112' veranda. An octagonal parlor on the first floor, featured a "very peculiar" cornice, with mussel shells pressed into a nine-inch plaster frieze above a gilded molding. On the two floors above were bedrooms, and at the top, an octagonal room 20 feet in diameter, with window sash that dropped into the walls, creating an open loggia when fully open. A wrought iron lantern hung from the domed ceiling. The newspaper account gushed that the room would be ideal for a billiard room, but one look at the exterior stair makes one shudder at the acrobatic feats required to get a table up to that aerie."Toppingwold" was struck by lightning during a violent thunderstorm in 1901, just days before the family was to arrive for the summer, and the cottage was not rebuilt. Had it survived, Lawrence's fanciful house would have been directly in the path of the Bar Harbor Fire of 1947, which destroyed all its near neighbors.    
---
A native of Blue Hill, antiques dealer Brad Emerson has always been fascinated with the built environment, and writes an occasional architecture blog called the "Down East Dilettante."
Share this article:
2023 Maine Boat & Home Show

Join Us for the Maine Boat & Home Show!
Art, Artisans, Food, Fun & Boats, Boats, Boats
August 11 - 13, 2023 | On the waterfront, Rockland, Maine
Click here to pre-order your tickets.
Show is produced by Maine Boats, Homes & Harbors magazine.