An Odd Fellows Hall is Reborn
New life breathed into a classic Brooklin structure
By Bill Mayher
Photographs by Richard Powers
FOR BETTER THAN a generation the Independent Order of Odd Fellows Hall at the head of the boatyard road in Brooklin, Maine, stood, weather-beaten and statuesque; a handsome, ancient, worrisome, widow of a building waiting to catch fire or collapse in a pile of pick-up sticks. Designed and built in 1896 by a man named Ralph Bent, the building was listed on the National Register of Historic Places in 1990.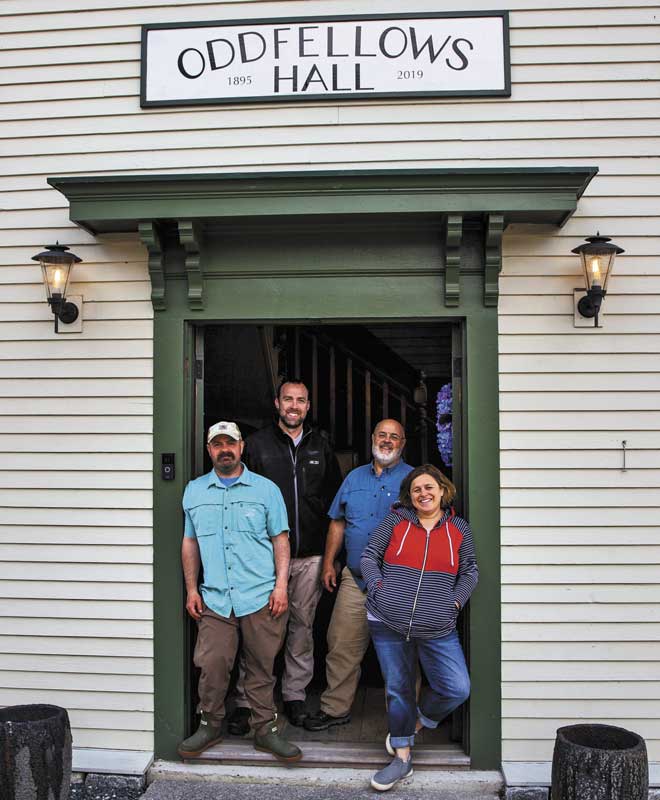 Robert Baird, second from the right, is a part owner of the building and his company Robert Baird and Associates was the contractor on the Odd Fellows renovation. That team includes Baird's son James Baird and daughter Eden Cowart and her husband Rob. (At left)  Photo courtesy Robert Baird When the Odd Fellows, who had built the three-story, balloon-framed Italianate structure, decamped to new, more functional quarters north of town they sold the building in the 1990s to a mysterious "collector of old buildings" from New York whose long-run intentions for the structure remained unknown throughout his ownership. He had the good sense to lease it to Chris Baker, a carpenter/artist (or artist/carpenter, depending on the day) who re-shingled it and did a little foundation work in exchange for rent. Baker lived there, painted there, ran a summer gallery there, and in the winter almost froze to death there. When the owner died and left it to his son, Baker also decamped, leaving the Odd Fellows Hall with no obvious steward. Passing the building on a daily basis, Brooklinites feared the worst.
Then the unexpected happened. The son who had inherited the building hired local mason Andy Gray, who, with little more than a shovel and a cement mixer, crawled under the hall and shored-up its underpinnings with reinforced concrete columns. Suddenly the building had something of a fresh lease on life and soon a consortium of buyers called 120 Reach Road, LLC, made up of Brooklin Boat Yard proprietor Steve White, New York architect John Ike, and architectural restoration specialist Robert Baird, appeared with cash in hand to buy the building. With each partner taking charge of a separate floor, it proved to be a fortuitous and visionary partnership.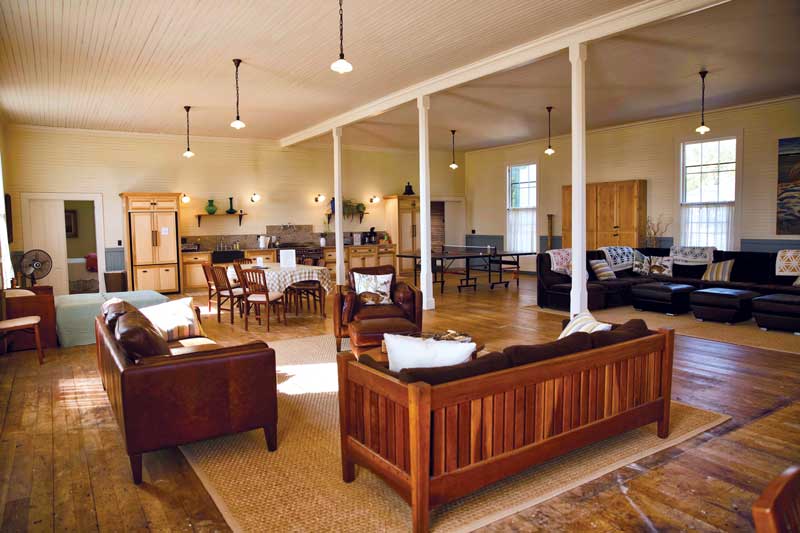 Guests staying on the second floor enjoy the juxtaposition of ping pong and cooking.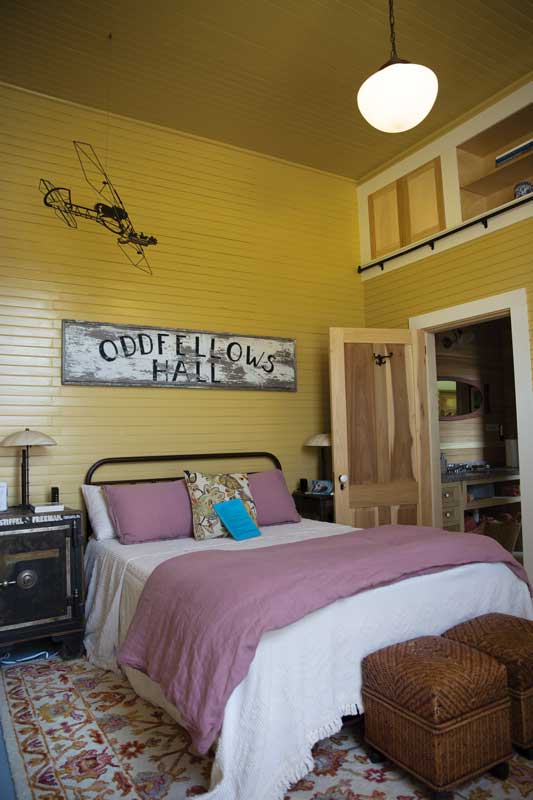 The original sign and vintage safe, now serving as nightstand, are natural components of the eclectic decor. Baird was a driving force behind the project. Before moving from Salt Lake City, Utah, to Brooklin, Maine, with his extended family to live full time, Baird partnered with his brothers in a business called Historical Arts and Casting that specializes in elaborate metal casting and restoring buildings all over the country. Notable among Historical Arts' projects were the California State House in Sacramento, the restoration of cast-iron fronted buildings in New York's SOHO district, the bridges in New York's Central Park, and, most recently, the cast-iron structure of the U.S. Capitol dome.
His company Robert A. Baird and Associates was the contractor on the Odd Fellows job. Asked why he got involved with the Odd Fellows Hall project, Baird's response was succinct: "Because that's one of the most prominent buildings in Brooklin, and it was going to hell in a handbasket, and I didn't want to see it just go away."
With boundless energy, unstoppable optimism, and virtually unlimited technical skills, there is little that Baird—with the help of his children, son James Baird and daughter Eden Cowart and her husband Rob—doesn't accomplish day-to-day: plumbing, wiring, plastering, carpentry, and leading a team to accomplish first-class work. Not only that, Baird knows how long a project should take to accomplish and what it should cost. His strengths beyond the technical and managerial are his infectious love of history and his encyclopedic knowledge of architecture and design over the past century.
Other project participants included Albert Putnam & Associates structural engineers, Roy Boys Plumbing and Heating, Affordable Electric, Hammond Lumber, and Brooklin Boat Yard.
By the time the group bought the building it was in a serious state of disrepair. Many of the floor beams and support beams had rotted, the roof was leaking, doors were falling off, and the double-hung windows were inoperable.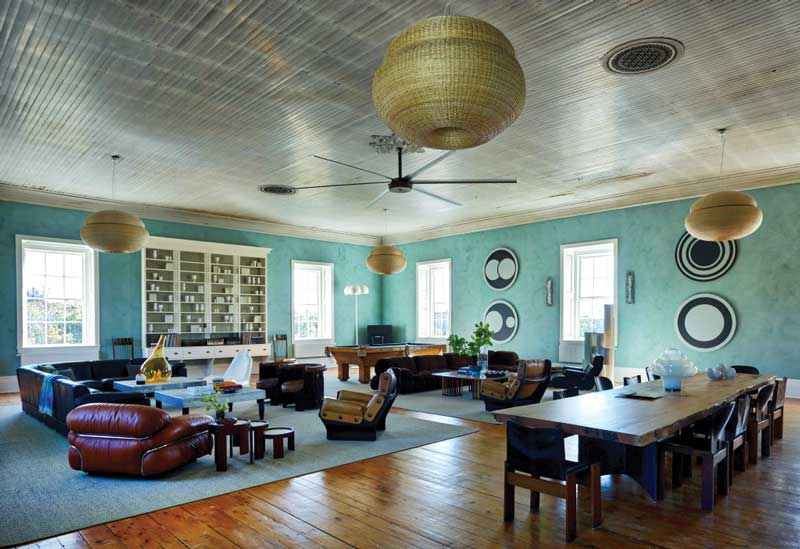 John Ike's third floor has a hip vibe with its collection of mid-Century Modern furniture.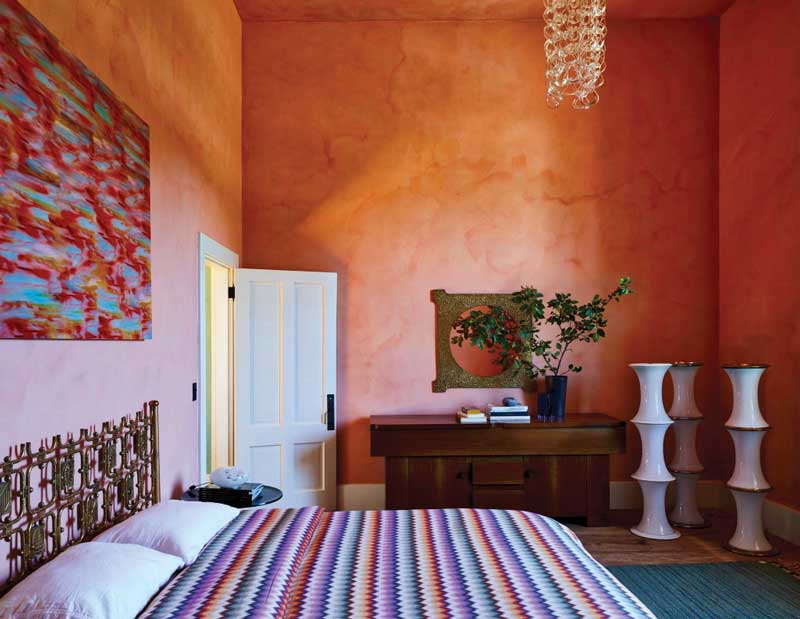 The rose hues of a third-floor bedroom showcase Robert Baird's plastering skills.
When all is said and done, the Odd Fellows restoration, which took three years, is just that, a restoration. The original wavy glass panes in the window sash have been saved. The old paint on the building's interior and exterior surfaces was analyzed and reproduced. The roof of the building was completely re-shingled. Bead-board wall planking has been painstakingly removed and re-installed to accommodate insulating the building. The third-floor lath and plaster walls were repaired and re-plastered and painted with lime wash paint. Overhead chandeliers have been repaired and re-hung. New pipes and wires have been suitably hidden behind authentic moldings. But, with the voices of past architectural geniuses whispering in Baird's ear, and architect John Ike's aesthetic in play, a fresh and decidedly mid-century modern breeze blows through the upstairs spaces. These breezes draw a visitor in, they make him want to tarry a while and take a deep look around.
White wanted the ground floor for boatbuilding. To accomplish this, the partners added a steel I-beam under the second floor to stiffen the structure, re-floored it with built-in radiant heat, and removed enough interior walls to create an open floor plan suitable for building several boats at a time.
Ike and Baird turned their top two floors into apartments with modern kitchens, cozy bedrooms, and adjacent bathrooms at the rear and, most notably, 2,000-square-foot open spaces on each floor that feature commanding views of Center Harbor from south-side windows.
Baird's kid-friendly second floor has a ping-pong table, a few couches and a massive dining table. Ike's third floor is dominated by his striking collection of outsized mid-century modern Italian furniture and a pool table. With each of the top floor's views of Center Harbor, breezy openness, and unique accoutrements, the apartments have proved popular as short-term seasonal rentals.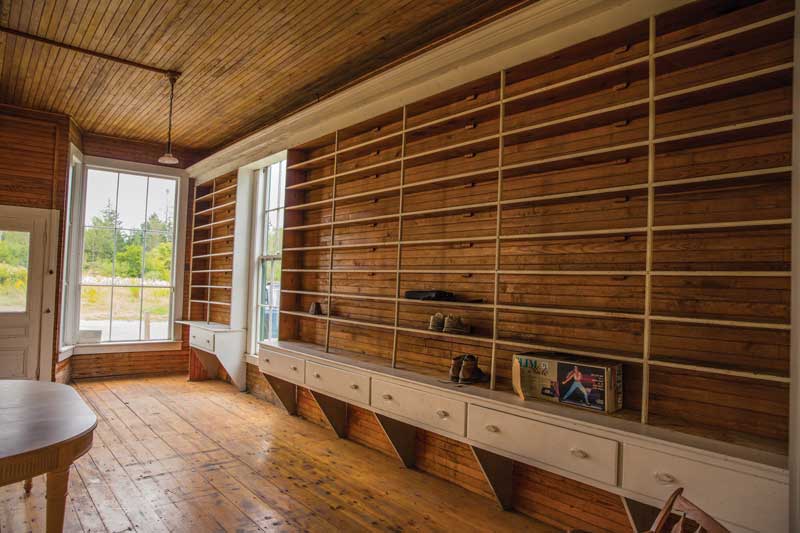 First floor shelving is a leftover from the Odd Fellows Hall days as a general store.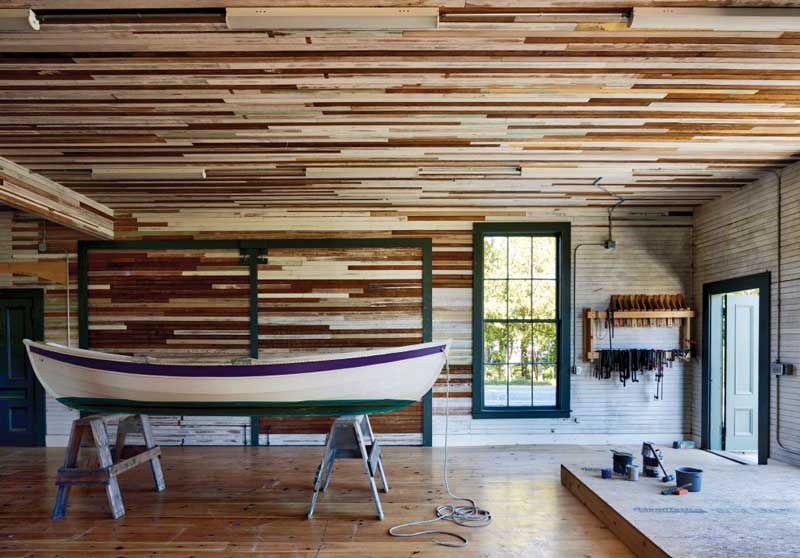 The Brooklin Boat Yard uses the ground floor for boatbuilding and restoration projects.
Thanks to his restoration experience at Historical Arts, Baird was familiar with the ins-and-outs necessary to receive preservation tax credits. It also meant that investors would ultimately receive tax credits from Federal and State of Maine government entities equaling 45 percent of the total cost of the project, contingent on it becoming an income-producing property. So, renting the building out was not only profitable in the short term, it was essential to receiving the tax credit.
Once again, the Brooklin Odd Fellows Hall proudly stands for all to see: re-roofed, its clapboards re-nailed and freshly painted, and its alluring interior spaces, at once functional and strikingly handsome, a pleasure to behold.
✮
---
Bill Mayher lives in Brooklin, Maine, and is one of the founders of the maritime web site offcenterharbor.com.
Share this article:
2023 Maine Boat & Home Show

Join Us for the Maine Boat & Home Show!
Art, Artisans, Food, Fun & Boats, Boats, Boats
August 11 - 13, 2023 | On the waterfront, Rockland, Maine
Click here to pre-order your tickets.
Show is produced by Maine Boats, Homes & Harbors magazine.