Modern, Net-Zero, and Very Livable
By Tom Groening
Photographs by Irvin Serrano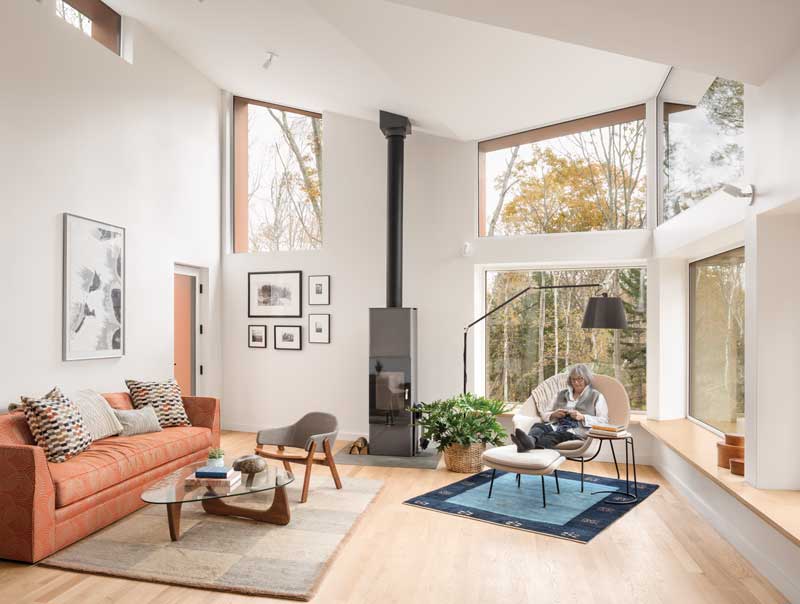 Judy Walsh enjoys the living room in the house she and her husband Paul Stenzel retired to on Peaks Island. Along with soaring ceilings and windows letting in the North Atlantic light, the home features unusual angles.
Phil Kaplan may have had a moment of regret at choosing the slogan "beautiful, sustainable, attainable" for his architecture firm when it was asked to design a house on Peaks Island in Casco Bay. The project came with challenges on all three fronts, but Kaplan and the builder, Heather Thompson, were up to the task. The result is a comfortable, cozy, and livable home.
Even more daunting than achieving "beautiful, sustainable, and attainable" was another challenge—humidity levels in the home had to remain high throughout the year. Homeowner Paul Stenzel—who retired to the island with his wife, Judy Walsh—needed the humidity to breathe easy, following the removal of his larynx after a cancer diagnosis.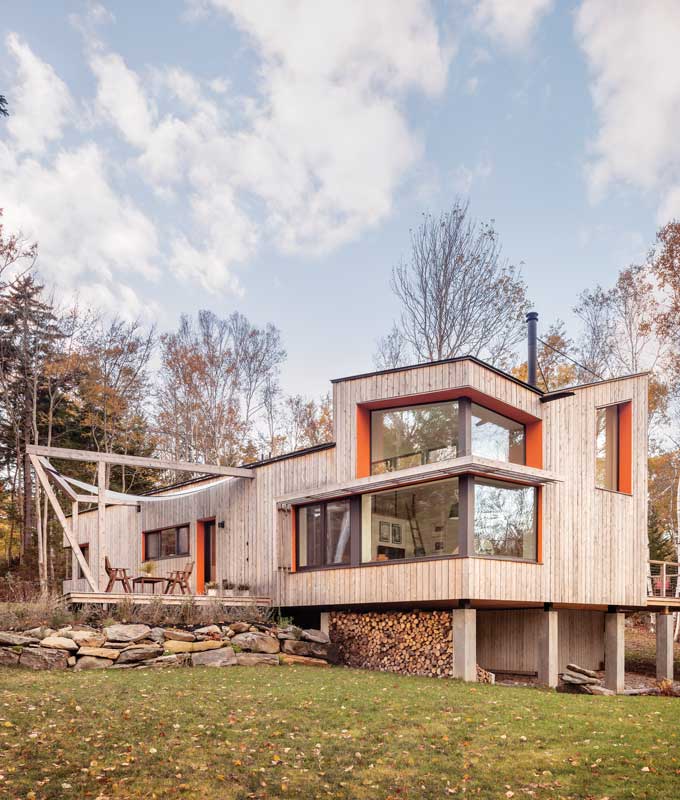 Judy Walsh enjoys the living room in the house she and her husband Paul Stenzel retired to on Peaks Island. Along with soaring ceilings and windows letting in the North Atlantic light, the home features unusual angles.
Maintaining humidity at 50 percent year-round might seem an easily achieved benchmark, but doing so without creating unhealthy mold or mildew problems would have most architects and builders scratching their heads.
The couple also wanted their art collection protected from sunlight, yet they wanted the home to be open and airy, with windows that brought in the North Atlantic light. And on the sustainability front, Stenzel and Walsh wanted the house to be "net zero," meaning it produced close to the same amount of energy that it used. In this case, the house used photovoltaics to produce electricity.
It was a tall order, but the Kaplan Thompson Architects firm and the Peaks Island-based builder Thompson Johnson Woodworks (no relation) seized on it with gusto.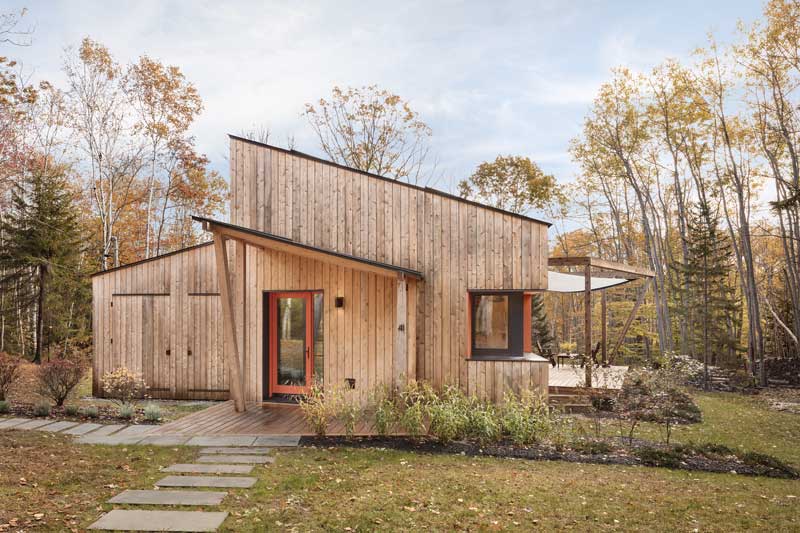 The resulting home has won widespread praise. Fine Homebuilding magazine named it "Best New Home of the Year" for 2020, describing the project with the phrase "science drives design." Indeed, there were weighty scientific, or at least engineering considerations. A critical fact in design and construction is that moisture—from cooking, bathing, and breathing—condenses when it encounters cold surfaces. Wet surfaces breed mold and mildew. So how does a net zero house—which needs to be well-insulated—with high humidity levels deal with that moisture?
The answer is to put the insulation outside the building's sheathing. The interior 2-by-4 wall was left uninsulated, while the outside cavity, created with vertical I-beams, used dense-packed cellulose. A whole-house air exchanger was key to letting out dirty air and bringing in fresh, while capturing some of the heat that otherwise would be vented out.
Another consideration on the sustainability front was that the couple wanted to use materials that did not consume large amounts of carbon-based fuels in their creation. That meant using far less concrete. Half the house sits on piers rather than a full foundation, Kaplan said.
For aesthetic reasons, there are few right angles. The goal was for the living space to feel open and bright, despite being just 1,750 square feet, which meant soaring walls here, lower walls there.
Builder Heather Thompson, whose Thompson Johnson Woodworks firm is based on Peaks Island, acknowledged the challenges those angles presented, but praises Kaplan for engaging in an integrated design approach, which loops in the builder early on in the process.
"We had a pretty collaborative process from the start," she said. Her lead carpenter on the project, Mark Pollard, built full-size mock-ups of wall sections and window framing to be sure it would all work. The house features some windows that are set into the "outboard" structure, and others that are framed traditionally—Kaplan and Thompson refer to them as "innie" and "outie" windows.
Taking the design from paper to the island, Thompson faced "a sloping site, in the woods, down a dirt road," she said. "The house isn't rectangular," with some angles as slight as 10 degrees. Thompson credits owner, architect, and her firm for the success.
"It was a complicated build," she says, "but the team was extremely collaborative." Her biggest satisfaction? "Building a house for year-round islanders. That's the best."
Beauty was achieved in large part by matching the design to the site.
"One of the things I really like," Kaplan said, "is that from the road, it's very modest and unassuming.'" Yet on entering, the house reveals "incredible surprises," in the form of more windows, plenty of natural light, and higher ceilings.
"It's a perfect house for us," Walsh said.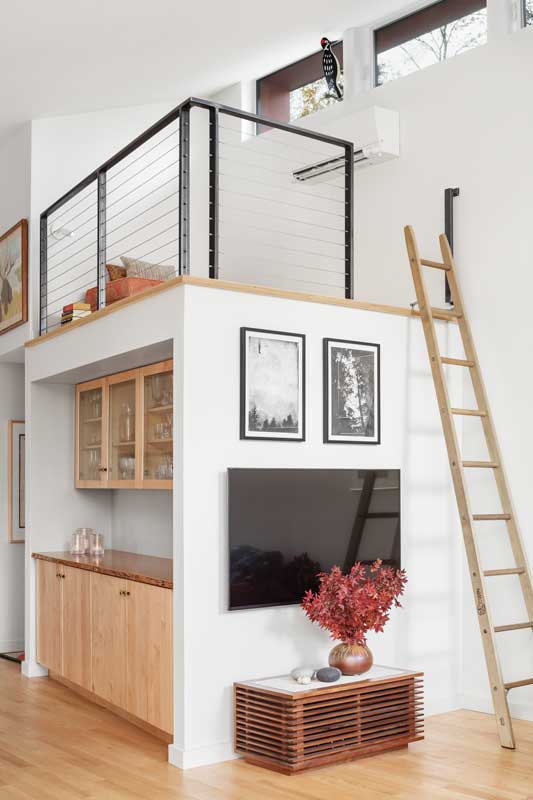 A reading nook sits atop a space with built-in cabinetry.
Maine and Back
The journey that brought Walsh and Stenzel to the island and this house began in Maine, led to Washington D.C., then to Buffalo, New York, and finally back to Maine.
The couple lived in Portland in the 1980s, while Stenzel owned and ran a restaurant, Sebastian's, in Freeport. In 1991, they moved to D.C., where Walsh worked as an art conservator at the National Gallery. In 2003, they taught at the state university in Buffalo, he in the culinary arts, she in the art department.
Once they retired, they decided to return to Maine. Neither had ever been on Peaks Island, but a piece of property on the Back Shore beckoned. It was surrounded by a land preserve, 300 yards from the shore.
"We talked to different architects, and we really liked Kaplan Thompson," Walsh said. "They were committed to energy efficiency and using local materials."
Though the couple had lived in an Arts & Crafts home in Buffalo, they opted for a modern design. Somewhat gleefully, Walsh describes selling much of the contents of their previous home.
"We were going to build a 21st century house," she said, with solar panels, triple-glazed windows, and heat pumps—even a heat pump water heater. And the couple is looking into installing batteries, the next step toward self-sufficiency.
"It's a real nice way to live," she said.
Since COVID has slowed down life, Walsh said she and Stenzel have focused on landscaping, building raised bed gardens.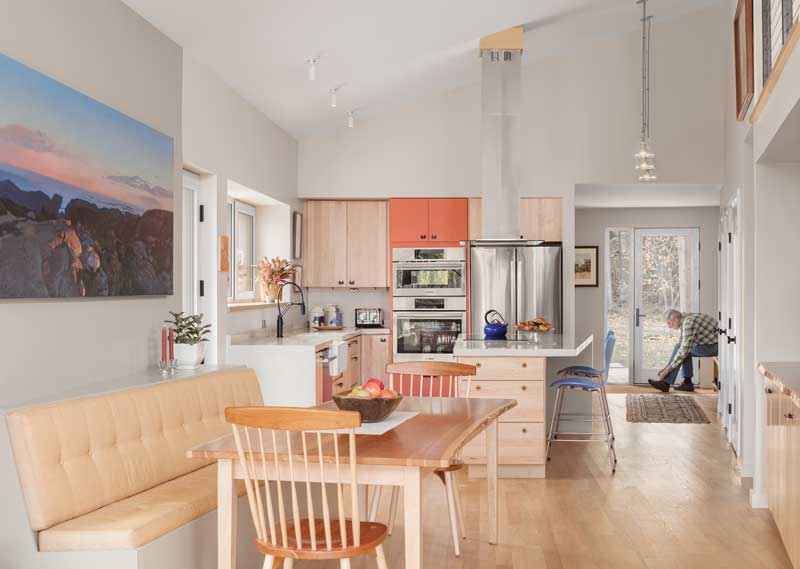 The house features an open concept living space.
Stenzel said the house has made a healthy difference in his life.
"The ease of my breathing here is noticeable. It's wonderful," he said. The couple has used both a low-tech, and then a more sophisticated humidity measuring device, and found that the house is able to maintain consistent levels.
But beyond health, Stenzel remains smitten.
"I have rarely missed a morning with my coffee watching the sun come through the trees, listening to the sound of the water. It's quite wonderful." The house is smaller than their last home, "but we've never regretted having that smaller space." 
Tom Groening is a reporter and editor with more than 30 years of experience. A version of this story appeared in The Working Waterfront, where Groening is the editor.
Share this article:
2023 Maine Boat & Home Show

Join Us for the Maine Boat & Home Show!
Art, Artisans, Food, Fun & Boats, Boats, Boats
August 11 - 13, 2023 | On the waterfront, Rockland, Maine
Click here to pre-order your tickets.
Show is produced by Maine Boats, Homes & Harbors magazine.