From Farmhouse to Summer Retreat
By Brad Emerson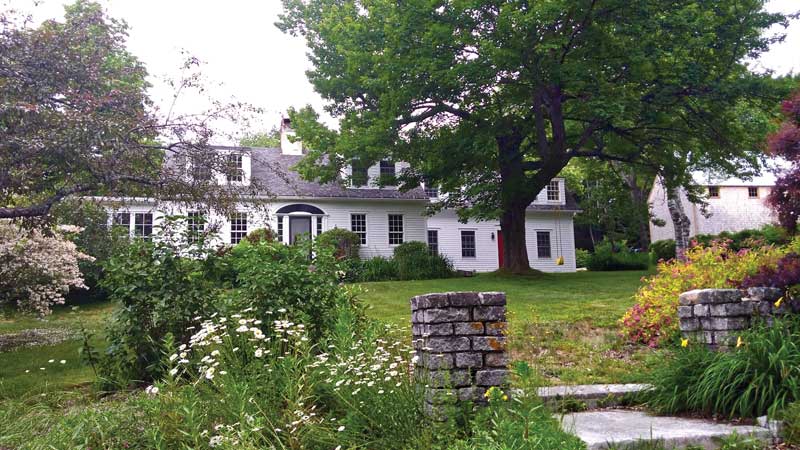 The Curtis house as it appears today (above) and in the early years after Benjamin Curtis turned it into his summer home (below). The elegant lady is his daughter, Helen. Photo above by Brad Emerson. Photo below from a private collection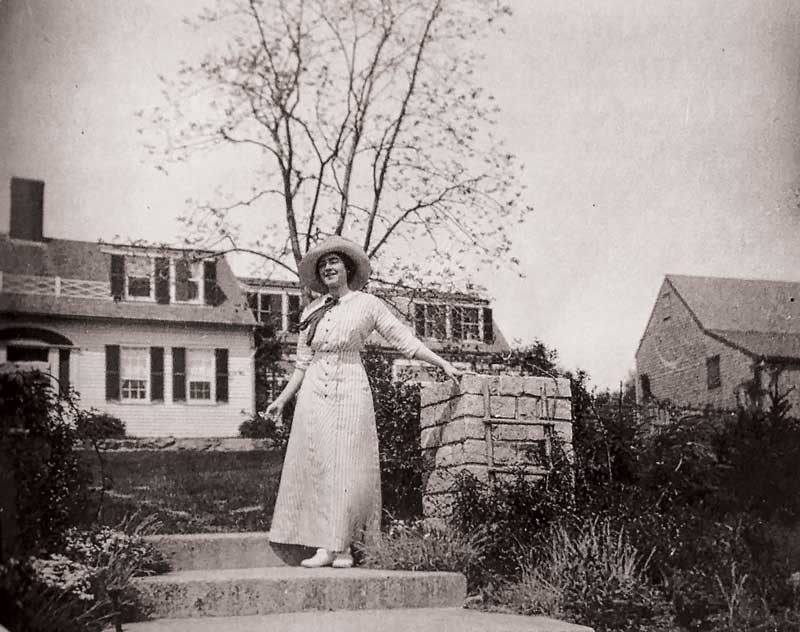 In the popular imagination, the classic old Maine summer house is a weathered, shingled cottage, set upon rocky shores. But many of the city dwellers who flocked to Maine at the turn of the last century preferred to renovate old farmhouses, often with input from famous designers, creating romantic retreats set among old orchards and fields.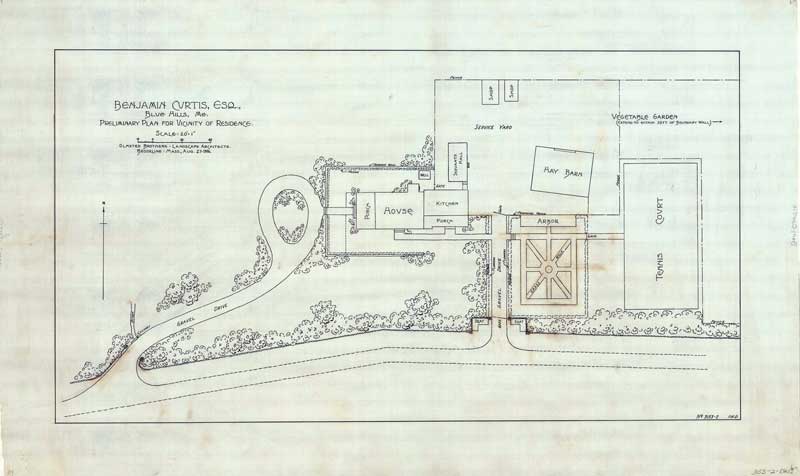 Olmsted Associates came up with this plan for landscaping the property. Courtesy of the United States Department of the Interior, National Park Service, Frederick Law Olmsted National Historic Site
This farmhouse in Blue Hill was built by Anson Darling, a son of one of the area's early settlers, in 1812. Farmed for most of the 19th century, the property was purchased in 1905 as a summer home by Benjamin Curtis of Boston, publisher of the beloved Copley Prints. With help from a Boston decorator named Alley (about whom I know nothing more), Curtis enlarged and gently remodeled the house.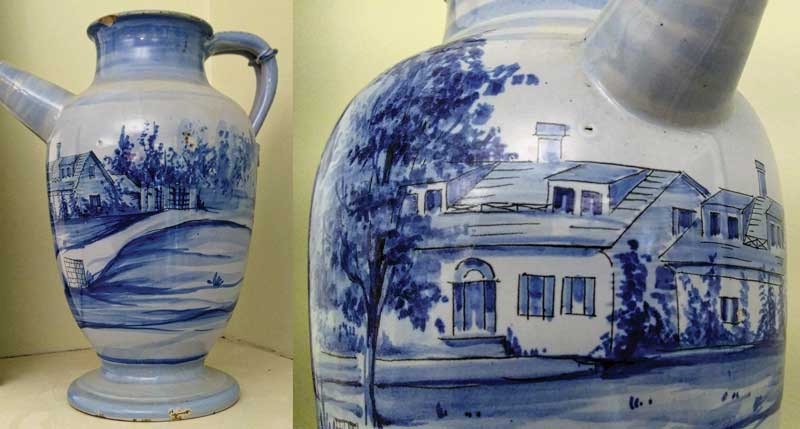 The pottery jug is part of a service that Curtis commissioned in Italy showing scenes from his property. Photos by Brad Emerson
Local lore has long been that Frederick Law Olmsted landscaped the property, but Olmsted died two years before Curtis purchased the Darling farm, and had not practiced for a decade. The truth is that in 1906, Curtis contacted the successor firm, Olmsted Associates, for suggestions for improving the property. That firm dispatched a Mr. Dawson by steamboat to Blue Hill, where he met with Curtis. Dawson's notes make clear that several new landscape features were already in place, including a fence designed by Alley to screen the service yard, which was too fussy in Dawson's estimation. A new carriage drive and formal flower beds were proposed, and at Curtis's request, a bench and shelter at the foot of the drive, a comfortable seat to await the arrival of the mail. Older residents, including my grandmother, had memories of a drive leading to a stone teahouse with rose garden near the shore, but it is not mentioned in the Olmsted records.
How much of Mr. Dawson's proposal was carried out is no longer clear, but Curtis was proud enough of his Colonial Revival gentleman's farm to commission a pottery dinner service from Italy, decorated with scenes about the property.  
---
A native of Blue Hill, antiques dealer Brad Emerson has always been fascinated with the built environment, and writes an architecture blog called the "Down East Dilettante."
Share this article:
2023 Maine Boat & Home Show

Join Us for the Maine Boat & Home Show!
Art, Artisans, Food, Fun & Boats, Boats, Boats
August 11 - 13, 2023 | On the waterfront, Rockland, Maine
Click here to pre-order your tickets.
Show is produced by Maine Boats, Homes & Harbors magazine.