Lake House With a Twist
A classic runabout inspired a retro bar design
By Regina Cole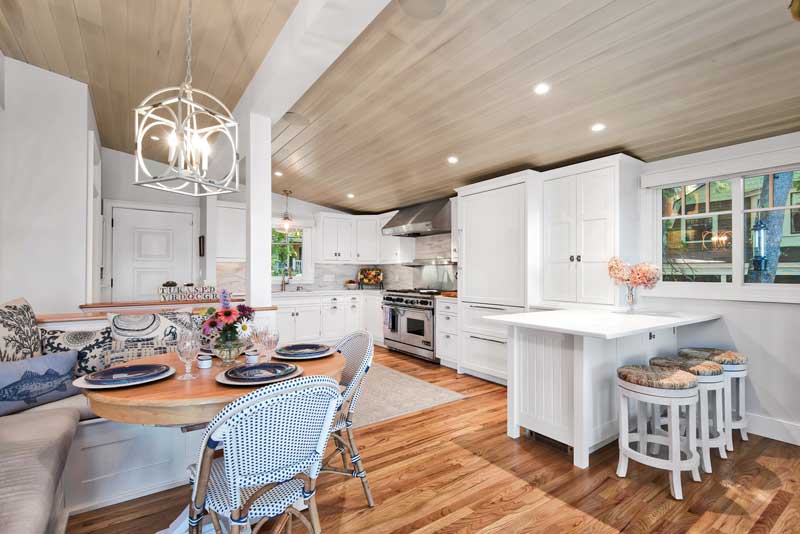 Photo by Jason Fraser, Elegance of Maine/Courtesy Lori LaRochelle
Linda Gustafson's father bought an old camp on Cobbosseecontee Lake in the early 1980s because it had belonged to a screen star.
"The first owner was Gail Kane, a stage and silent film actress," she explained. "Dad loved that glamour and mystique. He also loved to play golf, and the house is near the Augusta Country Club."
Gustafson, who inherited the house from her father, recently retired from a career in Los Angeles as a commercial real estate broker and now spends half her year here in Maine, from May to November.
"I come to see the friends I grew up with on the lake, and to reconnect with my Maine roots," she said, adding proudly, "this house has the best view on the lake."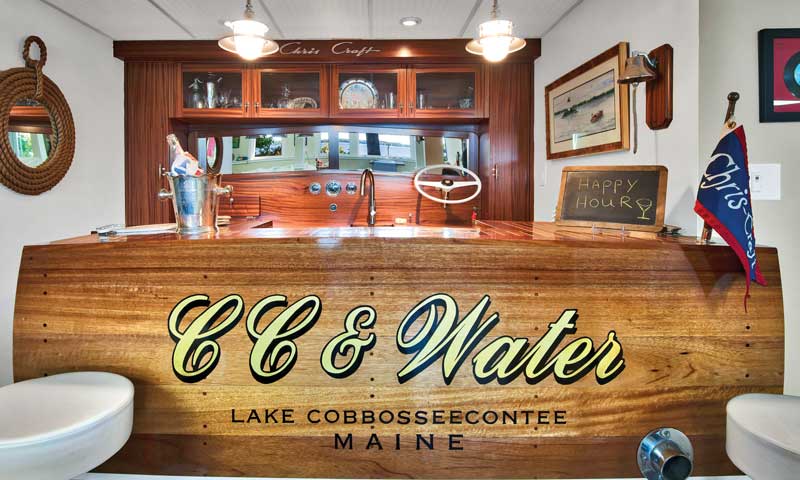 The owner improved her house on Cobbosseecontee Lake with an expansive new eat-in kitchen and a basement bar inspired by her father and modeled after a classic Chris-Craft runabout. The bar boat was named after the father's favorite drink. Photos by Jason Fraser, Elegance of Maine/Courtesy Lori LaRochelle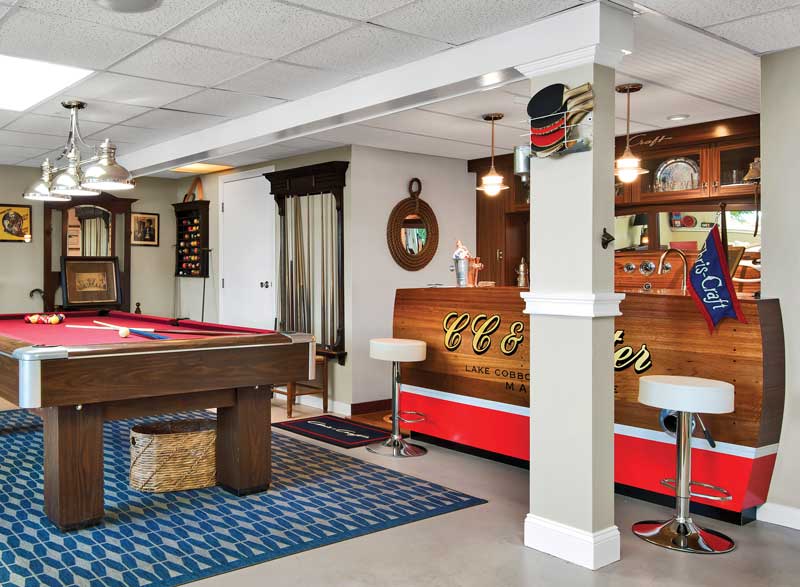 For the past several years, with the help of Augusta-based interior designer Lori LaRochelle, Gustafson has made improvements to the approximately 2,000 square foot camp, which was built in 1905. She has winterized it, installed an expansive and functional new kitchen, removed walls for better flow, raised a section of ceiling and rebuilt the pantry/laundry room. She began her home improvement projects with a basement bar that was inspired by her father.
"When he was still alive, my dad told me that when I own the house, I should have a bar. So we built one as a tribute to him," she said.
Gustafson has always wanted a classic wooden Chris-Craft launch but held off out of concern about the cost of maintaining such a classic yacht. Building a bar that looked like a boat was a way to honor her father's wish while also getting the Chris-Craft that she had always wanted, said LaRochelle.
The designer suggested making the bar look like the stern of the Chris-Craft, while the back wall would be the bow of the boat.
"On that wall, we installed a V-shaped windshield and an original Chris-Craft steering wheel and gauges, and we used Chris-Craft cleats for cabinet door handles and drawer pulls. I was really happy when we found an old Chris-Craft glove box!" LaRochelle said.
Repurposed vintage Chris-Craft fittings—an original glove box, steering wheel and gauges, and cleats—combined with boatbuilder and cabinetmaker expertise created a bar that feels like a lake boat. Photo by Jason Fraser, Elegance of Maine/Courtesy Lori LaRochelle
It should be noted that no boats were destroyed in the making of this bar. But a boatbuilder, Thomas Martinelli, built the stern and high-top table. Additional work was done by Randy Wade of Ridgetop Cabinetry in Newcastle.
The bar countertop is highly varnished teak and holly. The name painted in gilt lettering on the stern, CC & Water, is a reference to Gustafson's father's favorite drink. The lettering was done by Norma Whitman.
Beside the bar are pool and ping-pong tables; a guest bedroom and bath occupy one corner of the basement. The furnace is behind a wall that can be wheeled away if access for service is required. Doors lead out to the lakefront.
"The challenge of executing the bar project," LaRochelle said, "Was the constraint of the space. We had to find places for a dishwasher and two mini fridges. Besides looking good, the bar had to be comfortable to use."
LaRochelle has designed commercial and residential interiors for clients in Maine and beyond. Like Gustafson's, many of her residential Maine interiors are homes used seasonally.
"We like to add elements that remind their owners of the reasons they come to Maine for vacation, like lamps that resemble lighthouses, or bowls of pine cones."
When the bar was finished, Gustafson turned her attention to the upstairs. The front door, which leads directly into the kitchen, formerly faced a cramped area with low ceilings, awkward landing areas, and a pantry-laundry room just inside the entry that did nothing for the aesthetics of the space.
LaRochelle reconfigured the entry by removing a short wall that blocked flow and moving the pantry door. She installed a ceiling beam for structural integrity, raised the ceiling and redesigned the pantry-laundry room. Now the washer and dryer are hidden behind white-painted cabinetry (also built by Randy Wade) while a collection of crystal and glassware forms a focal point behind sliding glass doors. The newly bright and airy space also acts as a pass-through to a bathroom, master bedroom, and the living room beyond. The new, light-filled kitchen has a high, slanting ceiling, Shaker-style white painted cabinets, white quartz counters, a pale neutral marble backsplash, and top-of-the-line appliances.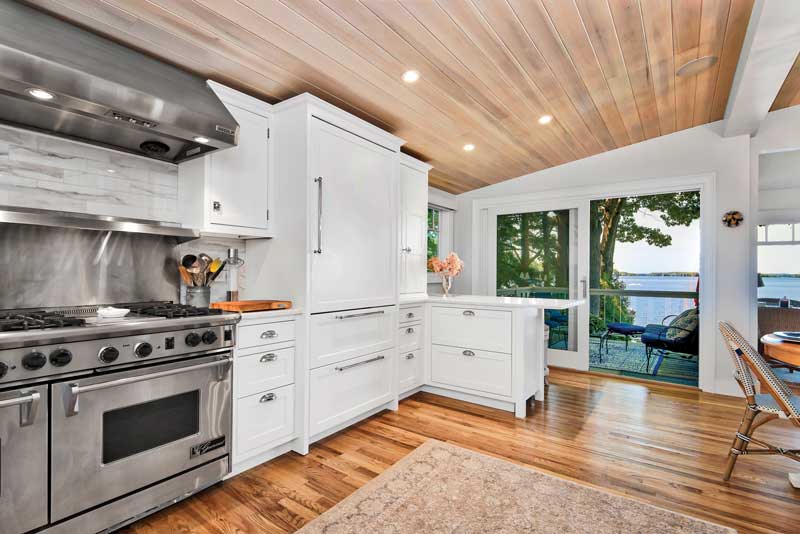 Now supremely functional, the kitchen gained a sense of space when the ceiling was raised. Photo by Jason Fraser, Elegance of Maine/Courtesy Lori LaRochelle
"She loves to cook and entertain, so she wanted a big cookstove, a big refrigerator, and she had her heart set on a coffee bar," LaRochelle said. "Linda knows what she wants. For example, a small window above the peninsula counter had to be big enough to provide a view of the birdfeeder outside."
Opposite the vast six-burner range and cabinetry-fronted refrigerator, a round table makes this an eat-in kitchen. Lightweight, easily moved chairs augment built-in banquettes. The rear of the living room fireplace forms the backdrop to the dining area. LaRochelle toned down the red bricks with whitewash. Niches flanking the brick wall display prized ceramics.
"The cubbies were there," she said. "We put the glass doors on them." She also added new display niches above, under a newly heightened ceiling.
The more she works on it, the more Gustafson loves her Maine lake house.
"I keep thinking of more things to do to it," she said with a laugh.
Her next project involves installing a new newel post at the foot of the stairs. As an echo of Ladies Delight Light, on view across the lake from her home, it will be in the shape of a lighthouse. 
---
Regina Cole is a freelance writer who lives in Gloucester, Massachusetts. She writes about architecture, interior design, and the history of the American decorative arts for many national and regional magazines.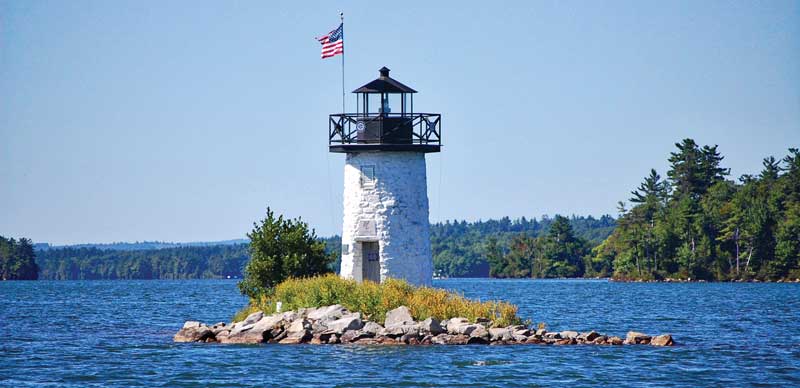 Lake Light
Ladies Delight Island is situated near the northern end of Cobbosseecontee Lake, and is the central part of a large reef. In the early 1900s, those rocks posed a hazard to passenger launches and steamboats circling the nine-mile-long lake. So in 1908, a 25-foot tall lighthouse was built on the island. Maintained by the Cobbosseecontee Yacht Club, which is one of the country's oldest inland yacht clubs, the lighthouse is listed on the National Register of Historic Places. Legend has it that the island got its name from female travelers. On long steamboat rides before the days of on-board facilities, this is where a lady went ashore to powder her nose.
Share this article:
2023 Maine Boat & Home Show

Join Us for the Maine Boat & Home Show!
Art, Artisans, Food, Fun & Boats, Boats, Boats
August 11 - 13, 2023 | On the waterfront, Rockland, Maine
Click here to pre-order your tickets.
Show is produced by Maine Boats, Homes & Harbors magazine.