Historic yachts, whales, and awards
By Polly Saltonstall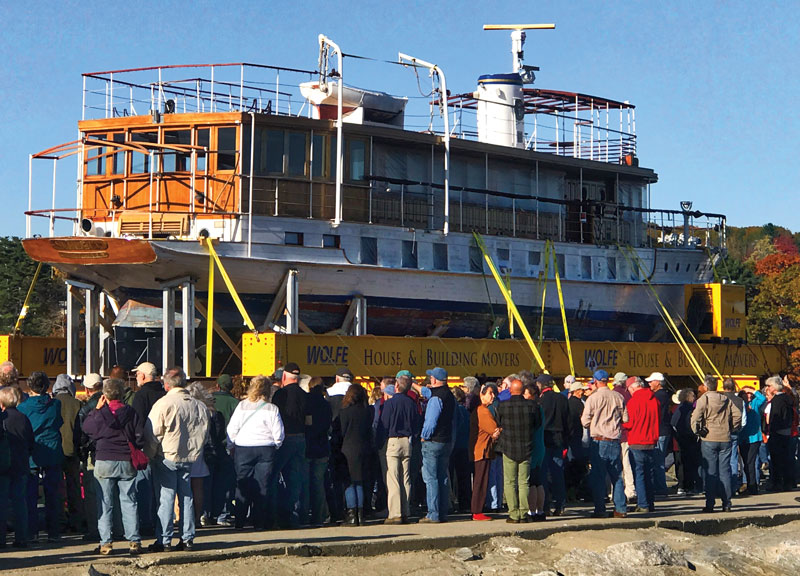 The Sequoia arriving in Belfast on a barge. Photo by Polly Saltonstall
Presidential yacht Sequoia in Maine
The piece of American history that many call "the floating White House," arrived in Belfast last October, after being barged up the East Coast from Maryland.
Project manager Todd French of French & Webb will lead the effort to rebuild the 94-year-old wooden vessel. He said a building will be constructed around the boat adjacent to his French & Webb boatyard in Belfast that will include a display of historic objects telling Sequoia's story, as well as a viewing area where members of the public will be able to watch the restoration.
The rebuilding process likely will take up to four years, according to Michael Cantor, managing partner of Equator Capital Group, which owns the vessel.
Designed by John Trumpy and built by the John H. Mathis & Co. yard in Camden, New Jersey, Sequoia was launched in October 1925. Her first owner was Emily Roebling Cadwallader and her husband. The yacht was sold to the U.S. Bureau of Navigation in 1931, which used it as a decoy in the Chesapeake and Delaware Bays to attract bootleggers. President Herbert Hoover brought the yacht into presidential service later that year. Sequoia served every U.S. president from Herbert Hoover through Gerald Ford. President John Kennedy celebrated his 46th and final birthday aboard Sequoia. President Roosevelt hosted the British Prime Minister on the yacht to discuss the Depression and ways to avoid war with Hitler's Germany. President Nixon played "God Bless America" on the piano aboard Sequoia after deciding to resign over Watergate. And, while aboard Sequoia, President Lyndon Johnson pressured members of Congress to pass landmark civil rights legislation and plotted his next moves in Vietnam. President Jimmy Carter had the vessel sold at auction in 1977. Since then it has had seven private owners. The yacht has been designated as a National Historic Landmark.
"Once Sequoia is back in service, our intention is to base her in Washington, DC. She will cruise locally and along the East Coast, as a floating venue to teach American presidential history and to promote conservation and ocean conservation causes," Cantor said.
The Equator Collection provides funding to preserve and maintain maritime assets that are significant to the history of the United States. In addition to Sequoia, Equator also owns Tenovus, a 31-foot "Seven Seas" yawl built for Joseph P. Kennedy in 1931.
---
Fishing his way to the top
You may think you are a good fisherman, but can you tell just by casting a hook into the water, what the bottom around it is like, whether it's clay, gravel, or grassy? That is just one of the talents that has propelled 17-year-old Tyler Williams of Belgrade to two Maine bass fishing championships and other fishing achievements.
"I'll take people out who are new to it and be like, 'Do you feel the piece of gravel, do you feel the rock (touching the line)?'" Williams said in a recent interview with the Portland Press Herald. "They'll say, 'What?' And I'm like, 'The gravel and the rock, and do you feel the weeds right next to them?' And they'll say, 'How do you tell?'"
Williams was the only Mainer to be nominated to the 62-person Bassmaster High School All-State Fishing Team last spring. Last fall, his eighth-place finish in the adult Maine State Fish Off on China Lake earned him a spot on the 2020 Maine B.A.S.S. Nation State Team. His team placed 10th out of 301 teams in the 2019 Bassmaster High School Championship in Tennessee, and Williams has already qualified for the 2020 national competition. He will compete with teammate Colby Carrier, 15, of Skowhegan next summer, according to the Portland newspaper.
Williams is a senior at the Maine Academy for Natural Sciences. The Portland newspaper reported that he has been offered a partial scholarship to compete on the collegiate level at Bethel University in McKenzie, Tennessee.
---
How much for that ticket to ride?
Officials with Maine State Ferry Service have released a final ruling on new rates after more than 18 months of debate and complaints from island communities. The new rates, which took effect October 1, include special commuter tickets (five tickets for the price of four) for ferry rides to and from any one of the islands served by the ferry service—Frenchboro, Islesboro, Matinicus, North Haven, Swan's Island, and Vinalhaven. The tickets expire after seven days and are non-transferable.
Another change is a shift to seasonal ticket prices for all of the islands except Matinicus. Prices are higher in the peak season between June 1 and September 30 and lower from October 1 to May 31.
The new fares replaced prices implemented a year or so ago that kept rates the same for all the islands. The first fare change in over a decade, the intent of raising fares was to offset a projected budget shortfall. But the concept of a flat rate for tickets to all the islands, despite vastly different distances and schedules, incensed residents on Islesboro, who argued that their island took a disproportionate hit. They filed a privately funded lawsuit and lobbied anyone and everyone for changes. Eventually Maine DOT, under a new commissioner, reopened the rate-setting process. The latest fares are the result. For more detail on the new rates and rules, CLICK HERE.
---
Historic listing for historic schooner
The 1906 schooner Mary E, Maine Maritime Museum's flagship and the oldest Maine-built fishing schooner still sailing, was placed on the National Register of Historic Places last fall by the National Park Service, Department of the Interior.
Left at a dock to sink in the early 1960s, Mary E was raised, rebuilt, and maintained by a handful of people who recognized its significance in Maine's history. The schooner, which is the last surviving schooner built on the Kennebec River, now serves as an ambassador for the state's maritime heritage.
Built in Bath, Maine, in 1906 as a fishing schooner, Mary E also served as a cargo carrier, windjammer, and is rumored to have been a rum-runner. After a long career as a fishing vessel off Block Island, Mary E was eventually abandoned in 1960, sinking in a hurricane in Lynn Harbor, Mass., in 1963. Two years later, William R. Donnell II of Bath purchased and raised the vessel, brought it to Bath, and began a two-year renovation on the grounds of what is now the Maine Maritime Museum campus. Following the renovation, Mary E served as a passenger vessel for many years.
In 2016, Maine Maritime Museum purchased Mary E from a former owner, who had been running sailing trips aboard the vessel out of the Connecticut River Museum. In spring of 2017, Mary E arrived at Maine Maritime Museum, where an extensive renovation took place in the museum's historic shipyard. Mary E was relaunched in the Kennebec River in spring 2018.
---
Whales worth millions
While the marine industry and regulators have been debating how best to protect endangered northern right whales, a couple of economists have been looking at whales from a whole new perspective: how much is a big whale worth? Their answer, according to a recent news article in the Washington Post: $2 million for a great whale (a hypothetical animal that blends the characteristics of large baleen whales and sperm whales.)
The world population of whales is worth more than $1 trillion, the researchers concluded, due to whale tourism, the nutrients whales disperse, and the carbon captured by their massive bodies. Carbon dioxide released into the atmosphere is a greenhouse gas, but carbon stored in a whale body does not contribute to climate change, according to the Post story.
"It's really exciting and a really creative approach," Andrew J. Pershing, a climate change ecologist at the Gulf of Maine Research Institute told the newspaper. Pershing and his colleagues calculated, in a 2010 study, that the restoration of great whale populations to preindustrial levels would be equivalent, in tons of carbon captured, to the growth of a forest the size of Rocky Mountain National Park.
An average great whale, according to the report, traps 33 tons of carbon dioxide in its tissue and blubber, compared to a car, which releases an average about 4.6 tons of carbon dioxide yearly.
Whale excrement is so rich in iron and nitrogen that whale bowel movements trigger blooms of microscopic phytoplankton. Krill eat the plankton, whales eat the krill, the whales poop, the phytoplankton bloom, and the cycle continues. In addition, as they move around the ocean, whales shift nutrients up the water column, a process called the whale pump, according to Pershing. And when they die, they sink to the sea bed taking their stored carbon with them. Such whale falls in the Southern Hemisphere could trap 70,000 tons of carbon annually, according to Pershing's 2010 study, if whale populations returned to historical size.
---
New Hamilton marine store in Kittery
Hamilton Marine, the Maine marine supply store known to boaters throughout the northeast, plans to open its sixth marine store location in Kittery. The new store will be in the site formerly occupied by Jackson's Hardware and Marine store, whose owners recently retired.
"We're known for the size of our inventory and the diverse markets we serve," said Wayne Hamilton, president and owner of the marine supply company, in the release. "Over the next few months we will work on updating the Kittery store to fit our needs and steadily add stock until it's filled. Commercial fishermen, boatbuilders, and yachtsmen should all find what they're looking for when we're done."
Hamilton, a Searsport native, lobstered before opening his first "store" in his Searsport garage in 1977, selling commercial fishing supplies. Soon afterward he moved to Rt. 1 and was joined by his (late) wife, Loraine and her siblings.
"We're still family owned and operated" said Hamilton, "and try to keep a family feel to the place even though we now have over 150 employees."
Hamilton Marine Inc. has locations in Searsport, Portland, Rockland, Southwest Harbor, and Jonesport. The company sells mail order via telephone and the internet, shipping product daily to customers all over the world.
---
Harbor improvements in Lubec
Maine will receive $44.6 million in federal funds for two transportation projects: replacing a bridge in Woolwich and making major improvements to Lubec's harbor to protect fishermen and boats.
MaineDOT will receive $25 million toward a $30 million replacement project of Station 46 Bridge on U.S. Route 1 in Woolwich. The bridge, which was originally built in 1933, is a critical connection to Bath Iron Works, as well as a vital travel corridor for travelers on Route 1.
Lubec will receive $19.6 million to build a safe harbor to protect a mooring field that would include a boat launch, harbor, and wharf. The project will allow 30 boats to tie up and would protect boats and fishermen in inclement weather. The project includes a two-way road to the end of the pier, with two hoists for fishermen to get their product to market safely and quickly.
---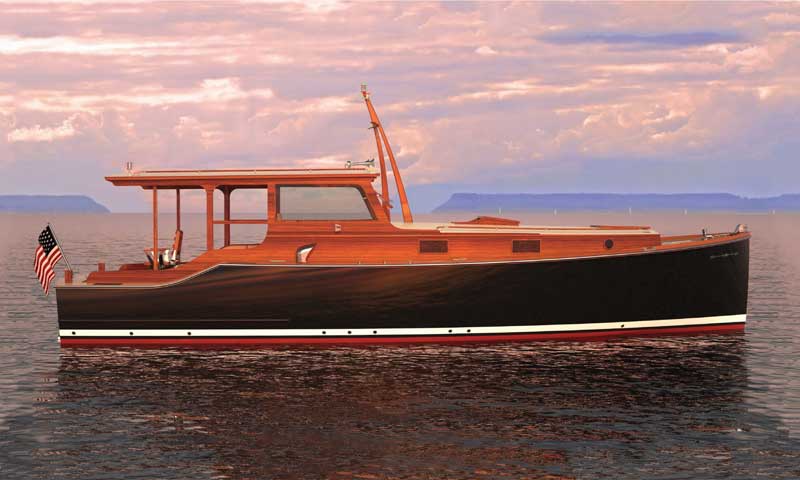 A concept drawing of the Wheeler 38, a modern version of Ernest Hemingway's Pilar.
A modern take on Hemingway's Pilar
Writer Ernest Hemingway spent a lot of time fishing, off the coast of Florida and Cuba. Several of his books and stories, including Old Man and the Sea and Islands in the Stream were influenced by his time on the water in a 38-foot wooden fishing boat named Pilar. Built in the 1930s by the Wheeler Shipbuilding Co. of New York, the original boat is now on display at a museum in Cuba.
The Wheeler Yacht Company, which was founded in 1910, closed its doors in 1965. But Wes Wheeler, the great-grandson of company founder Howard Wheeler, hopes to bring the storied line of boats back to life. The first boat, a modernized replica of Pilar, is being built at Brooklin Boat Yard. The lines for the new boat were drawn by Nelson Marek based on drawings, photos, and measurements from the original boat in Cuba.
The new Wheeler 38 will be cold-molded plywood planking over plywood bulkheads and douglas fir longitudinals, with lots of mahogany and 1930s finishes. The goal is to build a modern boat that looks vintage, according to Brooklin Boat Yard project manager Eric Stockinger. He said the planing hull will be powered by twin Yanmar 370 diesel engines and he expects it will go very fast.
A summer 2020 launch is planned.
---
MBHH honored by magazine peers
For the fourth year in a row, Maine Boats Homes & Harbors once again has collected a number of awards in two national magazine contests.
"I am so proud of the work done by our writers, photographers and the rest of the team," said Maine Boats, Homes & Harbors Editor Polly Saltonstall. "It's great to see national recognition for the high-caliber of our magazine contributors."
The bi-monthly magazine of the Maine coast won four honorable mentions in Folio's prestigious Ozzie and Eddie Awards, including for full issue in the consumer, enthusiast hobby category. In addition, Maine Boats, Homes & Harbors collected four awards in the International Regional Magazine Association's annual contest, including a gold medal for Nature and Environment Feature (magazines of less than 35,000 circulation) for a story by Nicholas Record about harmful algae blooms, "The Hunt for Red Tides" (#150). The magazine's writers also garnered two bronze IRMA medals; for Nancy Harmon Jenkins' travel feature on Newfoundland, "New. Found. Land." and Ron Joseph's essay titled "The Joy and Heartache of Maine Farm Life in the 1960s" (both in #154).
The other Folio honorable mentions were: Essays and Criticism in city and regional magazines: Nicholas Record's story about right whales, "The Uncertain Future of Right Whales" (#153); Single article, consumer, enthusiast hobby magazine: Art Paine, "A Faster Breed of Cat" (#156); Single article, city and regional magazines, northeast: Donnie Mullen, "The Grand Laker Canoe: An Enduring Design from Maine's Lake Country" (#152).
Saltonstall said she was especially proud of the awards won by Record, who is a senior research scientist at the Bigelow Laboratory for Ocean Sciences. His writing for the magazine is part of an effort to include science writing in the magazine's coverage of the coast.
"Maine is home to a number of nationally known scientific labs that are doing ground-breaking research on the marine environment," Saltonstall said. "We are thrilled to be able to partner with writers like Nick, Catherine Schmitt (an environmental scientist who has worked for Maine Sea Grant and now is science communication specialist at Acadia National Park's Schoodic Institute), and others to shine a light on the natural world around us."
Jenkins is an award-winning cookbook author and widely published food writer; Joseph is a retired Maine wildlife biologist; Mullen's work also has appeared in other national magazines; Paine is a yacht designer, sailor, and builder who has been writing for MBHH since the magazine began 32 years ago. Read these stories at maineboats.com by searching for the title or author.
---
Over the bar
Olaf Harken, who died in October at the age of 80, was an innovator who along with his brother, Peter, started and built Harken, Inc. into an industry leader. Harken, Inc. makes marine hardware, hydraulics, and winch systems for racing and cruising sailboats of all types and sizes. Olaf was known for his outsized personality and sense of fun. When he was inducted into the National Sailing Hall of Fame in 2014 along with Peter, he explained the brothers' business philosophy: "When trying new stuff our rule is to ask, 'if it all goes bad, can we survive?' Then we go to the bar and forget what we just said and do it anyway!"
We will miss his energy and enthusiasm for life especially life on the water.  
Share this article:
Digital Edition Available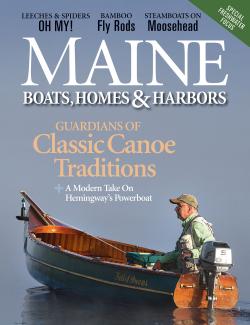 Can't get to the store to buy your magazine? We deliver the stories of Maine's coast right to your inbox. Sign up here for a digital edition.