Hewes & Company: Pedestrian Bridge
By Laurie Schreiber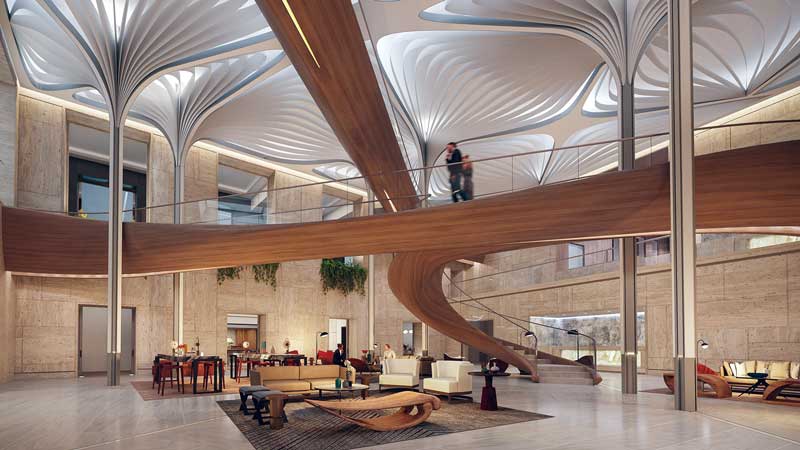 The original concept rendering of the finished bridges and spiral staircases highlights the interplay of the curves within the grand room. Image courtesy Hewes & Company
The reputation that Maine boatbuilders have for quality and scrupulous detail work has increasingly drawn attention from other fields. Take Hewes & Company in Blue Hill. The company's marine division and cabinet makers spent most of 2018 crafting boat-like varnished wooden cladding for a sinuous steel pedestrian bridge.
The bridge consists of two 90-foot undulating lengths, with one segment connected to a spiral staircase. It was created for Waterline Square, a new luxury development of three skyscrapers on Manhattan's Upper West Side. The Rockwell Group of New York City and Jaroff Design of Hicksville, New York, designed the indoor sculptural structure, which bisects the development's 100,000-square-foot "amenity club."
Newport Industrial Fabrication of Newport, Maine, produced the steel framework, which arrived at Hewes & Company in November 2017. The complex curvature of the cladding is similar to other boatbuilding work done by Hewes & Co, said Marine Projects Manager Gardner Pickering. Using digital drawings sent by the designer, he sliced the bridge surfaces into 2-foot sections and machined plywood frames on a CNC router directly from the drawings.
"It's curved when viewed from the top, and what's essentially the sheer curves down as well, starting at 3 feet high and dropping to 6 inches. You're curving in every direction; the stiffness of the maple kept everything fair."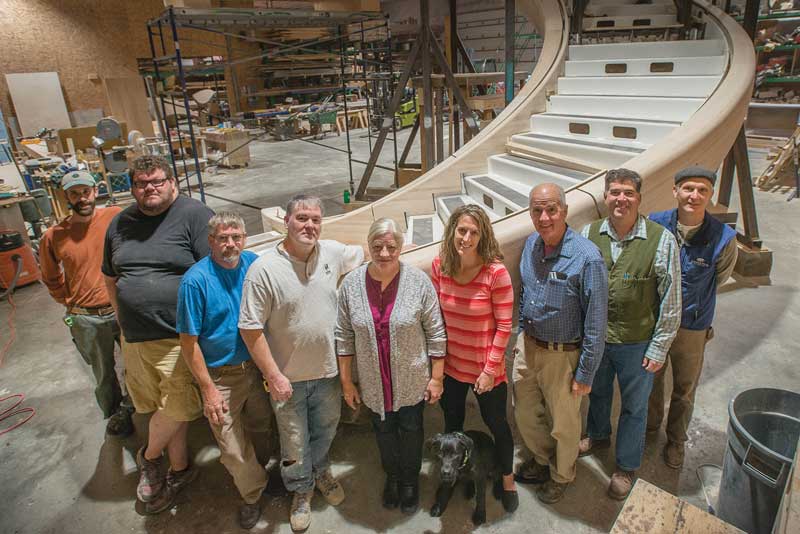 The Hewes & Company crew during construction. Image courtesy Hewes & Company
The crew framed out each bridge section and bordered them with CNC-cut maple sheers and keels, then infilled with 1-inch by ¾-inch tongue-and-groove hard maple.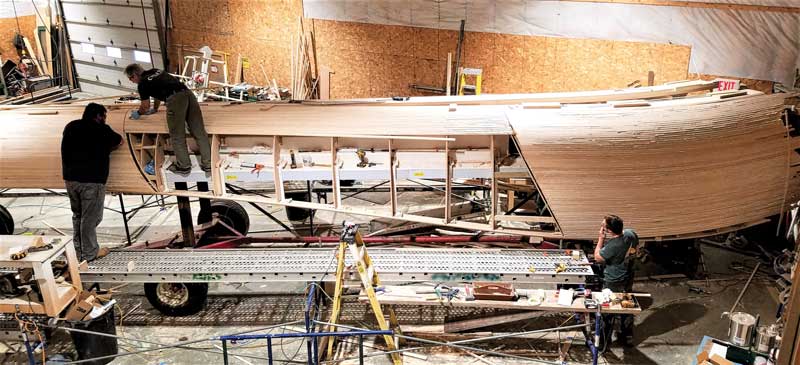 The bridge consists of two 90-foot undulating lengths. The project required skills used in wooden boatbuilding, said marine projects manager Gardner Pickering. The crew framed out each bridge section and bordered them with CNC-cut maple "sheers" and "keels," then infilled with tongue-and-groove hard maple. Image courtesy Hewes & Company
The staircase, which is far more tightly curved than the bridge sections, is cold molded with three layers of 6-millimeter marine plywood, bent, laminated, and epoxied. Strips of maple, each measuring one-inch by a quarter-inch, were laid over that to make the stairs look like they had been built the same way as the bridge.
The sections were faired, sanded, stained, covered with 4-ounce fiberglass cloth and West System epoxy, and finished with numerous coats of Epifanes rubbed-effect varnish. An Epifanes representative worked with Hewes on the varnish recipe to ensure it had the viscosity needed to be rolled on, rather than sprayed or tipped.
Varnishing proved a major challenge.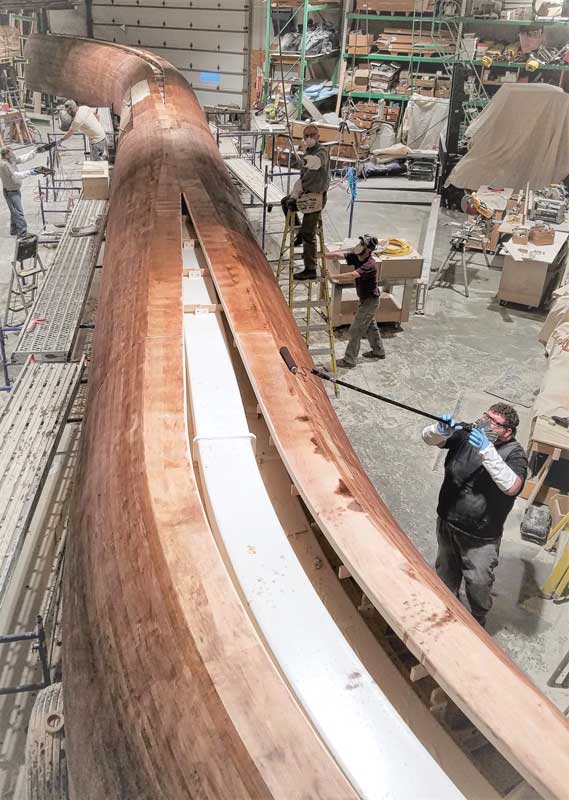 The openings in the bottom of the walkway (the construction was done upside down) will have recessed lighting and maple plywood covers. Image courtesy Hewes & Company "You start varnishing lying on your back, then go completely around the top to the other side," Pickering said. "It was very hard to keep a wet edge, and to cover that amount of acreage and keep it dust-free."
"All the materials and techniques were very much like what we would have used on one of our boat projects, except for maple, which is seldom used on boats because it moves significantly more than most woods and is prone to rot," said Pickering.
Numerous area boatbuilders worked on the 24,000 hour project at various times.
"It was an incredible collaborative effort of talented people," Pickering said. "This sort of thing is really possible because of the depth of craftsmen that we have in this area. A project of this scale—we could not have done that in-house."
Construction was completed in February 2019. Pickering was preparing to travel to Manhattan last spring for installation, which included hoisting the bridge sections 25 feet in the air without scratching the finely varnished surfaces.
"It's a giant puzzle; pieces have to go in a specific order to fit around the walls and columns. Plus, since we built the bridge upside down and the staircase upright, final installation will be the first time everything has been fully together," he said. "Getting it all up there will be interesting." 
---
Laurie Schreiber has covered topics in Maine for more than 25 years.
Nexus Bridge wood cladding
Installed at Waterline Square, New York City
Builder:
Hewes & Company
419 Ellsworth Road, Blue Hill, ME
207-374-2275; www.hewesco.com 
Project Members:
Jaroff Design
www.mison.com
Newport Industrial Fabrication 
www.nif-inc.com
Rockwell Group
www.rockwellgroup.com 
Share this article:
2023 Maine Boat & Home Show

Join Us for the Maine Boat & Home Show!
Art, Artisans, Food, Fun & Boats, Boats, Boats
August 11 - 13, 2023 | On the waterfront, Rockland, Maine
Click here to pre-order your tickets.
Show is produced by Maine Boats, Homes & Harbors magazine.