Permanent Culture
Living off the land and giving back
By Laurie Schreiber
Photographs by Laurie Schreiber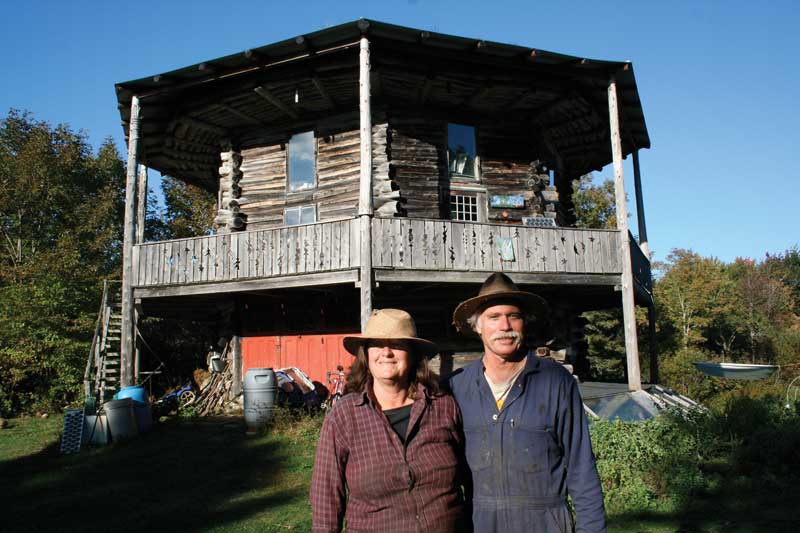 Irene Cortese and Jon Archer practice and promote ideas around permaculture at their Gouldsboro homestead.
If you want to understand Jon Archer and Irene Cortese's way of life, you have to understand permaculture. If you want to understand permaculture—and the ideas and practices that go into creating this sustainable and integrated environmental and social system—it would be a good idea to live with them for at least three weeks.
That's what Archer and Cortese told me when I asked for an interview. When I declined, they cheerfully, if skeptically, agreed to an afternoon visit instead to their homestead, the Zocalo Permaculture Center in Gouldsboro.
It was worth the visit. Their homestead embodies endless invention, as they consider how to make every aspect of their lives conform to the idea of  "permanent culture"—or permaculture—as opposed to the temporary culture of environmental and social degradation.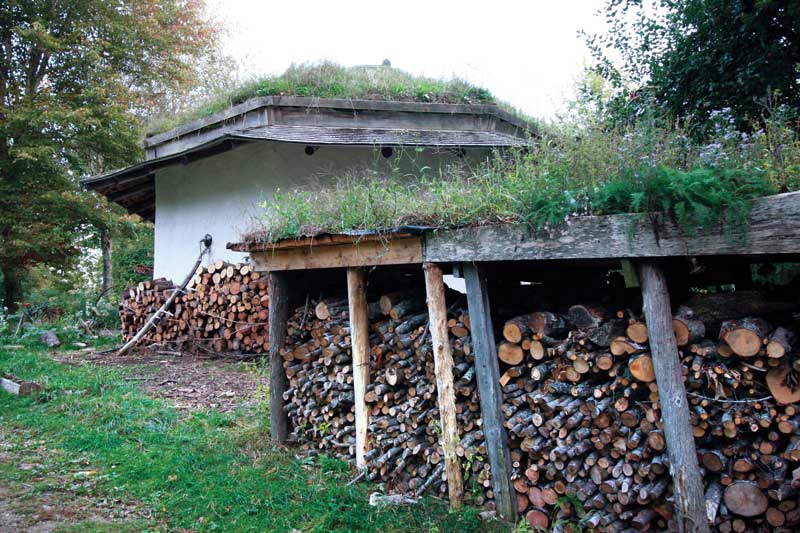 Hand-hewn shelters with sod roofs are part of the permaculture aesthetic.
The term "permaculture" sounds like it has to do with agriculture. That's part of the idea, but not everything. Permaculture considers the place of humans in the world—not just our food, but also the other aspects of daily life, such as shelter, transportation, energy, and social interaction.
"When you spend three weeks here, we really bombard you with many ideas and discussion," said Cortese. Originally from Mexico, she greeted me with a big hug and a flurry of Spanish-inflected welcomes. 
Archer is quieter, with an easy cat-caught-the-mouse smile. He's been pursuing permaculture ideas since he was in high school, carrying out projects that he found in the sustainable-lifestyle magazine, Mother Earth News.
"We need to spend more time not working on the easier things—which are heating and food—but the whole situation," he said. "There's a tendency to think, 'I eat organic. That's good enough.' I think you'll see our homestead is very different."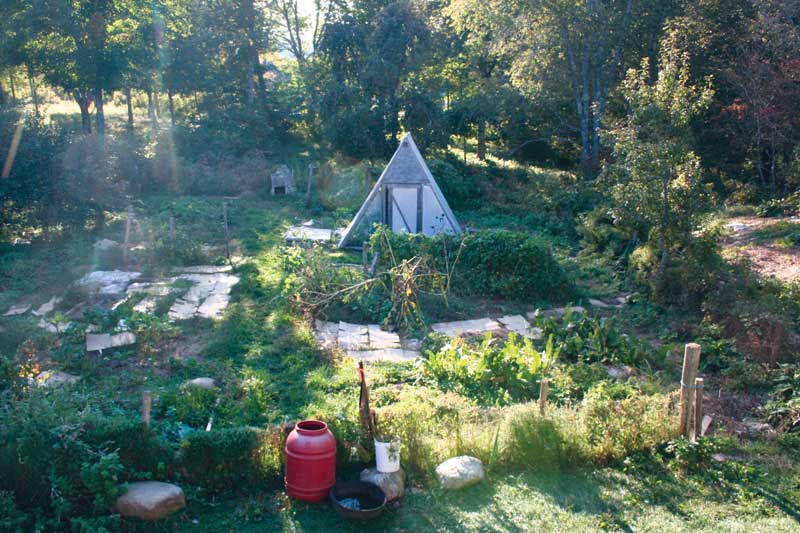 Gardens abound with fruit trees, root vegetables, and leafy greens of all kinds.
Zocalo is located off a beautiful, winding road on the Schoodic Peninsula. A sign on the grassy drive that says "Cell Free Zone" also functions as a roadblock. Beyond that a path leads to a sunny clearing and a collection of gardens, fruit and nut trees, and hand-hewn buildings that range in size from two large octagonal structures for community use down to little duck houses. 
A Massachusetts native, Archer arrived in Maine as a college senior, to take a job as a research assistant at The Jackson Laboratory in Bar Harbor, where he still works one day a week. He bought land outside of Bar Harbor and began homesteading—building a sod-roofed house, gardening, and raising animals. When he moved to Gouldsboro 35 years ago, he continued to commute to work in Bar Harbor, but did so by sailing across Frenchman Bay—he said this environmentally friendly form of transportation is also far quicker than the drive by land. 
A musician and contradance enthusiast, he met Cortese in the early 2000s when he was in Mexico to dance and play music at a dance camp. A Montessori teacher at the time, Cortese was planning a trip to Central and South America through World Wide Opportunities on Organic Farms, an organization that links volunteers with organic farms and growers. When she met Archer, she decided to work as a "WWOOFER" (as the volunteers are called) for him instead.
A relationship blossomed. Both education-minded, they have since welcomed all comers to stay with them and learn about permaculture. But guests can't just hang out: They work alongside the couple and implement their own projects. All of that is balanced with celebrations that feature dance, music, homemade pizza, and home-brewed hard cider. By the way, the two aren't zealots. Their sawmill is gas-powered, they do drive occasionally; there's a defunct ATV in their workshop. And if a visitor must have a cell phone—well, okay, but please step outside.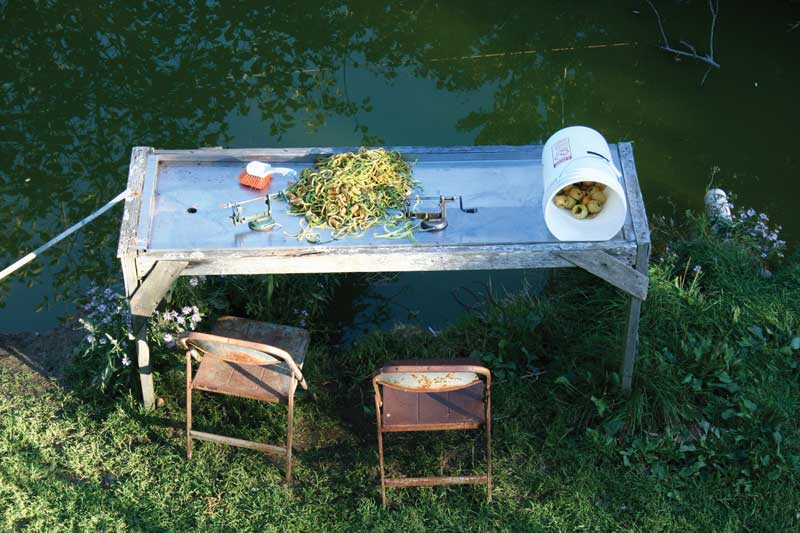 A favorite guest activity is peeling apples for the cider press.
Permaculture considers sustainable production through the relationship between human and environmental systems—selectively harvest trees so that the forest regenerates, design your house to collect abundant sunshine, insulate with natural materials, energize with renewable systems, care for your tools and materials, invite visitors to learn from you and teach you, offer them cider pressed from your apples, and pass the evening in convivial celebration.
Those ideas manifest themselves in the homestead's most striking building, the two-story octagonal "Round Barn" which was hand-built from 10-foot cedar logs. Inside, slimmer cedar beams radiate from the center to support the ceilings. A sod roof provides natural insulation and takes the place of oil-based asphalt shingles. Archer built the barn for cows, but it's now a community space with a second-story summer kitchen, a guest-room cupola, and a deck with railing panels whimsically carved with figures. 
"I've always loved octagonal buildings," Archer said. "Also, cedar trees are small, and they taper from fat to skinny, so you can't have long sides with long logs. You have to make many sides."
When I visited, the apple trees were heavy with fruit and wild mint perfumed the air. We walked by an adobe pizza oven, a century-old cider press—the centerpiece of the couple's Sunday socials—and a maple sap boiler. 
Greenhouses and gardens featured tomatillos, tomatoes, sunflowers, corn, squash, cabbage, horseradish, grapes, pears, onions, potatoes, and many other edible crops. 
Here and there, small piles of scrap metal and plastic—discarded by other people as waste—will be useful for future construction projects. 
Archer showed me a smaller building made from adobe and insulated with sheep wool that is held in place with chicken wire. The couple collects water off the tin roof as it runs into tanks, and then gravity-feed it to a sink. "This is the studio," Archer said. "We saw a lot of construction like this in Mexico. We discussed insulating it with hay, but we had the wool, so this was an opportunity to try it. And it works."
A large A-frame workshop, reminiscent of a curved Indonesian longhouse, is sided with home-milled cedar shingles and scavenged plastic panels.
At his workbench, Archer makes models for his inventions, such as a triple-hybrid catamaran that uses sail-, solar-, and human pedal-power. He built a version of the boat and uses it to commute to Bar Harbor, but he envisions building a larger model with room for more people.
Solar-powered electric drives are a big interest here. For example, Archer designed and built an extra-long wooden wheelbarrow with an electric drive wheel that is powered by a solar-charged battery pack. The couple owns a variety of electric bikes, one equipped with a trailer to carry kids or goods. The batteries take 2-3 hours to charge and can support 15 miles of travel. 
Although they lament what they call "tempraculture"—coining a new word for the opposite of permaculture—they're optimistic about Maine's movement toward clean energy and sustainable initiatives. Lately, though, they've been pondering their own temporal state.
"How do we get people to continue what we're doing?" said Archer, who is now 60. "Are we going to do it through a school, through a co-op, or through co-housing? We've looked at all these things carefully…. It's time to figure out how we're going to pass this on."      
---
Laurie Schreiber has written for newspapers and magazines on the coast of Maine for more than 25 years.
Share this article:
2023 Maine Boat & Home Show

Join Us for the Maine Boat & Home Show!
Art, Artisans, Food, Fun & Boats, Boats, Boats
August 11 - 13, 2023 | On the waterfront, Rockland, Maine
Click here to pre-order your tickets.
Show is produced by Maine Boats, Homes & Harbors magazine.