Say Goodbye to the Tarp
Build yourself a bow shed instead
By Paul Mentag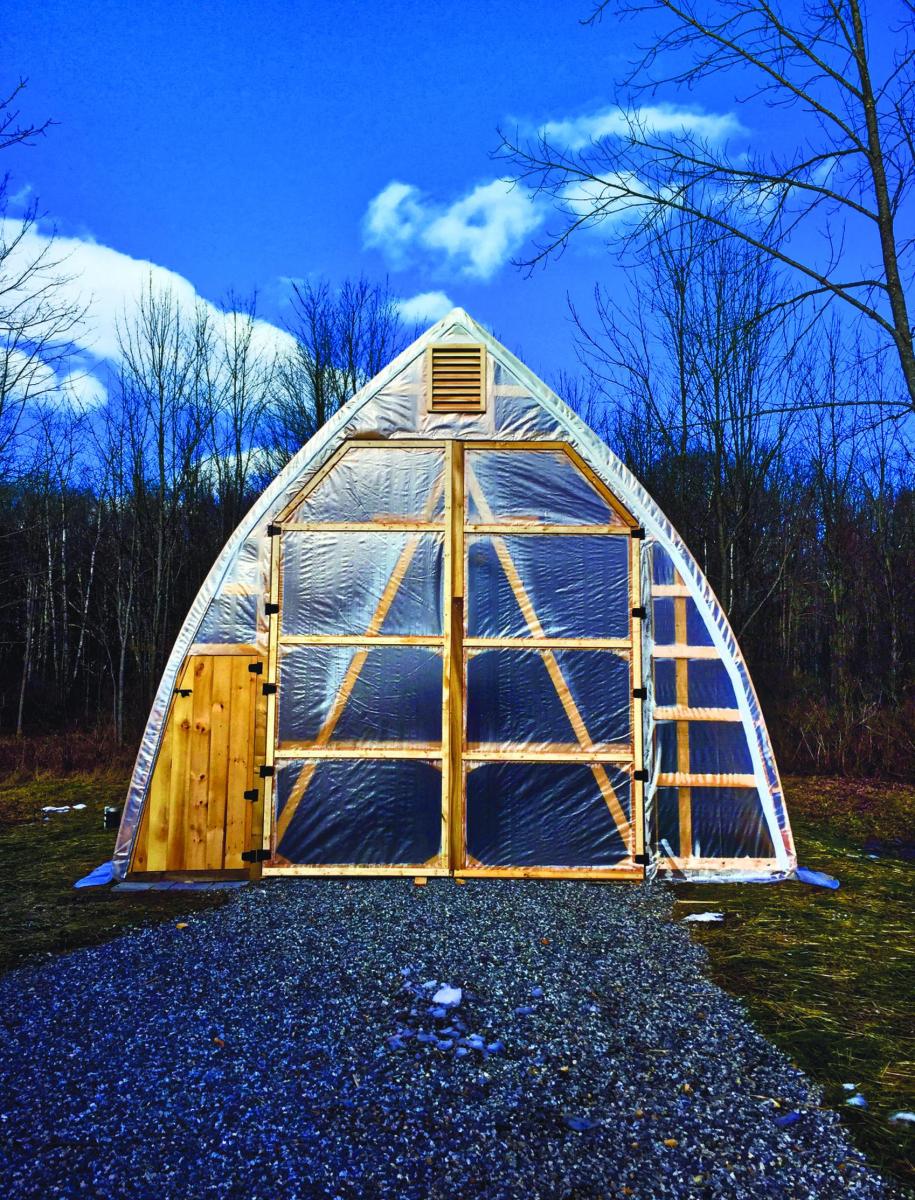 A view of the finished bow shed in December 2015 with the author's 32.5-foot sailboat Poetry tucked inside. The shed was built using plans by David Stimson of Boothbay, while the shed ends were designed and constructed by Ben Susla of Freeport. Photo by Paul Mentag Let me share the fun I had building a bow shed for my Pearson Vanguard, Poetry.
When I bought my 47-year-old sailboat three years ago, she was in solid structural and mechanical shape, but needed a lot of lipstick. Painting the deck and varnishing the brightwork are messy and uncomfortable jobs under a tarp in New England spring conditions. I yearned for my own boat shed, a space that would protect my efforts from bugs, pollen, wind, and other airborne hazards between coats.
In August 2015, while out for a sail on Casco Bay, I decided it was the year. After several inquiries, I discovered Stimson Marine in Boothbay. David Stimson sells plans and directions to assemble a bow-roof shed. For $18 plus $2 postage, he provided me with plans, step-by-step instructions, and a list of materials. While handy with wood, I certainly am not a carpenter, so David's detailed booklet was immensely helpful. He even coached me in a couple of follow-up emails on some questions about materials. My intention was to erect a 20' x 40' shelter for my 32.5' sailboat. This footprint would also provide ample room for a workbench and tools.  
The process is actually quite straightforward: build a jig on which you can bend the 1"x 3" strapping, which eventually creates the arches. I wanted my shed to be rock solid, so I overbuilt and used 1" x 4" fresh-milled hemlock for the bows. They were wet and heavy but super strong. As the hemlock dried it became very stiff—exactly what I was looking for.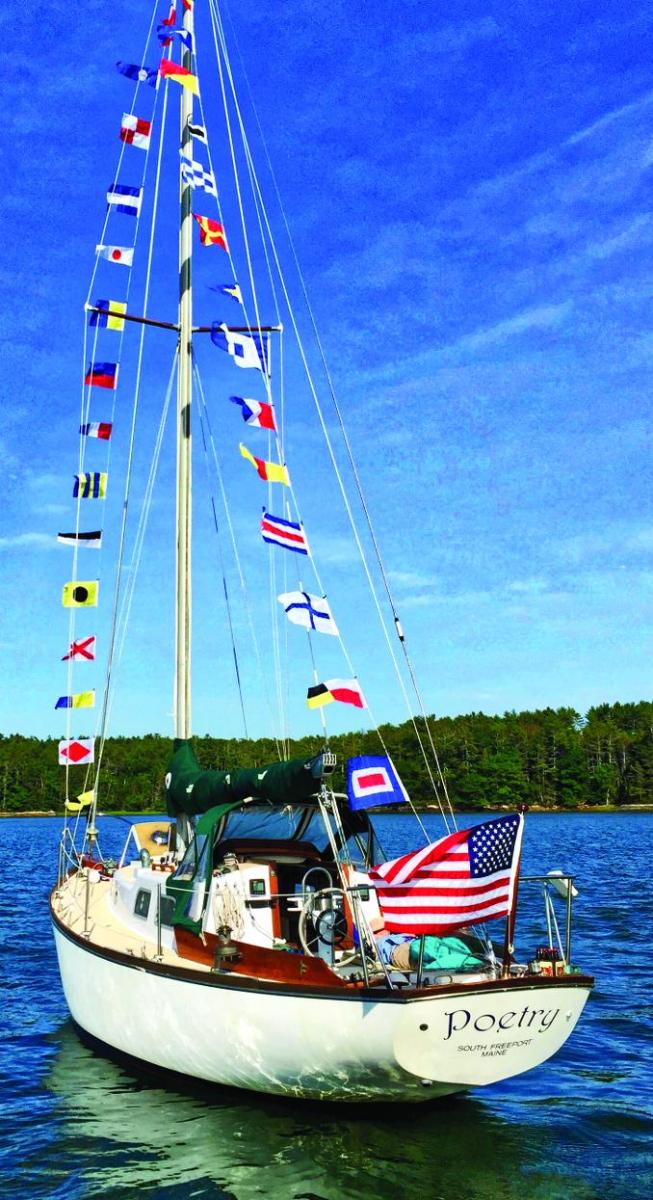 Poetry at her Freeport mooring in July 2015, decked out for the Freeport Historical Society boat parade. Photo by Paul Mentag The next step was to establish a rectangular foundation. For this important step, my friend Peter and I spent a day designing and installing the foundation rails. To prepare for a good foundation, I hired Mark Jorgensen Landscaping to excavate, level, and fill the 800-square-foot area with 1-foot of crushed stone.  Given the weight of the arches and my lack of carpentry skills, I engaged Ben Susla, an expert carpenter and neighbor, for the critical step of raising the arches. We picked a beautiful warm November day, and suddenly the shed became real with its beautifully raised graceful bows. Conveniently, Poetry was already on the pad, sitting high on her jack stands, so the boat became a perfect staging platform to raise the arches. 
Next came the gable ends. Ben and I were having a ball working together and I was learning a ton about carpentry. Stimpson's plans don't stipulate design elements for the ends. So I began to think about functional use, air flow, doors, etc. We built two 12-foot-high doors that would allow Poetry to exit the shed in the spring. 
The plans call for 6 mil greenhouse plastic for the covering, but I selected 12 mil woven reinforced plastic from FarmTek, a Midwestern supply house.
The plastic finally arrived in mid-December, and as luck would have it, we were blessed with an unusually warm 48-degree day without a speck of wind. With plastic in hand, Ben and I positioned ourselves at our respective ends of the shed. We ascended up the south side of the shed to the ridge, pulling the 42' x 42' sheet behind us. Climbing over the ridge we pulled the plastic down the north side and secured it on both sides with a unique system of wire (wiggle wire) and aluminum channels. Poetry was covered in the nick of time—just before the arrival of two inches of rain coupled with 50-mile-an-hour wind gusts. What a perfect test.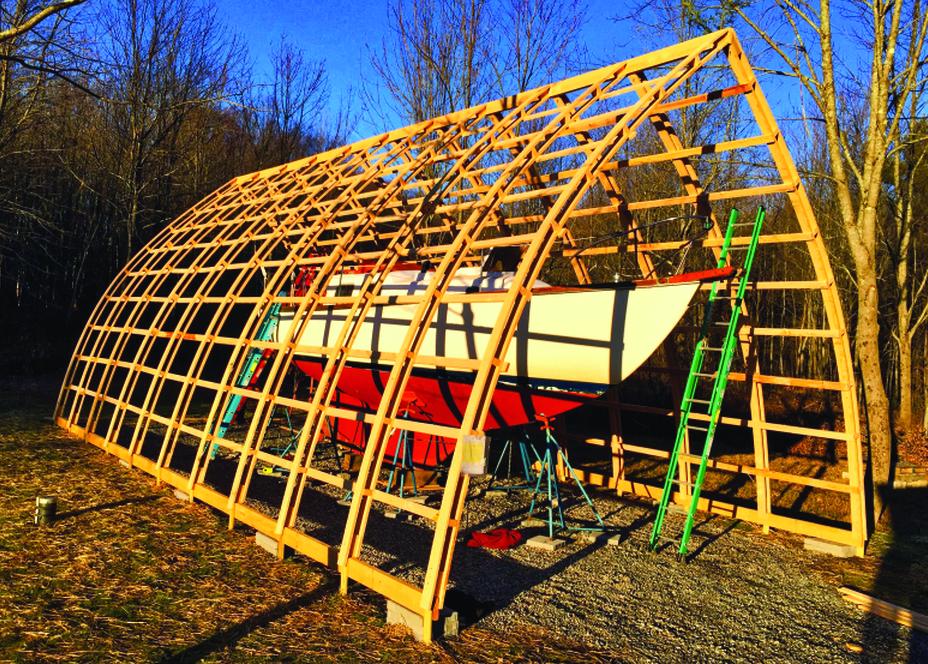 It was a proud moment once the bows were erected and the horizontal boards installed. The next step was to design and finish the ends before overlaying the structure in plastic. Photo by Paul Mentag
For those of you who long for an economical and aesthetically pleasing space to work on your boat, I believe this shed does the job exquisitely. Although I have yet to assemble all of the costs, a rough estimate is just under $3,500. That includes a building permit, but not Ben's labor.
I went into the shed to check the temperature last winter on a day when the outside thermometer read 25 degrees. Inside the bow shed, the temperature was a balmy 58 degrees at 3 in the afternoon. For a guy who loves his boat, it doesn't get much better than that. 
---
Paul Mentag is principal of Mentag Company, a team and organizational development consulting business, and was a photojournalist for the U.S. Coast Guard early in his career. He lives in Freeport.
Share this article:
2023 Maine Boat & Home Show

Join Us for the Maine Boat & Home Show!
Art, Artisans, Food, Fun & Boats, Boats, Boats
August 11 - 13, 2023 | On the waterfront, Rockland, Maine
Click here to pre-order your tickets.
Show is produced by Maine Boats, Homes & Harbors magazine.