Moved Not Shaken
A historic boathouse becomes a cozy home
By Regina Cole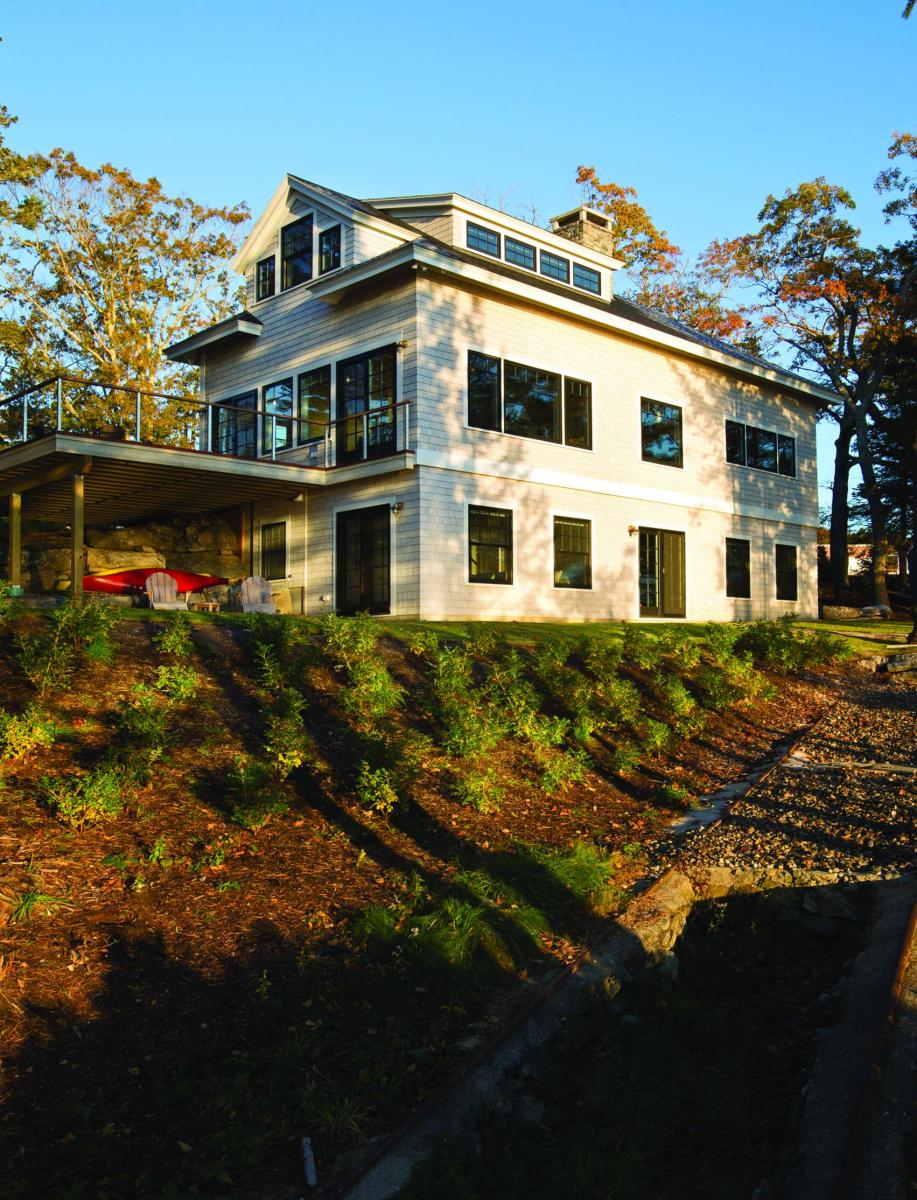 The boathouse was moved from its original location at the terminus of the railway (visible on the right). Photographs by Alison Langley
This two-and-a-half-story frame house overlooking a cove from a point in Boothbay Harbor did not start life here. Before it came to rest on this small bluff, it was moved, twice. There is clearly something special about this building; houses only get moved when there is a good reason.
"It was a boathouse, built around the corner in West Harbor in 1921," said Dana Twombly, a semi-retired telecommunications professional. He and his wife, Betsy, who works in real estate, own the home/boathouse and are responsible for its most recent move.
In 1929, a New Jersey banker named Spencer bought this point, built a big summer house on it, then bought the West Harbor boathouse. 
"They floated it around the point and put it here, building a railway into it," Twombly explained. "His wife's sister lived on Squirrel Island and they had a cabin cruiser named Penguin and a captain who took Mrs. Spencer back and forth. They would haul Penguin up on the railway and store her in the boathouse for the winter."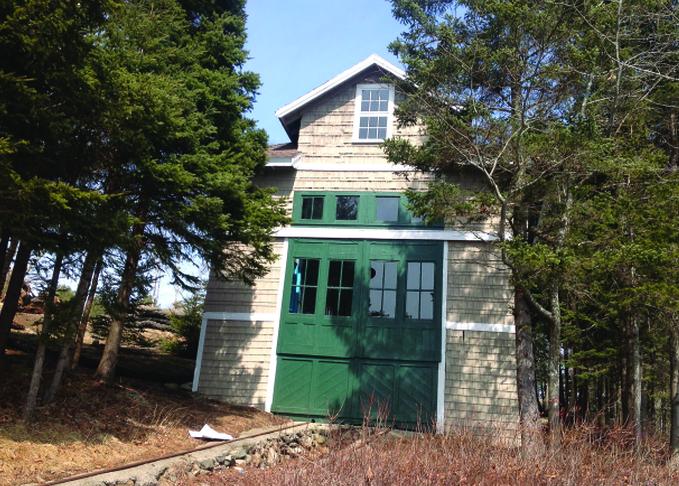 A well-built structure with a peaked window gable on the roof, the boathouse was moved uphill to the left before being renovated into a house. Four years ago, Twombly was driving his tender along the Boothbay Harbor shoreline early one morning when he saw a sign: "Boathouse for Sale." The Spencer estate had been split into smaller lots. One included the boathouse. 
"My wife and I grew up on the water in Maine and have always loved Boothbay Harbor," he said. "We have friends up that way and especially like the working waterfront aspect of it. For a year, I watched that real estate listing."
The spot was lovely, and, the couple soon learned, the boathouse also was worth saving. Their friend, Boothbay Harbor builder Eric Marden, helped them see that the boathouse, well built almost a hundred years ago, would lend itself to a renovation and could be transformed into a wonderful vacation home.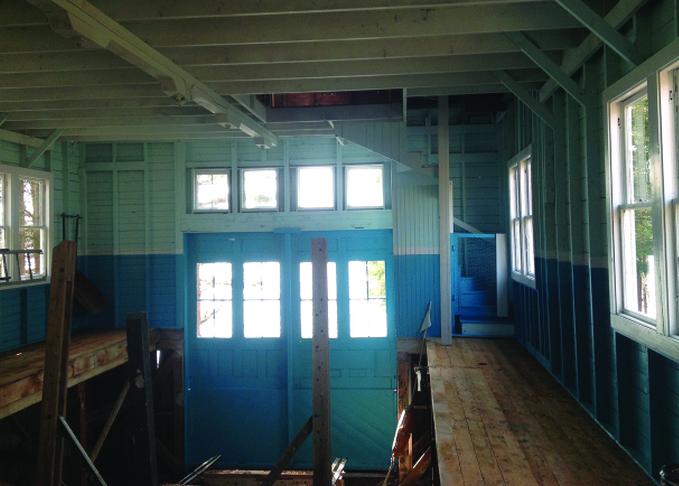 Originally a vast, open space, the boathouse had no downstairs floor, while the loft boasted southern yellow pine floorboards that now form the flooring in the upstairs master bedroom. The old ceiling beams remain a striking feature of the new living room. It was built by local craftsmen who had pride, said Twombly. "Eric showed me how they had signed their names on the rafters up in the attic. That's how we know when it was built: some put the date next to their names."
There was just one problem: situated at the edge of the water, it could not be expanded or turned into living space under the town's shoreland zoning ordinance, which prohibits new home construction within 75 feet of the shore.
Boothbay town officials told the couple the building had to be moved back from the water, but allowed a portion to remain within the 75-foot setback. "They really wanted to see the building saved," said Twombly.
Also in play were federal flood regulations, according to Marden, as the structure was in a hurricane flood plain. This meant elevating the basement floor above the flood zone.
The Twomblys engaged Copp and Sons Building Movers, a third-generation company of house movers in Cumberland. After jacking the boathouse up and sliding a series of steel beams underneath, they lifted it up and placed it on large wood blocks while Marden's crew built a foundation in the new location. 
"Since it was a boathouse, it had no floor," Marden said. "We built a floor system above the foundation and then, after a few nerve-wracking weeks, the house movers came back to set the house down on its new floor and foundation in its new location."
Early in the process, Marden introduced the Twomblys to Martha Coolidge, a designer in Belfast, Maine. Coolidge, who creates interiors for boats as well as homes, designed new living spaces for the expanded 3,000-square-foot structure.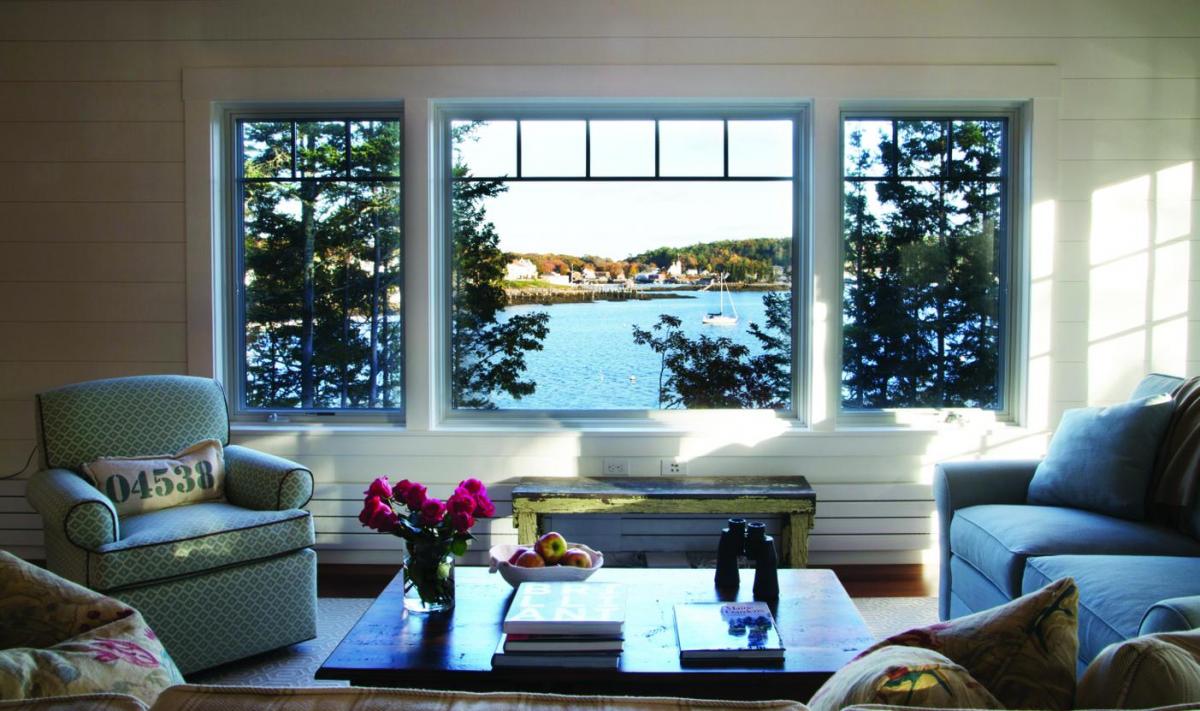 The new living room occupies the end of the house opposite the kitchen. A large window offers views of Boothbay Harbor and the water.
The new foundation backs into the side of a hill. The lower level, which houses two bedrooms, a bathroom, a laundry room, and the mechanical systems, has a poured concrete floor with radiant heat. The kitchen, living room, and dining room are on the main floor. The floors there are mahogany, "because it's reminiscent of a yacht," said Coolidge.
In the same spirit, Maloney Marine Rigging of Southport made the stainless-steel cable railings on the staircase, and Coolidge repurposed antique nautical lighting for some of the fixtures in the kitchen, living room, and dining room. Coolidge also designed nautically inspired built-ins and used bronze cleats for the kitchen's drawer pulls.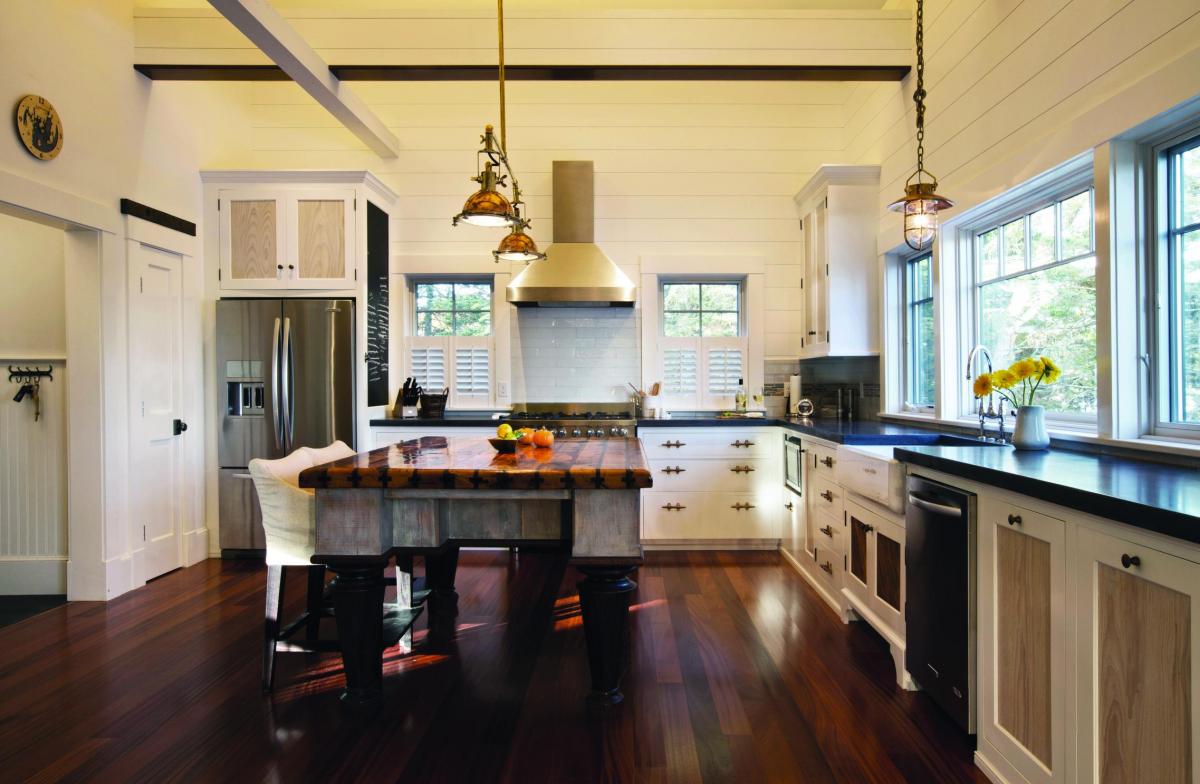 The spacious kitchen rises two stories and incorporates nautical elements, including lighting reconfigured from antique ship's lamps, bronze cleats used as drawer pulls, and an island top designed to recall a teak-and-holly cabin sole.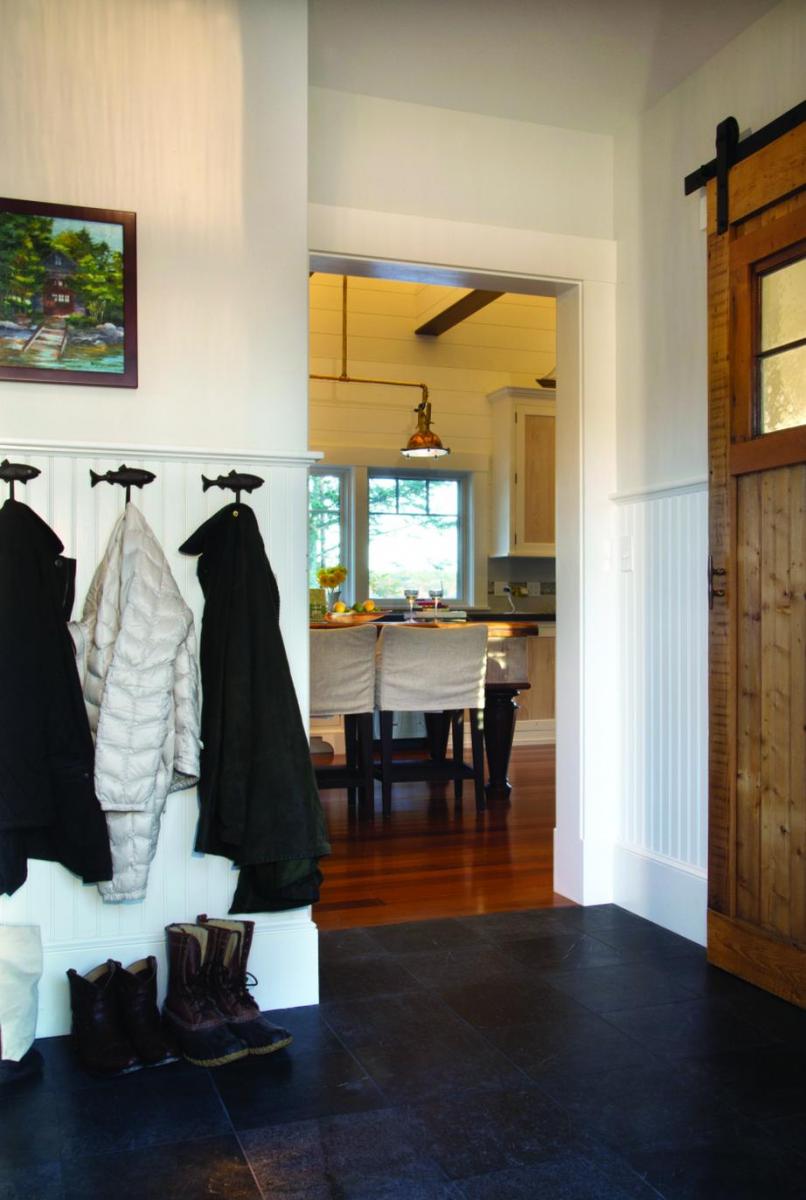 The new front entry leads into a mudroom with soapstone flooring. A barn door hanging on a track makes a space-saving doorway for the half bath. Area stonemason David McFarland built a granite chimney and fireplace; it acts as a room divider between the kitchen and the living room.
The master bedroom suite is on the top floor. Originally the boathouse loft, it boasts Southern yellow pine flooring.
"As soon as I saw those old floorboards, I got excited because I knew they would be so beautiful when cleaned and refinished," Coolidge said.
Back in the building's days as a functioning boathouse, Penguin was hauled in through an enormous door; that water-facing gable end now features a wall of windows and French doors that lead out onto a deck on the main living level.
"Because one corner of the house is still within shoreland zoning, we could not build a deck clear across the wall," Coolidge explained. "That was actually for the best, because this way, the deck does not shade the slider of the bedroom below."
Coolidge was delighted to find the original steel tie rods that supported the boathouse's wide-open spaces and incorporated several into the design for the dramatic kitchen, which rises two stories to a peaked ceiling. "They are still quite functional," she pointed out. The old timbers and beams, too, are a dramatic part of the new interior. For the sake of safety and longevity, some steel structural elements were added during the reconstruction.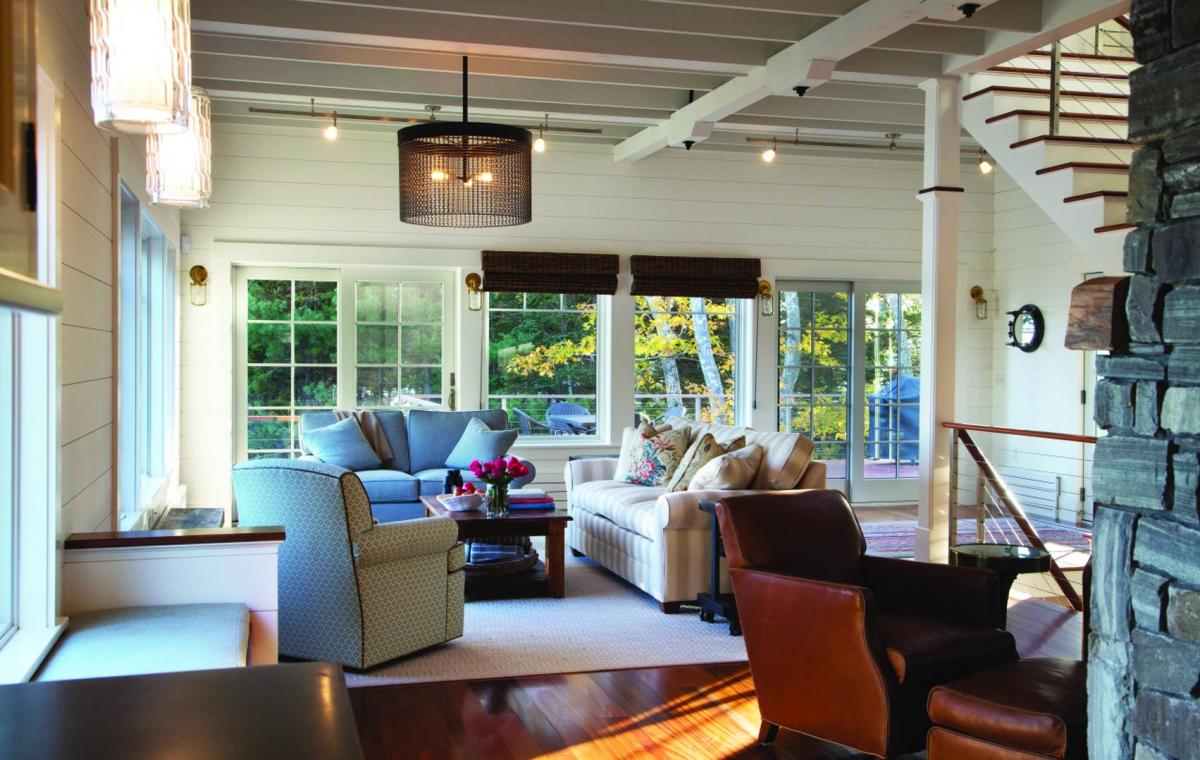 The gable end of the living room, where once a large door allowed Penguin to enter, is now a windowed wall with doors leading to a deck. Maloney Marine Rigging made the stair rails.
The front door, on the uphill side of the house, leads into a mudroom with soapstone flooring and a half bath. The mudroom opens directly into the large, sunny kitchen. At its center is a massive island.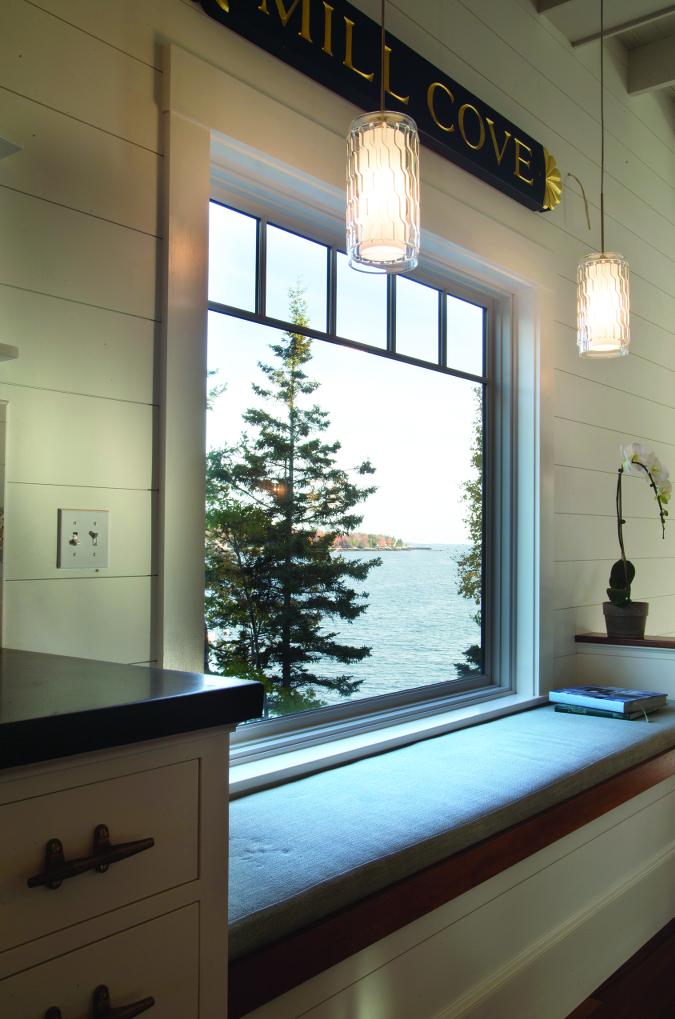 A built-in bench in the kitchen provides a view toward the east. "Martha and I had two meetings with Tom Joyal at Old House Parts in Kennebunk to tell him what we wanted," said Twombly. "We started with the antique mahogany piano legs and worked our way up. We wanted the top to look like the teak and holly cabin sole you would find in a yacht."
Joyal had some spruce salvaged from an old farmhouse and he suggested using walnut for inlays. "It is the first thing you see when you walk into the house and everyone comments about it," Twombly said. "Very nautical, and it makes a great work- space for laying out paper charts when planning a cruise!"
The old railway is still in its original spot outside, along with the cast-iron windlass at its head. Once powered by a diesel engine housed in a small shed, it can still be operated manually via a metal bar.
"The railway is grandfathered, so I would like to keep using it," Twombly said. "We are evaluating what to do with it." At present, a platform built on its water end serves as a delightful sitting area.
Dana and Betsy Twombly plan to spend the whole summer in their Boothbay Harbor vacation home when they are both fully retired. For now it's an ideal weekend getaway spot.
"It's incredibly beautiful and incredibly quiet," Dana Twombly said. "We have a resident bald eagle and we face east for nice sunrises. Then, on the other side, we get the sunset."
Most important, he and his wife said, is that their comfortable and beautiful new getaway is true to its roots.
"When we made modifications, Martha made sure that we did not hurt the building's essential character."      
---
Regina Cole is a freelance writer who lives in Gloucester, Massachusetts. She writes about architecture, interior design, and the history of the American decorative arts for many national and regional magazines.
Resources
Designer: Martha Coolidge, Belfast, ME
General Contractor: Eric Marden, Marden Builders, Boothbay Harbor, ME
Stone Mason: David McFarland, McFarland Masonry Inc., Boothbay, ME
Building Movers: Copp and Sons Building Movers, Cumberland, ME 
Lighting: Gary Arsenault, Northern Lights Electric, Boothbay, ME
Marine Antiques and Lights: Scott Hay, Touch of Gray, Portland, ME
Kitchen Island: Tom Joyal, Old House Parts, Kennebunk, ME
Kitchen Cabinets: Black Bear Woodworking & Fine Cabinetry Yarmouth, ME
Stair railings: Maloney Marine Rigging, Southport, ME
Flooring and Tile: Days Flooring, North Monmouth, ME
Landscaping: Conley's Garden Center and Landscaping, Boothbay Harbor, ME
Share this article:
Digital Edition Available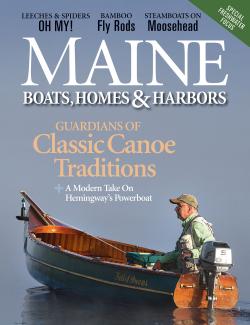 Can't get to the store to buy your magazine? We deliver the stories of Maine's coast right to your inbox. Sign up here for a digital edition.