Bohemian Princess
A whimsical caravan— half home-on-wheels and half elegant yacht
By Ann Dodds Costello
Photographs by Sarah Szwajkos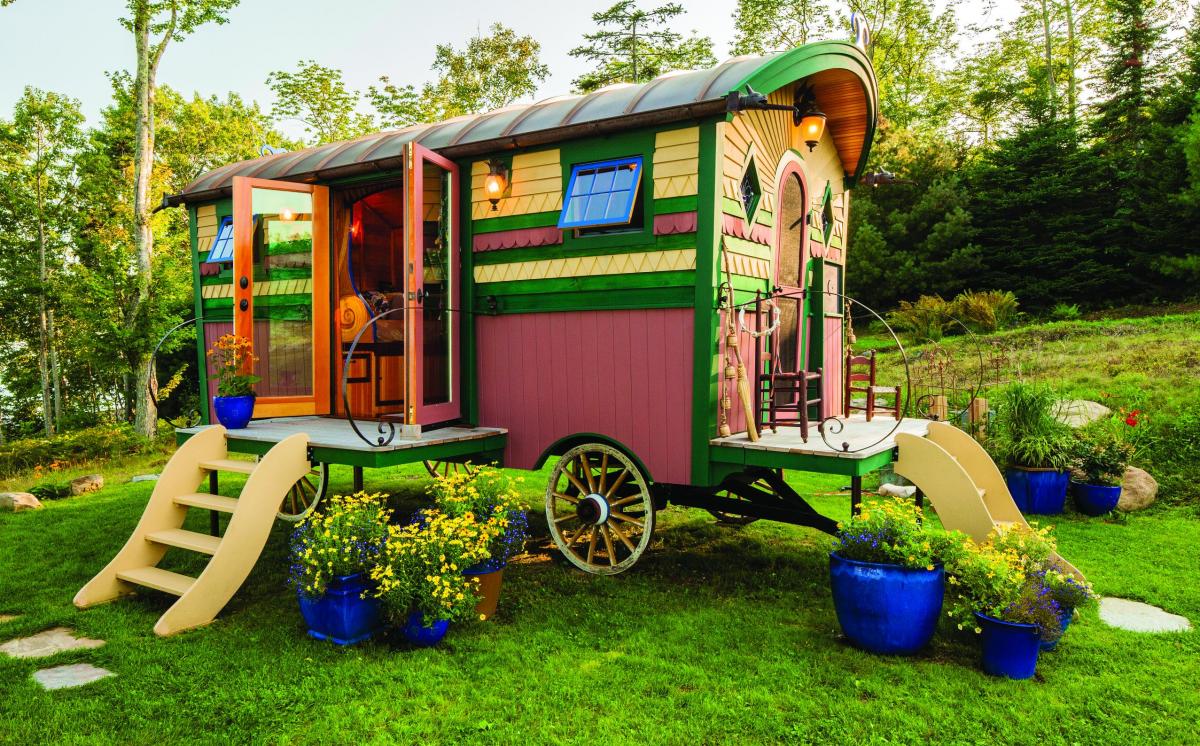 Pineapple sconces by the caravan's French doors are a reminder of the owner's desire to use the wagon as a centerpiece for parties—pineapples are a symbol of hospitality.
Nestled at the bottom of a sloping field, and overlooking the sky-blue water and pine-studded islands of Penobscot Bay, Bohemian Princess is an apparition of the most curious kind: a newly constructed, totally functioning, and movable gypsy caravan.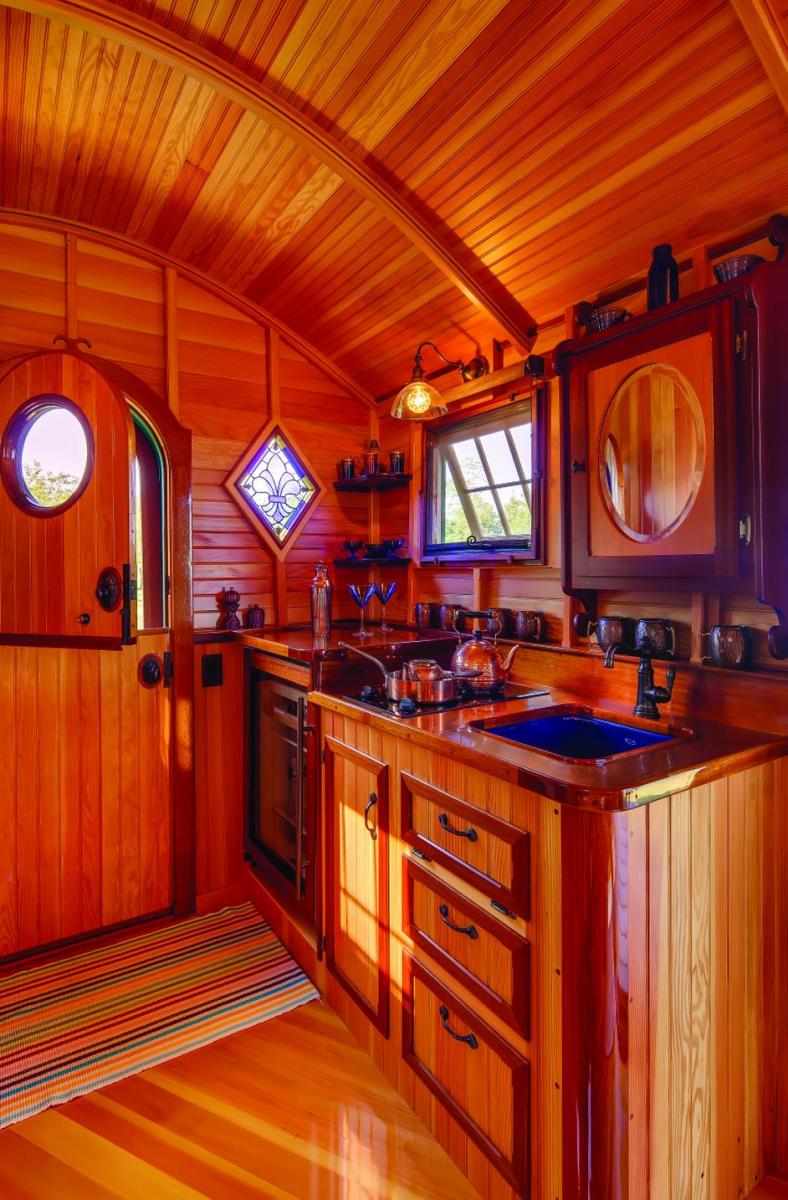 The small kitchen and bathroom are hooked up to water and utilities on the site. The offbeat and mystically decorated garden folly was built in just seven months in a shop in Waldoboro and delivered to its owner and imagineer, Gail Catharine Bertuzzi, on the auspicious seventh day of the seventh month of 2014. It was designed by landscape architect George Workman, who runs Landworks Design of Newcastle, Maine, and built by long-time wooden boatbuilder Rene Goulette of South Bristol.
Like a yacht, the caravan has a small bathroom, a working kitchen, built-in bed, seating, and storage. But unlike a yacht, this folly has wheels and is at home on the land. Workman said the heavy-duty wooden buckboard wheels, which date to the mid-1800s, enable the caravan to roll easily.
Even so, getting it downhill to its present site was not easy. Brought to the area on a flatbed trailer and then unloaded at the top of Bertuzzi's driveway, the caravan had to be eased down the steep and winding drive and then down a long sloping lawn, using a tractor in front as a brake.
Bertuzzi and Workman began collaborating on the caravan several years ago. Workman had designed and executed the landscaping and naturalistic swimming pool in Bertuzzi's Maine home, as well as at her New Orleans home, post-Hurricane Katrina.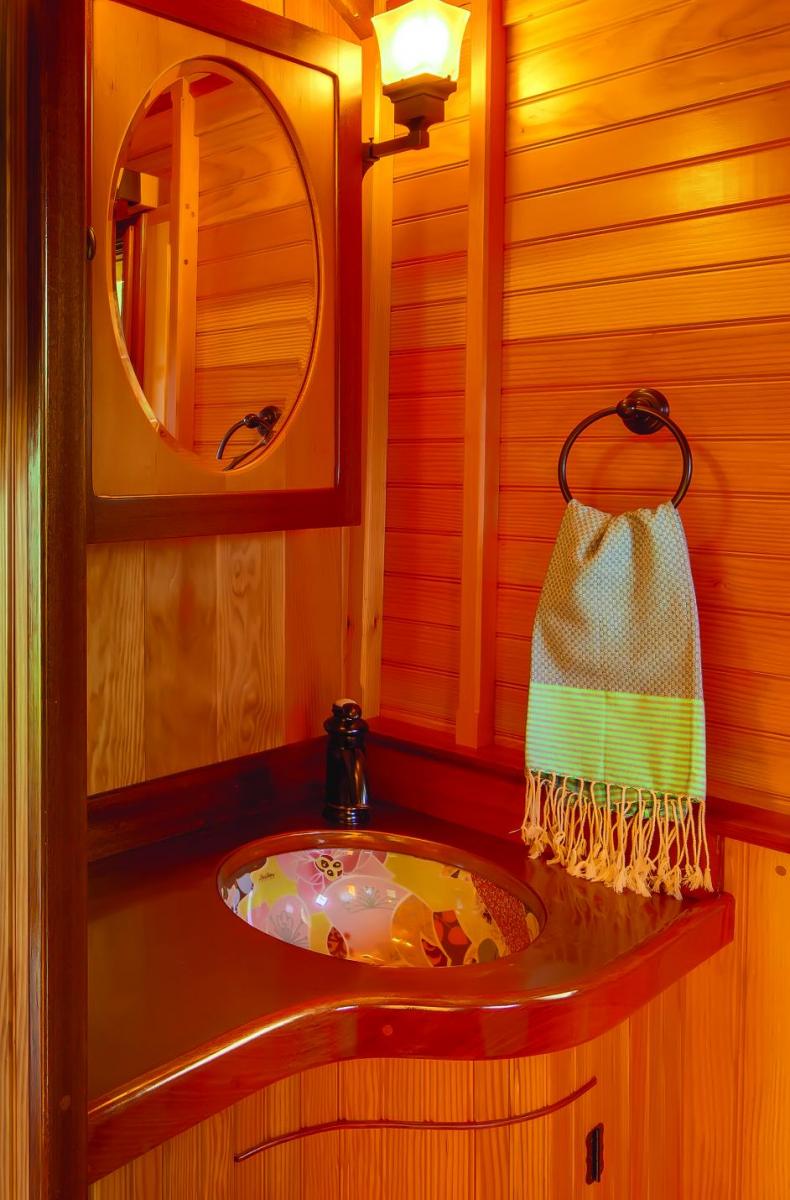 Finally, this summer, the offbeat conveyance became a centerpiece for entertaining, and a cozy spot where Bertuzzi can read and nap or entertain friends. On a late August visit, I found colorful tables shaded by brightly colored Japanese umbrellas set up between the caravan and a fire pit, near steps to the rocky beach. A colorful refreshment cart sat nearby. This was a party waiting to happen.
All of the final carpentry and fabrication on the caravan—except for the metal undercarriage—was done by Goulette, whom Workman called "one of the best craftsmen I know." Childhood friends in Southport, Workman and Goulette's collaboration goes back to building forts, tree houses, and boats together when they were boys. 
Throughout the process, Workman worked closely with his lifelong friend, from original concept to laying out proportions, choosing materials, and reviewing finishes. The caravan's yacht-like interior is a testament to Workman's design sense and Goulette's woodworking skills—the ribs of the vaulted ceiling, made of molded strips of Douglas fir and mahogany; the curved Douglas fir cabinets in the "head," the cedar transom around the queen-size bed. Custom-built cabinets are perfectly sized to fit around the tiny, colorfully patterned bathroom sink, the cobalt blue kitchen sink, and the bar refrigerator. The interior wainscoting is cedar, as is the wagon's shingled exterior.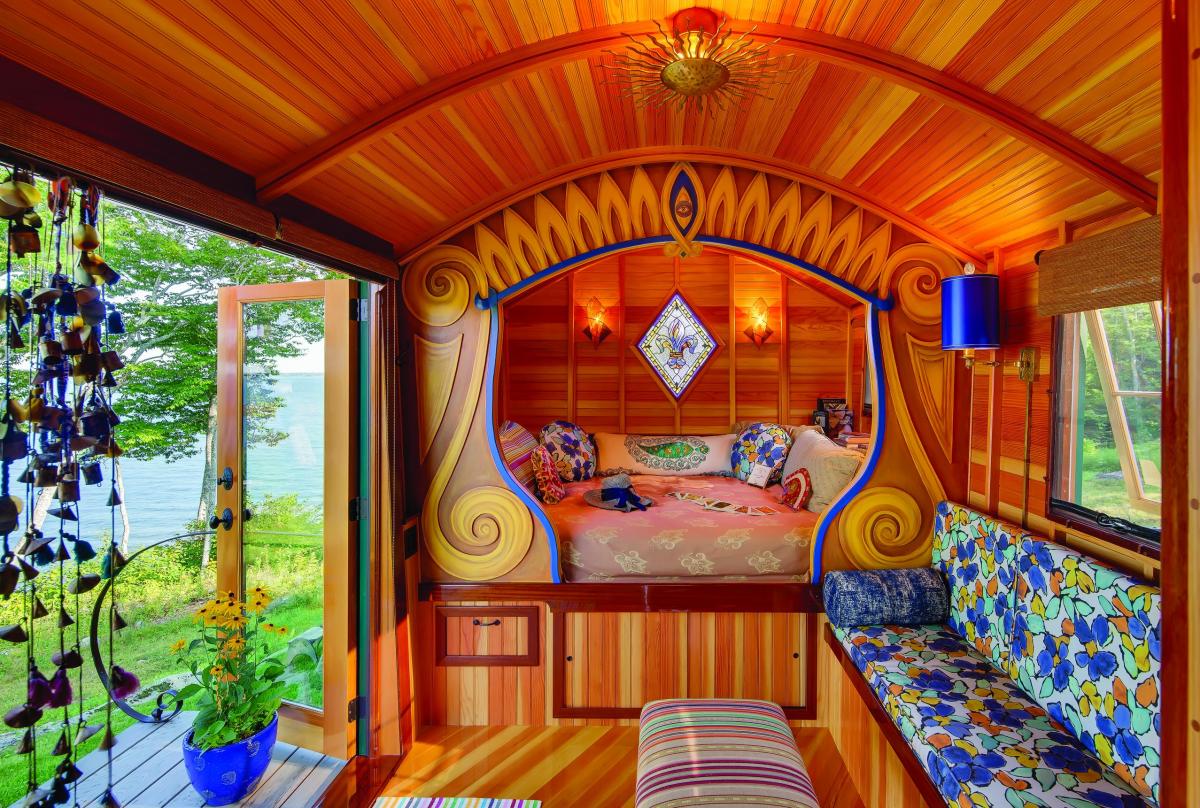 The gypsy caravan was a collaboration between owner Gail Bertuzzi, landscape architect George Workman, and boatbuilder Rene Goulette. Workman painted the decoration around the sleeping nook inside. Goulette's woodworking skills are evident throughout.
The caravan's mystical and elegantly Bohemian vibe is telegraphed in details like the number "7" painted on the back of the wagon, Tibetan prayer bells hanging in both doorways, a ram's head symbol at each end of the roof, gargoyle light fixtures and downspouts, brightly patterned textiles, a sunburst light fixture, and, around the queen-size bed, a Zodiac-themed transom. This was painted by Workman, who has done theater set design and construction. The bed is heaped with welcoming pillows and backed by a shelf of reading material for those lazy afternoons.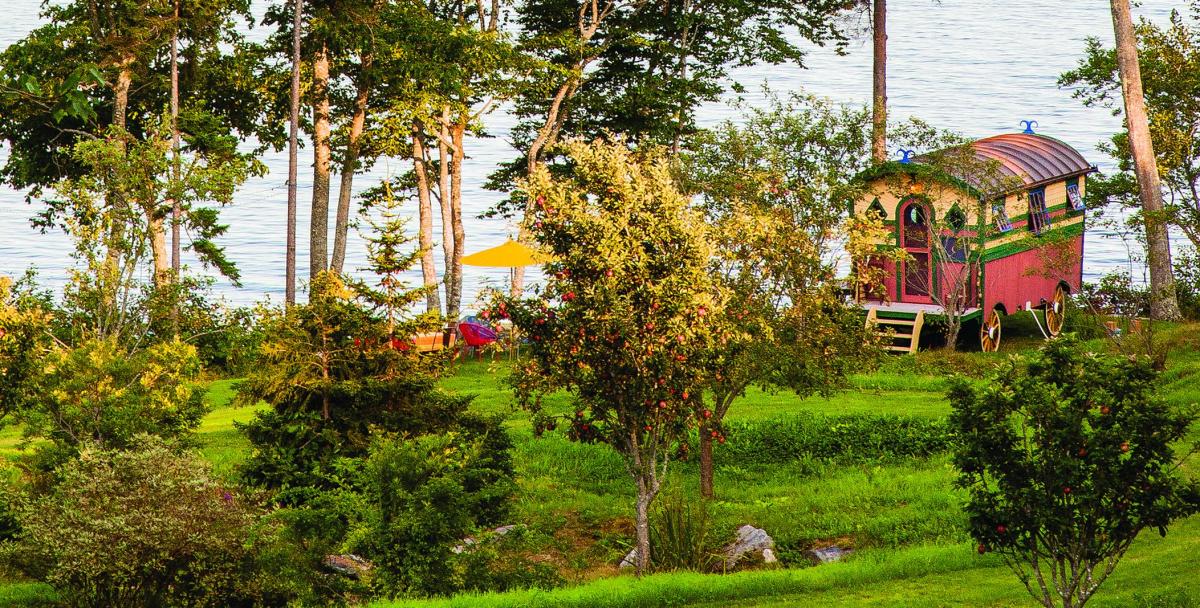 The caravan is perched in a grassy area overlooking the water. Colorful chairs and tables nearby make it a great place for summer parties.
Bertuzzi has also placed reminders of her New Orleans home here and there. A crescent-and-star insignia, the symbol of New Orleans, is carved on the front and back of the caravan. Each of the three dazzling cobalt blue stained-glass windows, made by artist Richard MacDonald of Boothbay, features a fleur-de-lis. 
Traditionally gypsy caravans were movable homes for the Romani people who roamed Europe in brightly painted wagons. This folly's exterior colors—yellow, green, and red, with cobalt blue trim around the windows—have been muted in keeping with the main house at the top of the hill, which is a shingle-style home with forest-green trim. The caravan's vaulted copper roof echoes copper on the exterior of the main house. 
Over the winter, the Bohemian Princess will be shrink-wrapped, just like a fine yacht.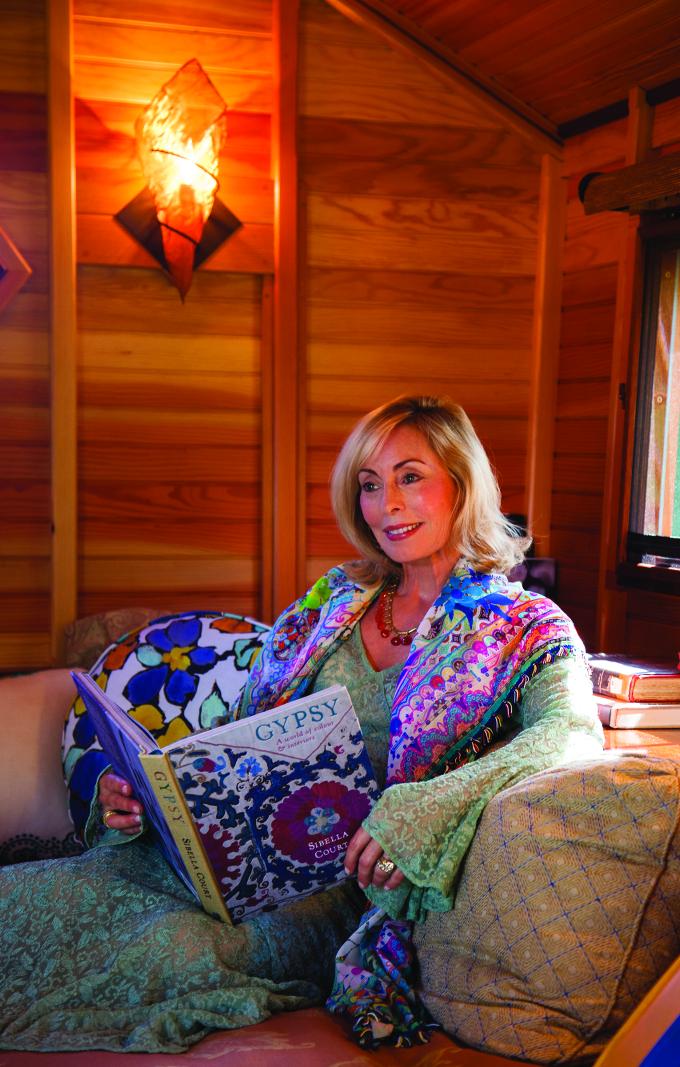 Owner Gail Bertuzzi uses her caravan as a spot to relax with a good book, as well as for entertaining.
When Bertuzzi first began thinking about the project, she wanted a presence close to the water, as her main house is set back at the top of a hill. She had been captivated by a gypsy wagon she saw many years ago in a field in England, and by a red-and-gold gypsy wagon on display at the Owls Head Transportation Museum in Maine. Along with a keen sense of design, she has more than a smidgeon of interest in all things mystical and Bohemian.
"Among my greatest pleasures in life are vivid colors and gorgeous textiles. This passion is always reflected in my fashion and in my interior design sensibility. I had the most fun choosing fabrics for cushions and pillows, those which have a sixties-era vibe—flower-power and a Bohemian paisley here and there," she said. "The caravan is a flight of fancy in color and pattern, with a stop along the ancient Silk Road."
Bertuzzi also found the caravan's sinks and light fixtures, bar ware, china, silver, place settings, a set of copper Moscow Mule mugs, a retro cocktail shaker with an octopus stopper, and many other unique embellishments. 
For their part, Workman and Goulette thoroughly enjoyed the building process. Although this was the first gypsy caravan they have built together, chances are extremely good that they could be persuaded to embark on another similar creative collaboration.
Gypsy dreamers, take note.     
---
Ann Costello lives in Los Angeles and Owls Head. She is the author of  Smart Women: The Search for America's Historic All-Women Study Clubs, 2015 published by Lulu.com.
Share this article:
2023 Maine Boat & Home Show

Join Us for the Maine Boat & Home Show!
Art, Artisans, Food, Fun & Boats, Boats, Boats
August 11 - 13, 2023 | On the waterfront, Rockland, Maine
Click here to pre-order your tickets.
Show is produced by Maine Boats, Homes & Harbors magazine.