Maine's First Summer Home
Portland's Victoria Mansion represents 19th-century opulence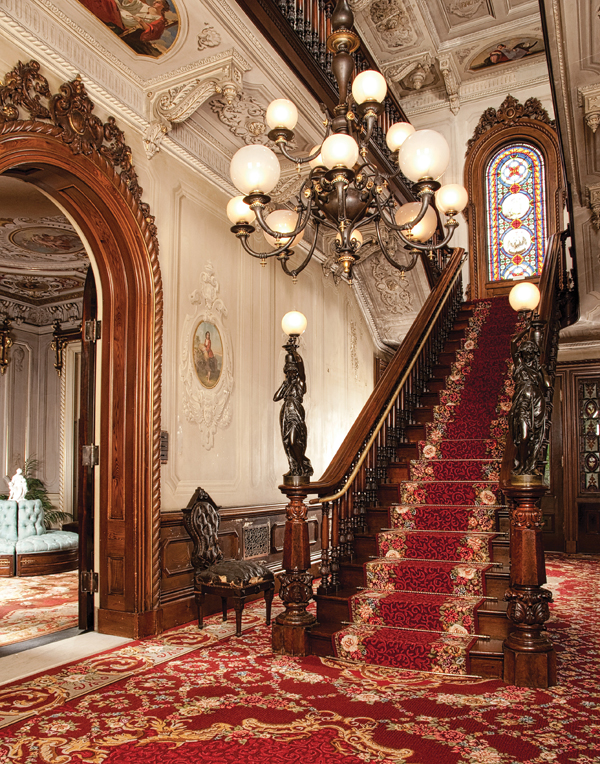 The Victoria Mansion's incredibly ornate interiors remain largely intact.
By Regina Cole | Photos courtesy Victoria Mansion It could be said that Maine truly became "Vacationland" in 1860, when Ruggles Sylvester Morse and his wife, Olive, first summered in their brand-new second home on Portland's fashionable Danforth Street. When they erected the house that is now known as Victoria Mansion at a reputed cost of $70,000 to $100,000, the couple built Maine's first summer home. He hailed from Leeds, Maine; she was from Durham, but they lived in New Orleans, where his fortune as a hotelier ascended to dizzying heights. "After they moved in for their first summer, the Civil War erupted," said Arlene Palmer Schwind, curator of the house museum also known as the Morse-Libby House. "New Orleans was embargoed, and they didn't come back to Maine until the summer of 1865." Designed by Henry Austin, a New Haven, Connecticut, architect, the brownstone Italian villa has been notable since the Morses began building it in 1858. The local newspapers mentioned stages of its construction; Edward Hopper painted the house in 1927.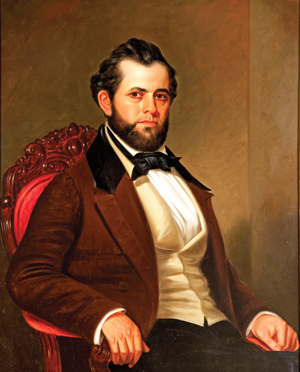 A Maine native, Ruggles Sylvester Morse made his fortune as the owner of luxury hotels in New Orleans.
The handsome exterior with its square tower, corner quoins, and broad neoclassical porches, is impressive. But the house's real treasure lies inside, where jaw-dropping, soaring rooms constitute the first and only extant interior by celebrated 19th-century design star Gustave Herter. It is a wonder of carved, inlaid, and gilded wood, stained glass, carved marble, intricate plasterwork, frescoes, paneling, and all manner of decorative painting. With its vertical orientation (Victorian houses tend to be tall and skinny, as opposed to Prairie Style or Ranch houses, which are horizontal in orientation), the Morse-Libby House grants us a rare look at the best of Victorian design with polychromed walls and ceilings, and lush fabrics. A stained-glass window over the main staircase depicts the state seals of Maine and Louisiana; furniture and cartouches designed by Herter bear Morse's initials. The bathroom walls, painted to the same level of ornamentation as the public rooms, boast a Pompeian theme, while the recently restored Turkish Smoking Room is a fantasy of Islamic-inspired motifs.
Though the Herter Brothers designed the interiors of many homes of the rich and famous, Victoria Mansion was Gustave's first whole-house commission. Now it stands as the only remaining testament to his genius.
Herter, who emigrated from Germany, was the adopted son of a skilled cabinetmaker. When he moved to New York, Gustave became the go-to man for craftsmanship, sophistication, and fashionable American interior design. After his brother, Christian, joined him in the New World, the immigrants founded an upholstery warehouse that became one of the first furniture making and interior decoration firms in the United States. Herter Brothers did it all, including decorative paneling and mantels, wall and ceiling decoration, patterned floors, carpets and draperies, and furniture so exquisitely made that the Metropolitan Museum of Art mounted a Herter Brothers exhibit in 1995. Though the brothers designed the interiors of many homes of the rich and famous, Victoria Mansion was Gustave's first whole-house commission. Now it stands as the only remaining testament to his genius.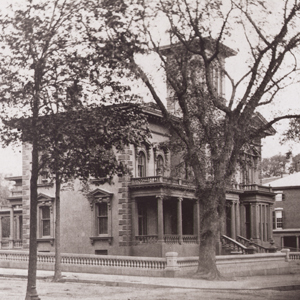 Architect Henry Austin of New Haven, Connecticut, was known for his Italianate buildings, and the mansion (shown here circa 1900) is widely recognized as the most important expression of the Italian villa style in American domestic architecture.
"Chances are, Gustave did design work for some of the trendy hotels built in New York while the Morses lived there, before they settled in New Orleans," said Thomas Johnson, director of the house museum. The Morses engaged local servants when they came north to Portland. There were years when they stayed in hotels and did not open the house at all. "There was always redecorating and renovation going on," said Johnson. "Probably that stemmed from Morse's hotel background, which called for constant refurbishing." In 1893 Ruggles Morse died in his Portland mansion. His widow gave some furnishings to her relatives and moved into a hotel. In June of 1894 she sold the house to J.R. Libby, a self-made man who rose from dry-goods traveling salesman to owner of Portland's first department store. "He bought it because it was a bargain," said Arlene Palmer Schwind. "By then, the lavish house was out of fashion. The Morses had no children, and none of their relatives wanted to take it on. The Libbys had a large family, so they needed a big house." During the 30 years the Libbys lived in the house, they didn't change a thing. "Maybe Mr. Libby's retail experience made him appreciate quality," Schwind opined. "We are so lucky—today, the house has 90 percent of the original furnishings." After J.R. Libby Co. shut its doors in 1935, Libby descendants could no longer afford to keep the house. Seemingly doomed, it suffered hurricane damage in 1938, when the roof and skylight were severely damaged. Two years later it was slated for demolition. But a retired educator, William H. Holmes, bought the house and, with the help of his art-teacher sister, made repairs and opened it to the public as a house museum in 1941. Perceived as a tribute to the artistic taste of Queen Victoria's era, the building soon became known as Victoria Mansion, and in 1970 the U.S. Department of the Interior designated the Morse-Libby House a National Historic Landmark. Today, more than 5,000 people flock to the house every December to see it decorated in lavish holiday finery; many more wander through during the summer tourist season. They may not know who Gustave Herter was, but they know beauty when they see it. Regina Cole is a freelance writer living in Gloucester, Massachusetts. She writes about architecture, interior design, and the history of the American decorative arts for many national and regional magazines. For More information: Victoria Mansion, 109 Danforth St., Portland, ME 04101 207-772-4841;
www.victoriamansion.org
. The house is open daily for guided tours May 1 - October 31 and during the Christmas holiday season.
---
Southern Comfort
The Morses weren't swayed by temperance The Morses may have been Mainers, but they hung a portrait of Robert E. Lee just inside the kitchen door of their Maine summer house. One wonders how their Yankee friends and neighbors reacted. One wonders, too, what abolitionist New Englanders thought about the couple's purchase of 23 slaves between 1846 and 1858. Though they sold them before the Civil War and there is no evidence that they ever brought them to Maine, Sylvester and Olive clearly lived like wealthy Southerners, not sober New Englanders. "In fact, when they installed a stained glass window depicting three Graces," noted museum director Thomas Johnson, "Temperance was not one of them." A neighbor just down the street was Neil Dow, known as "The Napoleon of Temperance" and "The Father of Prohibition." Mayor of Portland, he also sponsored a bill making Maine the first dry state in the Union. The Morses were definitely not Prohibitionists; they kept a fully stocked cellar. "Most of the money made in the hotel trade was in bar receipts," curator Schwind said. "The Morses believed in the positive power of alcohol." The Libbys, however, did not. Staunch Prohibitionists, they poured out the contents of every bottle and barrel when they first moved into the house, which must have taken some time. But as frugal New Englanders, they did not destroy the stemware. It survives as testament to the lavish lifestyle of Maine's first summer people.