Freshwater Stone
Turning ordinary rock into useful works of art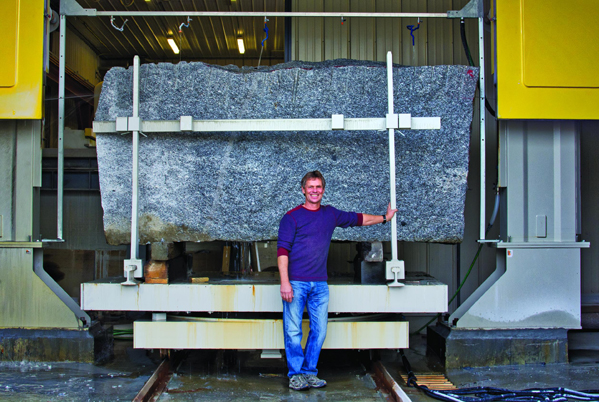 Jeff Gammelin stands in front of a 20-ton block of granite that's about to be sawed into slabs that could be as thin as three-quarters of an inch. Photographs by Lynn Karlin
By Donna Gold Jeff Gammelin sits at a massive granite work table, nine feet by four, in a large, light-filled office at Freshwater Stone in Orland. Architectural drawings for homes in Blue Hill, Maine, and Connecticut cover the oval table, which is polished as smooth and seemingly soft as a lake at dawn. The plans call for a stone terrace, meandering stone walls, a massive fireplace, stone countertops, even a stone koi pond.
Nearby, a set of stone steps, some 12' long by 4' deep, climbs into thin air.
In the workshed just below, a quarried block, ten by five by four feet, is being sliced into two-inch slabs. Nearby, forklifts sort through seven acres of granite to be sliced, measured, hollowed, or polished. Most of these stones come from Freshwater's own quarries in nearby Frankfort and on Mount Desert Island. Elsewhere on the premises, thousands of smaller stone blocks are being cut to precise specifications for use as paving stones at a new building of the Harvard Business School.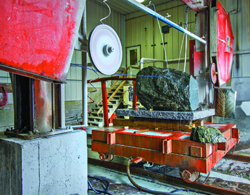 Once a stone is slabbed by this wire saw, it goes to one of five bridge saws to be cut to size. Then it might be shaped, or edged by the milling machine—often with handwork added between stages.
"Imagine starting a business selling stone in rural Maine—and growing that business to employ close to 50 people," Gammelin said, a mixture of sheepishness and pride coming over his still-boyish face. "I still find it astonishing that I can sell so much stone here." But sell stone he does. Stone fireplaces and walkways, stone counters and sinks, solid stone spas and full slab showers, stone sills and veneer siding (needing no painting or shingling, ever), stone swimming pools and walls, stone mausoleums and monuments, even stone playgrounds and climbing walls, where children might discover such surprises as a stone dragonfly hidden within a crevice. Freshwater's work is found from Moosehead Lake down to South Carolina, as far away as Europe and Hawaii, and on the water, where granite counters—hollowed and reinforced with carbon fiber—are featured in boats built by Hinckley Yachts.
Freshwater Stone's 165-acre Frankfort quarry is across the Penobscot River from its headquarters.
The premises hum with the collective effort, from the tapping of a chisel and the grinding of precise milling machines that use five axes to carve sinks, showers, or raised lettering, to the shrill whine of the four wire saws, each filling a building the size of a small airplane hangar, as they cut granite counters, veneers, and more, 24/7. At least one shed is surprisingly still. There, a Freshwater Stone artisan mulls over a fireplace, choosing stones by color, shape, and line that will please for generations. Nearby, a set of stone steps, some twelve feet long by four feet deep, climbs into thin air. When placed into a landscaped hill outside a Blue Hill home, the precise cuts that hold them together will be hidden and the stairs will look as if they were carved on the spot from one of the land's many boulders. Pre-building the stonework within Freshwater's controlled environment is safer, said Gammelin, and more efficient, minimizing disturbance to the construction site. "And when we go to install—knock on wood—it's faultless."
The Gammelins enjoy a quiet moment beneath the stone pergola they built outside their home.
The connection between boulders and buildings is what got Gammelin into this business in 1976. Following college at Syracuse University in upstate New York, he wanted a life that would challenge his mind and occupy his hands—something somewhat artistic that would keep him learning. "Homesteading made sense," he said. He moved to Maine in 1972; the next year he began building a home from wood and stone. He also built a fireplace. Neighbors were building homes, needing fireplaces. So Jeff launched Freshwater Stone with his wife Candy. At the time, he had no electricity or running water. Forty years later, Gammelin's home is a showcase of stone. His expansive experience in all aspects of the craft, from quarrying, choosing, and cutting to laying and installing, often places him in the role of advisor to clients, and others involved with the project. "I'll get into a conversation with the architect. 'You may not need three inches for that, two will do.' 'If you lay stone there it might crack.'" He cocks his head. "We know how to cut stone so it will be installed correctly. We are a resource." Donna Gold writes from a century-old shingle home overlooking Penobscot Bay. As much as she loves looking out at water and sky, it is the moss-covered boulders of the surrounding woods that cause her heart to skip. For More Information: Freshwater Stone 4 Upper Falls Road, Orland, ME 04472 207-469-6331;
www.freshwaterstone.com