A Sum of Several Parts
A small vacation cabin in Brooklin becomes a 3,500-square-foot family home.
By Regina Cole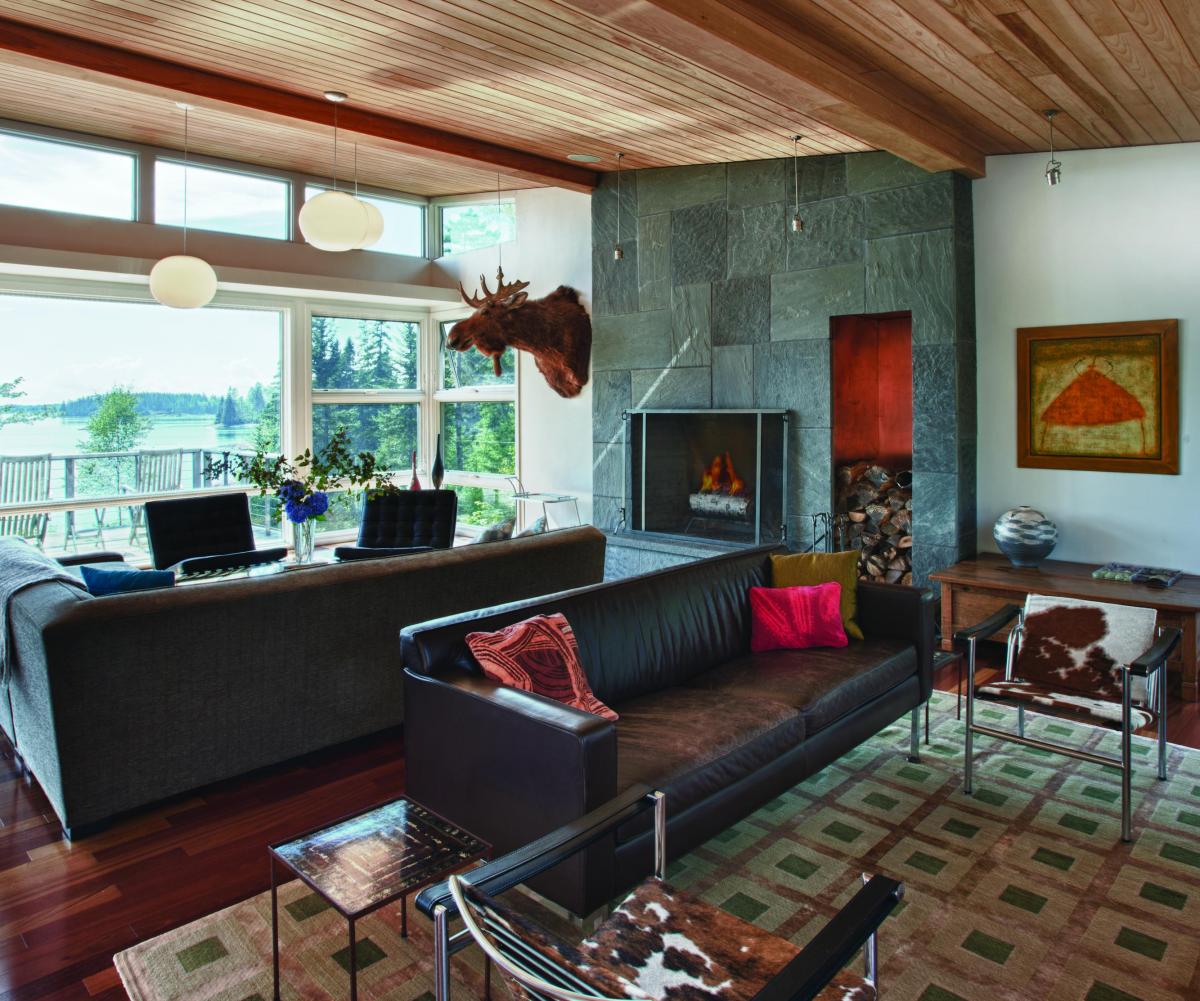 Photographs by Ken Woisard
Two red fish smile from a dark green panel hung under the eave at the dining end of Lauren and Neil Reiter's kitchen. 
"The panel is a piece of the original floor," said Lauren. "It dates to 1989, when we still lived in Manhattan and built the original cabin here on a shoestring. This room was most of the house." 
That once-humble, 600-square-foot, one-room interior is now a sophisticated, light-filled kitchen with radiant heat under gleaming hardwood floors, epoxy-resin counter tops, high-end appliances, and an elegant dining area. 

Lauren Reiter, who is an architect, designed two additions that transformed the simple vacation cottage into a well-lived-in 3,500-square-foot family home. But she did not balloon out one side or another of the original cabin, as conventional additions are done, often overwhelming or consuming sweet little houses. Rather, Reiter defied the cliché: she went outside the box twice, with offshoot satellite buildings that house large and luxurious rooms. The hallways to the two additions are dramatic flying bridges; one holds a wine cellar and the other is a glassed-in breezeway. The result is an architecturally arresting house with beautifully designed interiors that faces Eggemoggin Reach. The beauty of the reach is the reason the Reiters began their long migration from Manhattan to coastal Maine.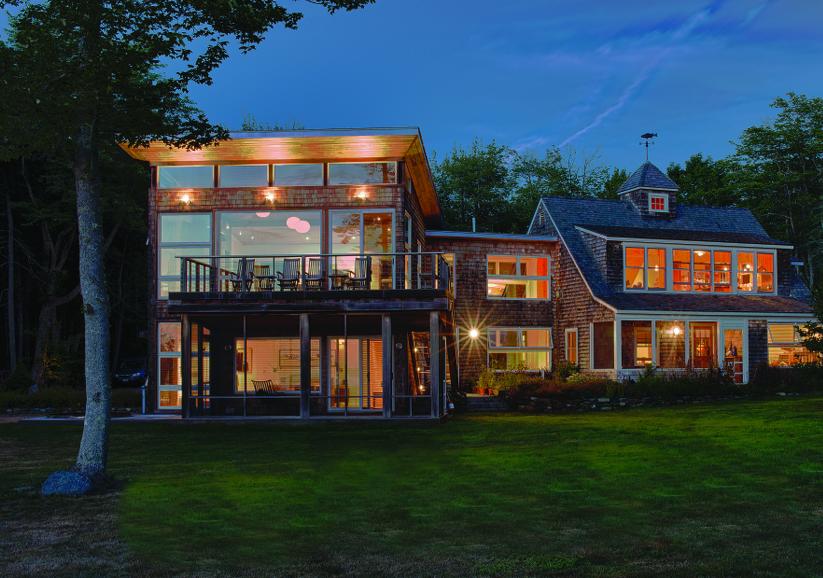 "It all started with tickets to the Blue Hill Fair," Reiter explained. She was working at New York's Croxton Collaborative Architects PC, one of the pioneering "green" architecture firms in America, when she and Neil, a marketing executive, came to coastal Maine on a whim and fell head over heels with Maine. 
"I had not been to Maine since childhood," Reiter said. "Neil had never been here. Someone said, 'Go to Blue Hill—you'll love it!' And we did. It was Labor Day weekend, with gorgeous dry, clear weather. It was magic. We put an offer on this piece of land that very weekend." 
The impulsive couple had to delay construction on their newly acquired land until the resident ospreys had finished nesting. 
"We began building in fall—the worst time," Reiter recalled. "This was about the start of our life. Neil and I were newly married and did not yet have children; we wanted to build a second home. I designed a vernacular 600-square-foot cabin with a simple plan, on a poured slab with plywood floors. After painting the floor, I stenciled it with fish to make it more fun."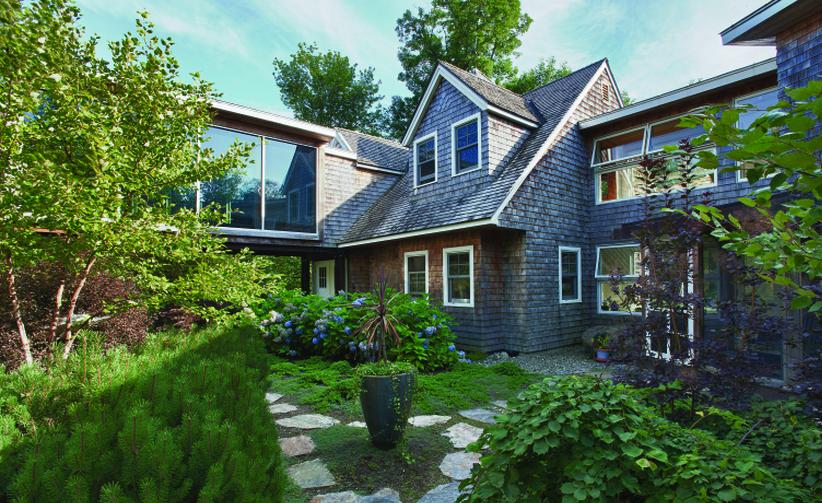 Rather than replace it, the owners flanked the original summer cabin with a pair of additions that were done as the family grew and needs changed. The front of the house makes the most of the wonderful views of Eggemoggin Reach, while the rear (above) is blended together by landscaping.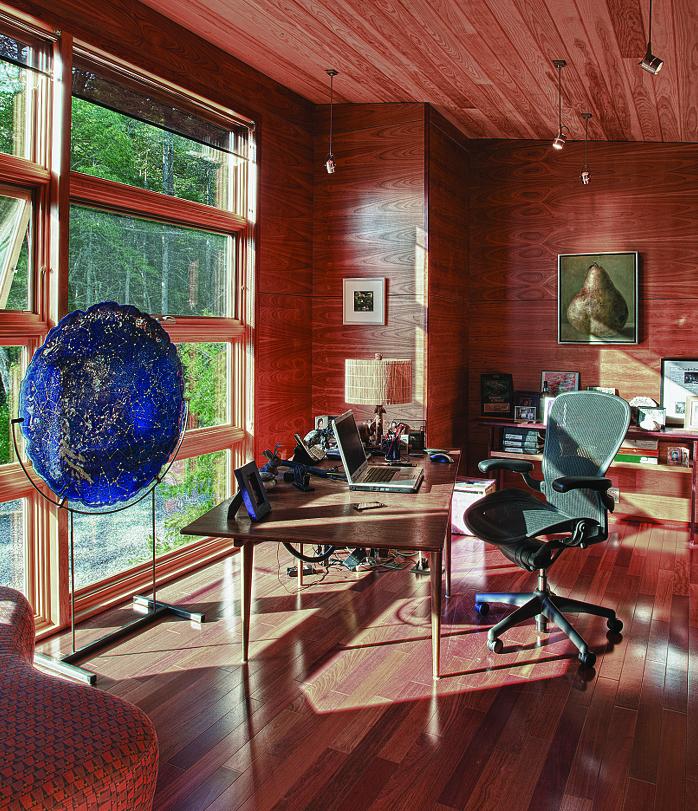 Office/Study
The Reiters used their Maine cabin whenever their city lives allowed. "Back then," Neil said, "you could fly cheaply into Bangor. We'd come up often, all times of year. Even, or maybe especially, after our children were born." 
By 2002, the Reiter family, which now included a daughter and a son, craved more space, and Lauren designed the home's first addition. A self-contained structure set at an angle to the original building, it features a large contemporary living room above a master bedroom suite that includes a luxurious spa bath. The new wing's design negated the necessity of removing existing walls, cutting into the roof, or otherwise puncturing large parts of the original house envelope. In the vast, light-filled living room, Lauren expressed her design sensibility
with Barcelona chairs, a slate fireplace wall, soaring windows topped by transoms, and a pair of original tubular-steel and pony-skin chairs designed by Le Corbusier.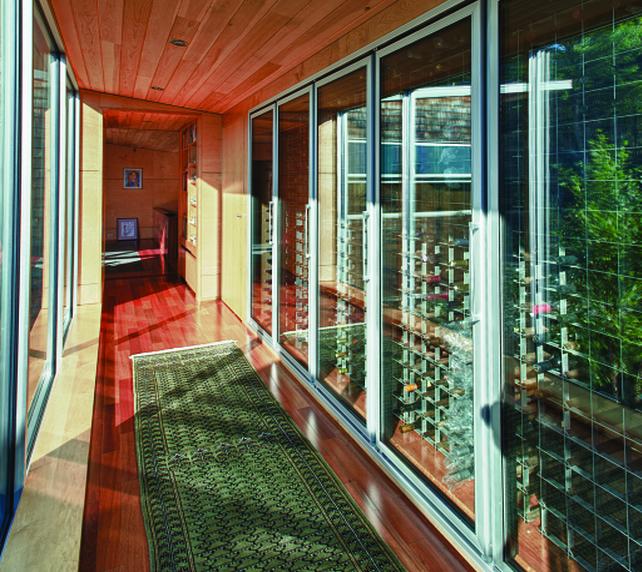 When the Reiters added the living room, they upgraded the kitchen. The changes incorporated a new front door into the sunny piazza-like hallway between the kitchen and living room. The master suite is downstairs. 
"We already had the kitchen upstairs," Lauren explained. "It made sense to have the two—the kitchen and the living room—on the same level. It also happens to make the most of the views."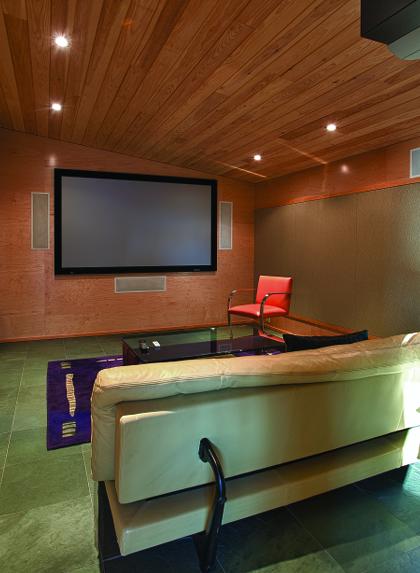 Home Theater
Among the downstairs master suite's architectural wonders is a slate-floored shower located in a glass box that juts out of the side of the building. 
"You're out there in the weather," Lauren said. "It has the wonderful qualities of an outdoor shower, but we use it year 'round. I designed it to fit between the steel columns that support the living room fireplace." 
In 2006 Lauren and Neil made the decision toward which they'd been inching for 17 years: they traded Manhattan for Brooklin. They had been in New York for 26 years, and realized that if they were to move to Maine, they should do it before their kids began high school. The oldest was in the ninth grade. Said oldest, however, was not enthused at first. Visiting Maine was one thing; moving there, quite another.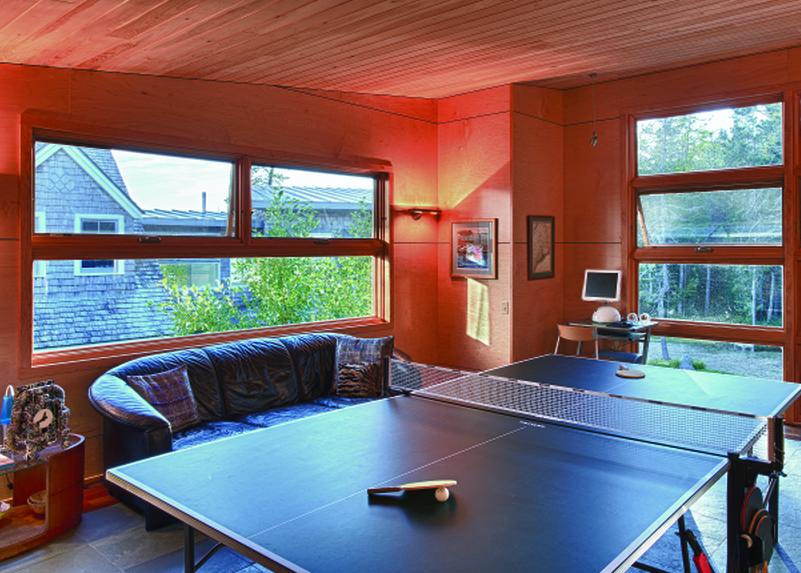 Family Room
"He hated the idea and complained that we were moving from New York to a place of hicks," Lauren said, laughing, adding, "He and his sister have done especially well here." 
The permanent move prompted the final addition to the shingled, rambling structure. "We wanted a garage, home offices, a play room for the kids, and a home theater," Lauren said.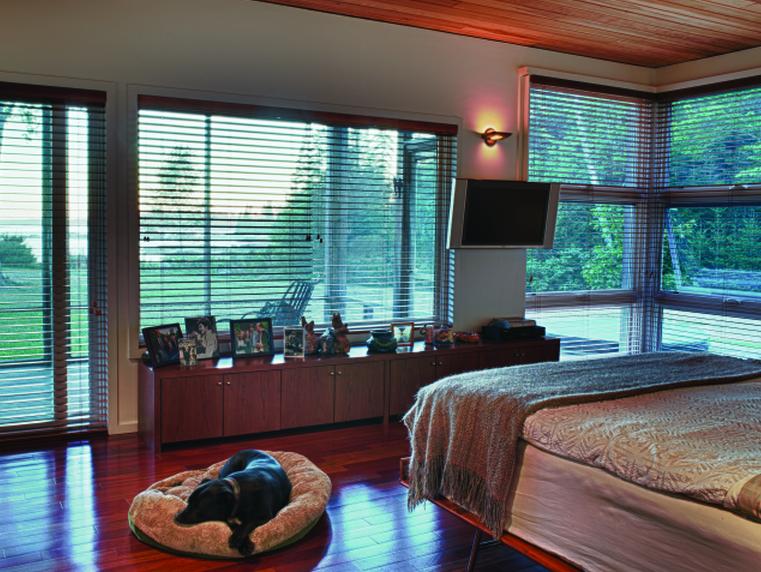 Master Bedroom From the kitchen's other end, a second-story bridge soars over a section of garden to the new rooms—an office, a playroom—above the three-bay garage; one wall of the bridge holds the couple's wine cellar, refrigerated behind glass. Neil's office is warm with cherry paneling, slate flooring, and a soapstone fireplace wall. The large playroom is also floored in slate. 
"We wanted the kids to have a gathering place," Reiter explained, standing by the ping- pong table. "Here, teenagers can make noise while other people are sleeping."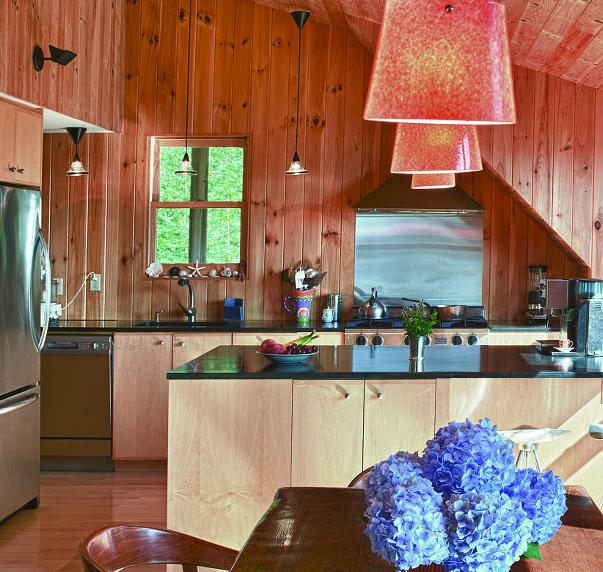 Kitchen
The family's Eggemoggin Reach address is the embodiment of the best of coastal Maine. Reiter summed it up when she talked about the elements that drove the design. "The whole house is about light and air," she said. "Living in Manhattan, we craved both." 
The Reiter family is now firmly rooted in Maine, though they confess to frequent visits to Manhattan's museums and theaters. Neil operates his marketing company from his wood-paneled office while Lauren, who specializes in the design of sustainable buildings, continues to serve a variety of clients.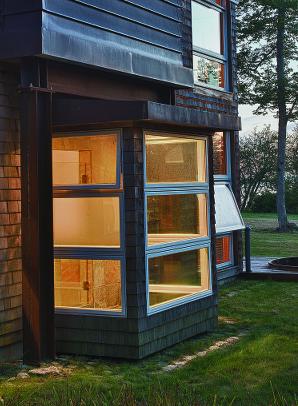 "We met people through our kids' school friends and activities," Lauren said, "and we felt welcomed and accepted in the community. I felt as though a part of me came alive again when we came to Maine." 
"Of course," Lauren hastened to add, with a smile, "We will always be from away."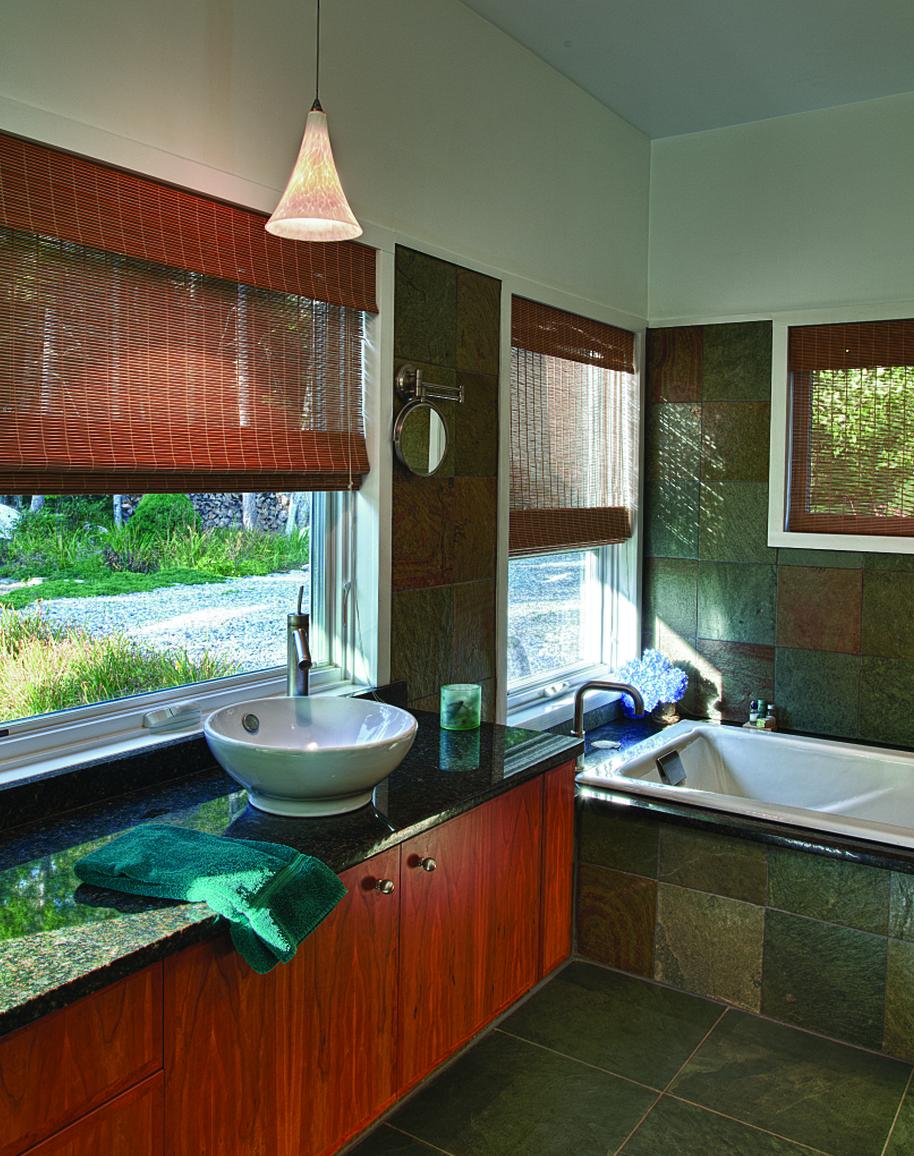 Master Bath
---
Regina Cole is a freelance writer. She lives in Gloucester, Massachusetts, but spends time in Maine as often as she can. In summer, she and her husband sail to Penobscot Bay and points east.
---
Architect/owner: Lauren Reiter, 
Reiter Architecture & Design, laurenjreiter@yahoo.com 
Builder: Sharkey Construction, 712 North Penobscot Road, Penobscot, ME 04476 
207-479-1632
Cabinetry: Hewes & Company, 
419 Ellsworth Rd., Blue Hill, ME 04614 
207-374-2275; www.hewesco.com
Share this article:
2023 Maine Boat & Home Show

Join Us for the Maine Boat & Home Show!
Art, Artisans, Food, Fun & Boats, Boats, Boats
August 11 - 13, 2023 | On the waterfront, Rockland, Maine
Click here to pre-order your tickets.
Show is produced by Maine Boats, Homes & Harbors magazine.