Letters to the Editor - Issue 120
Issue 120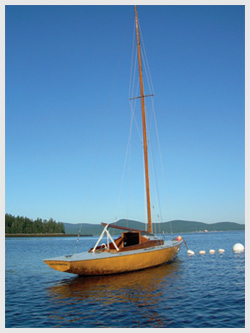 Shearwater
, a member of the
Camden Yacht Club's fine Finnboat fleet.
Keeper of the Finns
We were pleased to read the article on Finnboats in your April/May 2012 issue, MBH&H #119. We have been caring for several of these fine club boats since the 1970s. Currently we take care of
Shearwater
, the boat that the author referred to as the last of the Camden Yacht Club fleet. We also tend
Slipping Away
, one of the replacement hulls sent over after the 1954 hurricane; it is moored near Belfast. We have a third,
Pua Noa
, which is for sale and has not been in the water for a few years, but which is still in good shape. Over the years we have replaced keels, keel bolts, deadwood, floors, decks, and cabin houses in these and other Finns, and we have enjoyed helping to keep them alive.
David Grisaru
Islesboro Marine
Islesboro, Maine
Gawker Heaven
After reading the story in your April/May 2012 issue of building a wooden surfboard at Grain Surfboards, it is not clear to me if the shop's name refers to the appreciation of wood or of blueberry muffins and "near gourmet" sandwiches. It does seem clear that the staff at Grain is as accepting of gawkers visiting their shop as the folks at the WoodenBoat School are. I will try to take advantage of that this summer.
Grant Hughes
San Diego, California and Bernard, Maine
Another Japanese Connection
I enjoyed reading "Carving a Place in the Fox Islands" in the March 2012 issue, MBH&H #118. As a history buff, and architectural photographer who has lived in Japan for a number of years, I was fascinated by the story of J. Murray Howe, II. In addition to those named as having gone to Japan during the Meiji era, I would like to add Maine's own Edward Morse. He worked for the zoologist Louis Agassiz and discovered the Oomori shell mound in Shinagawa (Portland's sister city in Japan). Additionally, he wrote
Japanese Homes and Their Surroundings
in 1886. It was a hit and actually influenced the designs of many New England homes. I cannot help but wonder if J. Murray Howe read it cover to cover.
Dave Clough
Rockland, Maine
The Boy at the Helm
Ever since issue #119, April/May 2012, was delivered to my home I have been fixated on the young man on the front cover. He represents the future of sailing here in the USA. His calm confidence as he looks ahead assures me, many times his elder, that sailing in large or small vessels is going to be an ongoing love for many. His parents should be proud, and the man who captured the image also needs to be applauded.
John Hoagland
Longmeadow, Massachusetts
The Awanadjo Hiker
It was very thoughtful of John Snider of Southwest Harbor to write in his letter to the editor in the April/May 2012 issue, MBH&H #119, that he missed the Blue Hill view logo. The logo had its beginning with MBH&H's request for an image that depicted a hiker with staff and dog seated atop Blue Hill looking out over sea and islands to illustrate Rob McCall's observations in his "Awanadjo Almanack" column. Originally a black and white, it was later enhanced with color, and headed the almanack from November 1999 through November 2010. Since then, both the magazine and McCall's feature have grown and matured. Candice Hutchison's handsome color illustrations now zero in on the areas that McCall writes about. As a reader I am delighted to see her work in that space. As an illustrator, I thank you for the opportunity you gave me to do the initial piece.
Sam Manning
Camden, Maine
What was Rocky Doing?
In reference to the April/May 2012 issue, MBH&H #119, "Rocky is Driving:" Even Boatyard Dogs do not "drive" boats. You do drive automobiles, trucks, farm tractors, and motorcycles, but when it comes to ships and boats of all kinds one steers the craft. The pilot aboard ship tells the helmsman to "steer" course 240 degrees. The caption on a yacht may say "steer" for that point of land or smokestack or church steeple. In all my 72 years I have never hear anyone say "drive" toward that landmark, even within sight of land. One would think that a wonderful magazine published in the great maritime state of Maine would know that "Rocky" was "steering" the boat. Now that I've got this off my back I can go drink my grog.
Capt. Alan Circeo
Boston, Massachusetts
The Power Chihuahua
Oh the power of a silly idea! A year ago I thought it would be fun to enter my rescue Chihuahua, Pixel, in the 2011 World Championship Boatyard Dog® competition held during the annual MBH&H Show. Actually, I thought it would be hilarious to see a small dog who had just come out of a high-kill southern shelter and who hates water challenge Labs, retrievers, and other big dogs who are so at home on the water. I thought it would be hilarious to see her win it all against tough competition—we were out to show what shelter dogs could do. We trained seriously. I wanted to raise funds to give to local shelters, so I started a Facebook page for her and put collection containers around our town. Things took off, and we began connecting with shelter rescue and advocacy groups nationwide. I began to learn the truth about many animal-control facilities and shelters. They do not shelter, they warehouse animals that no one wants. When they are full, they kill the excess animals—healthy, friendly adoptable animals—to make space for new ones coming in from irresponsible owners who do not spay and neuter, do not place identification on their pets, do not supervise or contain them, and allow them to roam freely. I was inspired to act, to do one small thing to work to end the killing. For the Boatyard Dog competition, Pixel and I formed "Pixel's Posse" to rally people to awareness about shelter animals. Pixel's Posse, Inc. became a designated 501(c)(3) charity in January 2012, and has since begun to educate the public about programs that reduce and eliminate shelter killing, to support spay and neuter programs, and to rescue animals from death row. In that short time, we have saved nearly 50 lives, gathered hundreds of supporters, changed minds, and inspired people to act. It all started with a little dog pulled from death row in Johnson City, Tennessee, and a spoofy competition in Rockland, Maine. Thank you Boatyard Dog for putting us on a path of meaningful action. This year, as a famous actor once said, "We'll be back!" And this year, we intend to win!
Pixel and Janet Williams
Gorham, Maine
There is still time to enter!
The lighthearted and zany 10th Annual World Championship Boatyard Dog Trials will be held Sunday, August 12, 2012, during the Maine Boats, Homes & Harbors Show in Rockland. More information, photos, and entry details -
Click here
. Please note: ONLY the competing dogs are allowed on show grounds; please leave all other pets at home.
A Correction...
"Gunkholing with Gizmo," May 2012 (MBH&H #119): Bradbury Island is owned by Island Heritage Trust of Deer Isle (not by Maine Coast Heritage Trust), and its conservation easement is held by Acadia National Park.
...and Additional Information
Also regarding "Gunkholing with Gizmo," May 2012 (MBH&H #119), we have received more information from several owners about various access options and restrictions in the Northern Islands of Penobscot Bay. Barred Islands: These islands "are privately owned and protected by a conservation easement. Visitors may enjoy the smaller, uninhabited Barred Islands to the south (the Chain Links) and west (Little Barred) provided there are no fires, no camping, no pets above the shore, and no waste left behind. The largest island (with dock) is for the landowners' use only." This coming season, there will be signs stating these guidelines on all the islands. Eagle Island: From the owners comes a reminder that access there is by permission only (207-701-9316). Butter Island: Restrictions are clearly posted. The owners work closely with the Maine Island Trail Association and suggest membership in MITA (
www.mita.org
) as a way to help keep access available. Finally, a reminder: The ownership of any private island is subject to change, as are the rules governing access. All visitors should always seek permission before landing and follow all posted rules once ashore. This will help keep these gems available to us all.