Boatyard Dog - Issue 117
The World Champ is...Fenway!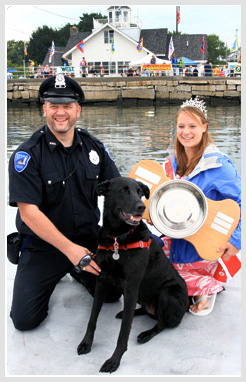 The 2011 Maine Sea Goddess, Kristen Margaret
Sawyer, presents the "Pup Cup" to World
Championship Boatyard Dog® Trials winner
Fenway and her handler Joel Neal.
Five canine competitors and their human companions strutted their stuff, cheated shamelessly, went swimming (brr!), and showed off their skills (or lack thereof) during the ninth World Championship Boatyard Dog® Trials at the annual Maine Boats, Homes & Harbors Show in August. One of the tenets of the trials is that cheating is encouraged. That was a challenge for the winner, since Fenway was assisted by her owner, Joel Neal, who is a Rockland Police Officer. Perhaps it was the sight of a policeman being thrown in the drink by a dog, or maybe the judges were swayed by the "Get Out of Jail Free" passes and Dunkin' Donuts gift cards they received as bribes, but the pair wowed crowd and judges alike. Their speed through the obstacle course and agility into and out of a very tippy boat during the "Dinghy Hop" portion of the trials were notable. A critical component of the competition, that either dog or handler must end up soaking wet, provided lots of laughs: Neal stood on the edge of the dock with the obligatory rubber duck clenched in his teeth. When Fenway leaped up to get the duck, she pushed him over backwards into the water. All competitors received a statuette of Barkley the Boatyard Dog® and a goody bag donated by Sea Bags of Portland and filled with swag donated by Loyal Biscuit Co. of Rockland, plus a one-year subscription to
The Bark
, and other prizes. In addition to being featured here, Fenway also received other special prizes, and gets to keep the coveted revolving "Pup Cup" for a year. As part of a collaboration with the folks at
The Bark
magazine, she will also receive a personalized copy of the book
DogJoy
.
The Bark
was the media sponsor for the trials.

Click here for more photos and information about next year's show and trials.
We'd like to see your Boatyard Dog® (OK, OK, or cat... or other sea-going pet). Send a clear photo and pertinent details to BYD, P.O. Box 566, Rockland, ME 04841, or click here and use our online contact form.