Maine Boats, Homes & Harbors Show Highlights: Good Work Leads to Good Times
Maine Boats, Homes & Harbors: Good Work Leads to Good Times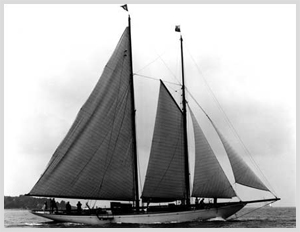 ROCKLAND, Maine—If you really want to know what's going on along the coast of Maine—who's building what, who's thinking what, and where the action is—there are options. You could drive thousands of miles and talk with hundreds of Mainers, or you could get right to the highlights in one place by attending the 10th Annual Maine Boats, Homes & Harbors Show. The finest that Maine has to offer will be gathered on one five-acre location, complete with Rockland Harbor frontage, from August 10 through 12. Some of the best and the brightest who are currently doing good work along the Gulf of Maine will be at this year's show ready to talk about what they do—create. "It is so rare in America today to talk with the people who actually build the products," said John K. Hanson, Jr., publisher of Maine Boats, Homes & Harbors magazine and the show's founder. "Quite the opposite is true at the Maine Boats, Homes & Harbors Show. All will talk with you, all will shake your hand, and most will have brushed off the shop dust first." As befitting a show that leads with "boats" in its name, some of the biggest attractions are on the water. Maine boatbuilders are world-famous for the quality of their work and a whole range will be on display, from carbon-fiber sea kayaks built by
Lincoln Canoe and Kayak of Freeport, Maine
, to the newest powerboat designs from
Sabre Yachts of Casco
. "In the sailing vessel category, this year's absolute jewel will be the magnificently restored 83-foot Fife schooner Adventuress, built in 1924 and fully restored by
Rockport Marine
over the last two and a half years," said Hanson. "The owner of this yacht could have chosen any yard in the world to do the restoration, but he rightly chose this Maine boatyard. It's incredible work." The Maine Boats, Homes & Harbors Show is more than just boats. The leaders of Maine's innovative home building and sustainable energy industries will be gathered at the new "Village Green" section of the show, under the sponsorship of
GreenHomesofMaine.com
. These exhibitors will demonstrate the latest thinking about how to adapt to increasing challenges, from higher fuel costs to a greater awareness of the need for healthy homes. Among the offerings will be eco-friendly building materials from
Maine Green Building Supply
, solar power options from
Sundog Solar,
ReVision Energy
, and first-time exhibitor EOS Solar. There will be innovative residential and commercial designs from the likes of
David Matero Architecture
, plus insights from the
Woolwich-based Shelter Institute
, experts at timberframe construction and known for its educational program that teaches folks from all walks of life how to build a dream house. "The level of work being done in these fields by Maine companies is extraordinary," said Hanson, "and we are thrilled that the show can also be a platform for education." Representatives of the visual arts will exhibit photographs, paintings, hand-crafted goods, and rare treasures. Thomas Crotty will display his own work, as well as that of some of Maine's finest artists. Crotty has been featured in a one-man show at the Portland Museum of Art, and is also involved with the business side of the equation at
Frost Gully Gallery
, which relocated to Thomaston in 2011. "Work of the caliber that Tom Crotty will exhibit at the show is a fitting counterpoint to the fine of work of the boatbuilders and furniture-makers," said Hanson. "As some philosophers say, the truth is in the art." Well-known photographer of coastal and island life
Peter Ralston
will exhibit his prints for the first time, and nautical photographer
Alison Langley
will return with a gorgeous array of maritime and boat images. A huge collection of U.S. coastal surveys and vintage maps—dating back to the 1800s—will be available from
Galeyrie Maps & Custom Framers
, joining the show for the first time. Perennial favorite
Stephen Zeh
creates exquisite hand-woven brown-ash baskets, his miniatures in high-karat gold and silver must be seen to be believed. The list could go on and on, since the whole feeling of the show is electric with the energy generated by creative people. From background fiddle music to aromas of fine Maine cooking, the experience is all about the good times that come from good work. With more than 300 Maine creative businesses on display, it's a weekend that's not to be missed. Please note: for liability reasons, NO PETS will be allowed on show grounds (except the pre-qualified Boatyard Dog competitors on Sunday morning only and legitimate service animals). Maine Boats, Homes & Harbors is pleased to acknowledge the following sponsors who have generously shown their support for the 2012 show:
Awlgrip North America
,
Bangor Savings Bank
,
The Bark,
Custom Float Services
,
Fixtures…Designer Plumbing Showroom
,
Jaret & Cohn Real Estate
,
Knight Marine Service
,
Loyal Biscuit Co.
,
Sea Bags
, and
Yachting Solutions/Cannell,
Payne & Page. IMAGE CREDIT: All images of sailing vessel Adventuress courtesy Rockport Marine. Media Contact: Marnie Read Maine Boats Homes & Harbors
news@maineboats.com
207-266-9381 High-resolution images are available for download at
http://www.maineboats.com/