Fine Crafts, Woodworking, and Furniture 2010
Fine Crafts, Woodworking, and Furniture, and the Eighth Annual MAINE BOATS, HOMES & HARBORS SHOW | August 13-15, 2010 Rockland, Maine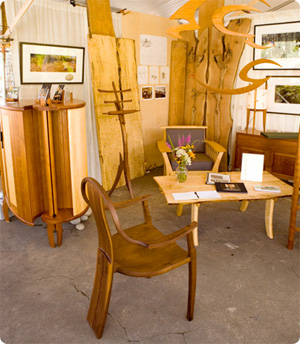 ROCKLAND, Maine: Exquisite home furnishings and handcrafted wares will share the spotlight with Maine-built boats, marine goods, art, and jewelry at the 8th Annual Maine Boats, Homes & Harbors Show on the Rockland waterfront, August 13-15, 2010. Furniture exhibits and a full array of on-site demonstrations by woodworkers will reflect the show's theme: "Tradition Shapes Innovation." The theme promotes the idea that Maine-built products are durable, functional, and beautiful with a sense of history and tradition that is preserved even as modern techniques and materials influence their design. The diversity of furniture design will be seen in displays of investment-quality handcrafted pieces that range from period-inspired cabinetry to contemporary works, and from elegant tables and chairs to outdoor teak and nautically inspired items. Among the fine woodworking and furniture craftspeople exhibiting this year will be
The Kennebec Company
,
Bench Dogs
, Geoffrey Warner Studio, Phi Home Designs,
Margonelli Fine Furniture
, and
Eben Blaney Furniture and Cabinetry
. The Maine Wood Products Association (MWPA), which represents hundreds of Maine-based companies that create quality wooden items and furniture, will return for its seventh year. Pieces on display, crafted from native and exotic woods, will include fine furniture for home and office, custom cabinetry and storage options, and decorative and gift items. Styles will range from rustic twig furniture to contemporary designs that incorporate Shaker and Asian influences. Live demonstrations throughout the weekend will give attendees the chance to watch craftspeople in action and discuss time-honored techniques. Geoffrey Warner will assemble his three-legged Owl Stool, a kit available for purchase, which Warner designed as a way to offer affordable yet high-quality furniture that retains the feeling of fine craftsmanship. Students and instructors from the Apprenticeshop, a traditional wooden boatbuilding school in Rockland, will demonstrate traditional carvel planking and riveting techniques. T.J. McDermott, a wood and stone carver from Freeport, will demonstrate the ABCs of letter carving and will answer questions about the process. Also on the weekend schedule: woodworker Jim MacDonald of Burnham, Maine, will demonstrate the bevel-cutting of veneers for marquetry and inlay and boatbuilder Clint Chase of Portland will be on hand to carve spruce oars. Phi Home Designs of Camden, devoted to the intricate details of building and furnishing Maine homes, will again bring their mobile workshop, wherein furniture makers will work and building consultants will be available to discuss construction. This sampling of the fine craft and woodworking techniques to be demonstrated throughout the weekend exemplifies the "In Person" aspect that makes the Maine Boats, Homes & Harbors Show so unique. For a full schedule of exhibitors and demonstrations, visit maineboats.com. The Maine Boats, Homes & Harbors Show was founded in 2003 by
Maine Boats, Homes & Harbors
magazine. Held annually during the second weekend of August in Rockland, Maine, the show attracts thousands of attendees from all over the country and world. Show hours: Friday and Saturday, August 13 and 14, 10 a.m.- 6 p.m.; Sunday, August 15, 10 a.m.- 4 p.m. Admission is $12 at the gate, under 12 free. No pets are allowed on show grounds.
Maine Boats, Homes & Harbors
, the premier magazine about life on the Maine coast, is celebrating its twenty-third year. Noted for eclectic award-winning coverage of all aspects of coastal living, the magazine features everything from maritime matters and natural history to boats, homes, fine art, and food. The magazine has loyal subscribers around the world and more than 100,000 total readers. The company's award-winning online edition (
www.maineboats.com
) is filled with original content, photo galleries, tide charts for Maine and New Hampshire, guides to products and services, and Local Knowledge™ to help visitors enjoy the Maine coast. High resolution images are available at:
www.maineboats.com/boatshow/press/image-bank
Media Contact: Leila Murphy or Jennifer McIntosh email:
news@maineboats.com
Maine Boats, Homes & Harbors, 218 South Main St., Rockland, ME 04841 800-565-4951
www.maineboats.com