Press Release: Boatyard Dog® Trials Contestants 2008
include('boatShow_nav.html') ?>
Maine Boats, Homes & Harbors Show Announces
2008 World Championship Boatyard Dog® Trials Contestants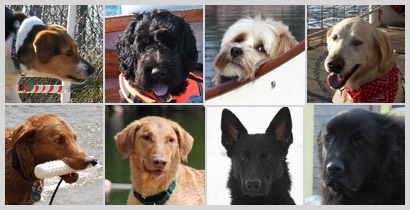 Boatyard Dog® Contestants L to R
Top: Agent K-9, Mariner, Morgan, Capt. Caleb
Bottom: Kelvin, Cody, Mykala, McKay
Camden, Maine: A field of eight contestants has been hand-picked to compete in the 2008 World Championship Boatyard Dog® Trials, which will be a highlight of the sixth annual Maine Boats, Homes & Harbors Show, Harbor Park, Rockland, Maine, August 8-10, 2008. Entries are now closed. The trials will be held on Sunday, August 10, 2008, at 10:30 a.m. The contest is equal parts entertainment, silliness, and good wet fun. Please note that ONLY pre-qualified competing dogs (and legitimate service animals) will allowed on show grounds. Please leave all other pets at home. Competing dogs (and their people) will be held to uncompromising judging standards that focus on each dog's combination of style and pizazz. The contest is based on three simple rules: --Rule 1: Either the dog or handler must finish completely soaked. --Rule 2: Cheating is not only tolerated, but encouraged. --Rule 3: There are no other rules. Judges shall include: Dr. Bjorn Lee of Pen Bay Veterinary Associates; Lucinda Lang, Spaniel Aficionada; and Holly Sherburne of Down East Dog News. This year's trials consist of three primary events.
Dockside Obstacle Course
: Dog and handler negotiate a maze of lobster traps, piles of rope, and other assorted dockside paraphernalia. The event is timed, with lowest elapsed time to serve as overall tiebreaker.
Dinghy-Hopping Trials
: Dog and handler hop into and out of a VERY tippy dinghy that has been tethered to a float.
Freestyle Event
: This is each dog's chance to show off any special talents. In the past, one spaniel sang sea chanteys, a German shepherd convinced his human to jump into the water to fetch the stick, and another dog danced in a sailor suit. One dog even impersonated Elvis! There's a 3-minute time limit for this event, the funnier the better. With the retirement of 2007 Defending Champion, Kylie the (kooky) border collie, this year's competition is wide open. The 2008 winner will be featured in
Maine Boats, Homes & Harbors
magazine's popular Boatyard Dog® column, and will be the keeper of the cherished revolving Pup Cup for one year. Meet the 2008 Contestants:
| | |
| --- | --- |
| Captain Caleb, Labrador "I am dog of the waterways!" The only thing that sea dog Captain Caleb loves more than being on the water is being IN it. Captain Caleb's main duty is keeping an eye on the seabirds while riding deck watch on various Penobscot Bay ferries, where his handler Kip Boetsch is an engineer for the Maine State Ferry Service. A veteran of the Harbor Hound Dog Show in Camden, Captain Caleb feels well prepared to leap into the big time at the Boatyard Dog Trials, "if he can keep his eyes off of the birds," adds his handler. | Capt. Caleb |
| Cody and Kelvin Penn, Chesapeake Bay Retrievers "Rescued dogs to the rescue!" Known to their legions of fans as "The Chessie boys," Kelvin and Cody are returning for another run at the Pup Cup. These graduates of Chesapeake Safe Harbor Rescue are ready to go for gold this year, having conducted intensive swim training since ice-out and spent hours analyzing videotape of previous trials. Kelvin and Cody promise to get the spectators howling and their people soaked (that's handler MJ Penn and the crew from Adirondack Guideboat). The Chessie Boys have cooked up a special encore this year, in which Cody walks the plank… Will Kelvin be able to rescue his brother? | Cody & Kelvin Penn |
| Mariner, Portuguese Water Dog "You Labs look out--here I come!" Mariner's homeport is on Deer Isle, along with handlers Carl and Lois Simmons. Mariner won the prestigious title of "Most Intelligent Dog" at last year's Fisherman's Day contest, and is now determined to add the coveted Pup Cup to his list. When he's not down at the Lily Pond chasing fish and honing his water skills, Mariner competes in agility and obedience events. He's also a therapy dog, conversing with retired sea captains and lobster fishermen at the Island Nursing Home on Deer Isle. The vast maritime knowledge he has soaked up from these "old salts" gives him special advantages over the other contenders. | Mariner |
| McKay, Newfoundland "All-Season power swimming is my thing!" A year-round, lifelong advocate for swimming the waters of Boothbay Harbor at every/any opportunity, McKay has been guiding his handler Captain Rob Hopkins and the Mackenzie Lee II over the stormy passage out to Squirrel Island for quite awhile now. Naturally for a noble Newfie, power swimming is his thing, not to mention rescuing people from the cold Maine waters. His kind and gentle manners travel with him at all times, especially as part of the welcoming committee at the public ferry. | McKay |
| Morgan, Tibetan Terrier "This is my dream boat!" Morgan is a feisty Tibetan Terrier; he and handler Penny Blaisdell hail from Marblehead, MA. He can often be found sailing the coast of Maine aboard Pemaquid, his owners' Hinckley Sou'Wester. Not a bad place to hang out, but Morgan admits to preferring powerboats for their ample nap space and for not having to clamber up and down the companionway. Morgan admits that while he is a most loyal dog, he does occasionally abandon ship if a more comfy cockpit comes along—especially when it's within jumping distance! | Morgan |
| Mykala, Sable German Shepherd – (alternate) "I'm not afraid of a little salt water!" Mykala (nickname Mickey) works part time at West Bay Boats in Steuben where her specialty is busting open the back door at quitting time. Her uncle Glacier the white shepherd competed in the Boatyard Dog Trials a few years ago, where he proved reluctant to get his feet wet. Mickey knows she has some over-sized paw prints to fill, but this petite, sleek and fast shepherd aims to restore her family's reputation—she doesn't want her kind to be known for running away from a little bit of water! | Mykala |
| Mystery Mutt (a.k.a. Agent K-9) "What kind of dog am I? That information is Top Secret!" The youthful "agents" of Youthlinks in Rockland have undertaken a mission to identify the dog from the Knox County Humane Society whose greatest goal is to find a home as a genuine Boatyard Dog. Professional dog trainer Marie Finnegan helped teach Agent K-9 basic obedience and agility skills, and the younger agents have spent two weeks completing Agent K-9's advanced training under deep cover at Youthlinks summer camp. The dog's identity might be a mystery, but the project's real goal is no secret—to find a real Maine boatyard that wants to adopt a real Maine Boatyard Dog®. | Mystery Mutt, a.k.a. Agent K-9 |
The MAINE BOATS, HOMES & HARBORS SHOW was founded in 2003 by
Maine Boats, Homes & Harbors
magazine. Held annually during the second weekend of August in Rockland, Maine, the show attracts thousands of attendees from all over the country and world. Maine Boats, Homes & Harbors magazine, the premier magazine about life on the Maine coast, is celebrating its twenty-first year. Noted for its eclectic and award-winning coverage of all aspects of coastal living, the magazine covers everything from maritime matters and natural history to boats, homes, fine art, and food. Published out of nearby Camden, the magazine has loyal subscribers around the world and more than 100,000 total readers. The award-winning online edition at
www.maineboats.com
is filled with original content, photo galleries, tide charts for Maine and New Hampshire, guides to products and services, and Local Knowledge™ to help visitors enjoy the Maine coast. Show hours: Friday and Saturday 10-6; Sunday 10-4. Admission $10; 2-day passes $15 per person; 3-day passes $25 person. Children under 12 admitted free of charge. No pets allowed on show grounds. For more information: Mary Carey, MAINE BOATS, HOMES & HARBORS SHOW, 207-236-8622;
showinfo@maineboats.com
;
www.maineboats.com
Media Contact: Leila Murphy, email:
news@maineboats.com
Maine Boats, Homes & Harbors, P.O. Box 758, Camden, ME 04843; 207-236-8622; 800-565-4951
---