Maine Boats, Homes & Harbors Show Reveals What Goes Into a Modern Maine Boat
Maine Boats, Homes & Harbors Show Reveals What Goes Into a Modern Maine Boat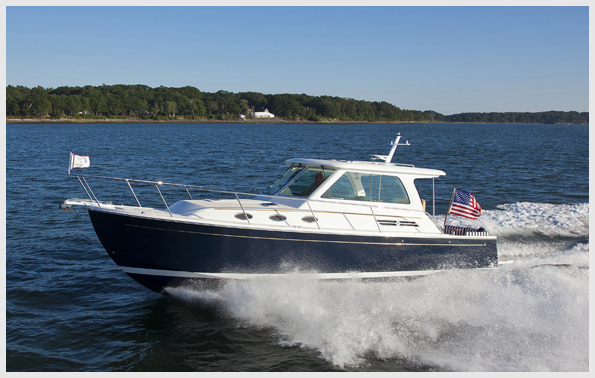 ROCKLAND, Maine—The Maine Boats, Homes & Harbors Show is known for getting attendees up close and personal with fine handcrafted products, whether by boarding one of the fine boats arrayed along the docks or by taking a seat in a modern interpretation of a Shaker chair. This year's "Under the Hood" exhibit will get them even closer by offering a rare peek inside the hull of a modern Maine-built boat. In a special exhibit called "Under the Hood," a semi-finished Back Cove 34 will be taken off the production line and put on display without its deck. The exhibit will reveal the systems of a boat, many of which usually go unseen as they are literally "under the hood." The boat's engine, systems, wiring, and precision engineering will be visible for spectators to see, just the way a boatbuilder does. "Most boat owners don't get to see all the intricate parts that go into today's modern yacht—how the engines are installed, how the electronics are run," said show founder and publisher of Maine Boats, Homes & Harbors John K. Hanson, Jr. "That's a shame, because the workmanship is impressive and truly demonstrates the many technologies that come together to build a modern boat. This exhibit will educate the buying public about the often-unseen components of boats." The exhibit will be in its own tent near the main gate, and technical representatives from the companies and suppliers involved with the boat's creation—everything from engines to finishes—will be on hand to answer questions. The Back Cove 34 is a recent design from Back Cove Yachts of Rockland, emblematic of the high caliber of boatbuilding that takes place along the Maine coast. This new model builds on the same virtues that helped establish the company's brand: simple features that allow a boater to jump aboard and go, a livable interior for weekend trips or longer cruises, and ease of maintenance. For a preview and a look inside the Back Cove Yachts facility, visit
http://www.maineboats.com/boatshow/visitors/under-the-hood
. "Under the Hood" will be presented by Maine Boats, Homes & Harbors in partnership with Back Cove Yachts, and with the help of sponsors including Silver Sponsor MEMIC and supporting sponsors Cummins Northeast, Epifanes, Nexeo Solutions, and Yanmar/Mack Boring. "Maine-built hulls are timeless, inspired by the demands of the sea," said Hanson, "but what's under the hood is state-of-the-art and modern." The Maine Boats, Homes & Harbors Show was founded in 2003 by Maine Boats, Homes & Harbors magazine. Held annually during the second weekend of August in Rockland, Maine, the show attracts thousands of attendees from all over the country and world. Show hours: Friday and Saturday, August 10 and 11, 10 a.m.-6 p.m.; Sunday, August 12, 10 a.m.-4 p.m. Admission is $12 at the gate, under 12 free. Advance tickets are available for purchase online through August 1 at
www.maineboats.com
. No pets allowed on show grounds (except the pre-qualified Boatyard Dog Trials contestants and legitimate service animals)—please leave them at home. Maine Boats, Homes & Harbors is very pleased to acknowledge the following sponsors of the 2012 show:
Awlgrip North America
,
Bangor Savings Bank
,
The Bark,
Custom Float Services
,
Fixtures…Designer Plumbing Showroom
,
Jaret & Cohn Real Estate
,
Knight Marine Service
,
Loyal Biscuit Co.
,
Planet Dog,
Sea Bags
, and
Yachting Solutions/Cannell,
Payne & Page. Maine Boats, Homes & Harbors, "The Magazine of the Coast," is celebrating its 25th year. Noted for eclectic award-winning coverage of all aspects of coastal living, the magazine covers everything from maritime matters and natural history to boats, homes, fine art, and food. The magazine has loyal subscribers around the world and more than 100,000 total readers. An award-winning online edition at
www.maineboats.com
is filled with original content, photo galleries, tide charts for Maine and New Hampshire, guides to products and services, and Local Knowledge™ to help visitors enjoy the Maine coast. IMAGE CREDITS Photo: courtesy Back Cove Yachts Illustration: Mirto Art Studio Media Contact: Marnie Read Maine Boats Homes & Harbors
news@maineboats.com
207-266-9381